Posted on
Tue, Feb 19, 2013 : 11:09 p.m.
Pioneer scores upset win over Temperance Bedford, 64-61, to stay alive in SEC Red race
By Kyle Austin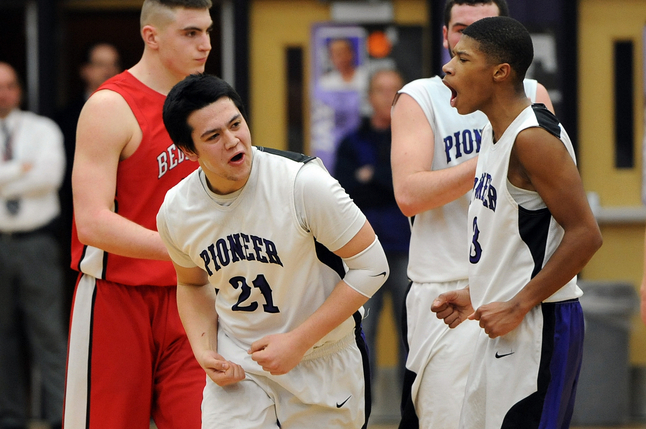 Melanie Maxwell I AnnArbor.com
He wasn't the best player on the floor Tuesday night. But Pioneer forward Jibreel Hussein came up the biggest when his team needed him most.
Hussein scored the game-tying and go-ahead buckets with three minutes left, then recorded a game-sealing steal with three seconds left as Pioneer upset Temperance Bedford, 64-61, Tuesday night at home.
More Coverage: Boxscore | Photo Gallery | Tuesday night boys basketball roundup
"Great players make big plays when you need them to," Pioneer coach Rex Stanczak said. "Not all really good players make the plays down the stretch. You're at another level when you're making those plays down the stretch."
Bedford came into the game at 13-1, ranked No. 8 in this week's Associated Press Class A poll, and at a perfect 9-0 in SEC play. With the win, Pioneer (13-4) moved to 8-2 in the league, and is now one game back with two league games to play, tied with Huron.
Following three lead changes and two ties in the fourth quarter, the Pioneers found themselves down by two with three minutes to play.
After Hussein hit a shot to tie the game 60-60 with 3:12 left, Pioneer's Cal Kirchen recorded a steal on the ensuing inbounds play, and passed to Hussein, who hit a 3-point basket.
From there, Bedford turned the ball over on three of its final five possessions, and scored only one point on a free throw.
Hussein finished with a team-high 17 points, 13 of which came in the second half from a player who's developed a reputation for hitting big shots down the stretch.
"I love it," Hussein said of having the ball late. "I just want to thank my teammates for trusting me having the ball in the fourth quarter. I just don't want to disappoint my teammates."
Aedan York added 15 for Pioneer, including 11 in the first half, when Pioneer led by as many as 11.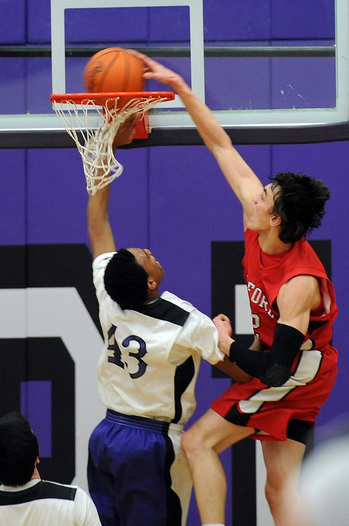 Melanie Maxwell | AnnArbor.com
The Pioneers were able to get the win despite a 33-point, 10 rebound performance from Bedford's
Jackson Lamb
, a returning All-State player who has committed to Michigan to play baseball.
In the early minutes of the fourth quarter, it looked like Lamb might be able to put the game away for the Kicking Mules. With 6:41 left in the game, Lamb made a lay-in to put his team up two. He grabbed a rebound on the other end, then hit a free throw to put his team up three.
After blocking Hussein on the other end, he got to the free-throw line again, but missed.
"He's going to get points, there's just not much you can do," Stanczak said. "He's so long and athletic."
But after making the free throw with 5:53 left to put his team up two, Lamb was held scoreless the rest of the game. With forward Tevis Robinson on the bench with foul trouble, Kirchen guarded Lamb down the stretch and kept him in check while Pioneer put the game away.
"I'm so proud of Cal," Hussein said. "The whole week preparing for Bedford, he said 'I want to guard Jackson at least once.' He got his shot, he did a great job at stopping him."
Despite the win, Pioneer still needs Bedford to lose one of its two final league games to have a chance. The Kicking Mules play at home against Saline Friday and at Huron Tuesday.
Pioneer would also need to win against Skyline and Saline to clinch at least a share of a league title.
So Stanczak told his team not to worry about the league standings, and focus on what it can accomplish. And Tuesday, that was plenty.
"We said this game's not about winning the league," Stanczak said. "This game's about us proving that we can beat the No. 8 team in the state for ourselves. We can't concentrate on winning the league because we need help to do that. All we can concentrate on is what we can do."
After the game Hussein and other Pioneer players had to be restrained by a Pioneer assistant after getting into an altercation with some people in the Bedford student section. Stanczak said a racial slur was directed at Hussein after the game leading to the altercation. No punches were thrown.
"Someone's got to do something about these Bedford fans," Stanczak said "I understand that they're from a little different area of the world, but you just can't do that to kids."
Kyle Austin covers sports for AnnArbor.com. He can be reached at kyleaustin@annarbor.com or 734-623-2535. Follow him on Twitter @KAustin_AA.