Posted on
Thu, Apr 4, 2013 : 5:44 a.m.
Manchester's McKenna Erkfritz is AnnArbor.com 2013 Washtenaw County Girls Basketball Player of the Year
By Pete Cunningham
Daniel Brenner | AnnArbor.com file photo
The 2012-13 season was a season of repeats for
Manchester High School
senior
McKenna Erkfritz.
Third district championship in four years for the girls basketball team. No problem.
Second straight Cascades Conference championship. Count it.
Second straight time receiving All-State recognition. Easy.
AnnArbor.com's Washtenaw County Player of the Year for the second consecutive year. There was no debate.
But what Erkfritz will remember her senior year for won't be the accomplishments she was able to repeat, but for the one no one at Manchester High School has ever done before: win a team state championship.
"It was honestly unbelievable," Erkfritz said of Manchester's victory in the Class C title game. "It's surreal. I still can't believe it even here, however many weeks later, that we finally were able to achieve something we worked so hard for."
ANNARBOR.COM 2013 WASHTENAW COUNTY DREAM TEAM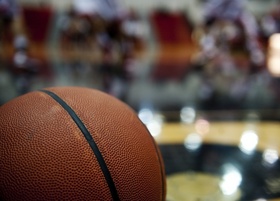 After four long months, the boys and girls high school basketball season is finally over. To officially close the book on the season, AnnArbor.com is releasing its 2013 Washtenaw County Dream Team package. Below is the online publishing schedule for the various elements of postseason awards.
Dream Team Schedule:
Thursday: Girls 2013 Player of the Year article.
Friday: Boys 2013 Player of the Year video and article.
Sunday: Boys 2013 Washtenaw County Dream Team and Girls 2013. Washtenaw County Dream Team.
Next week: Girls 2013 Player of the Year video; Hockey, wrestling, swimming and bowling player of the year articles.
*Entire package available in AnnArbor.com's Sunday, April 7 print edition.
Winning the championship was a culmination of years of hard work and sacrifice, but the build-up to the championship was just downright fun for Erkfritz and her teammates.
Elementary school students asked for her autograph, Manchester's student section— "The Maroon Monsoon" packed the bleachers and dubbed her "Dirty Thirty" (her jersey number) and chanted the nickname every time she made a big play during the playoffs.
That kept them pretty busy.
And the community turnout at games was something she didn't think was possible.
"Everyone came out, I didn't even think there were that many people in our town, honestly," Erkfritz said. "Little kids wanted our autographs and were telling us 'We're coming to your game' and looking up to us. It was awesome."
To get to the point of state champion and local celebrity took years of dedication.
Standing at 6-foot-1, Erkfritz had a natural advantage in the game of basketball, but coach Cori Kastel said Erkfritz was never satisfied with resting on her laurels.
"What McKenna brought to the floor, besides just her 6-1 frame, the kid can dribble she can shoot from the outside, she's extremely athletic and just competes, always wanting to improve in every aspect of her game," Kastel said. "To not just be satisfied with a height advantage, to improve on all aspect of one's game, you don't see that often."
Kastel said Erkfritz's competitive nature doesn't let her be satisfied with good enough.
"You can't teach a kid to be competitive. It's innate," Kastel said. "She raises the level of play for her teammates. She is the type that when she's on the court, it's serious and she expects that from her teammates."
The years of commitment weren't just from Erkfritz, a four-year varsity starter. Her teammates were a vital cog to the state championship team.
March is littered with players who average more than 20 points and double digit rebounds per game watching from the sidelines as balanced teams roll on. Erkfritz's 15.4 points, 7.4 rebounds and 2.8 steals and 2 blocks per game were far from the best in the state. But on a team with two other players that averaged double digits scoring, that had five players score in double digits at some point during the playoffs, and had three different leading scorers, Erkfritz was the grease that kept the machine going.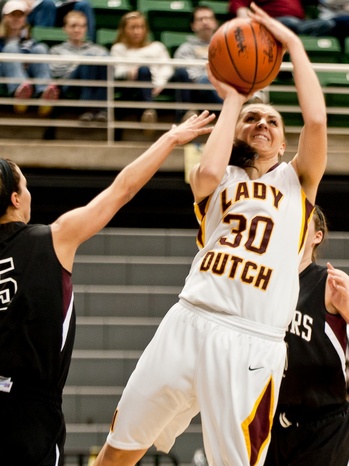 Mike Mulholland | MLive.com
"McKenna just makes everyone around her so much better, and had absolute confidence in her teammates to step up if teams were focused on stopping just her," Kastel said. "She allows players to step out of their box and take chances by instilling the confidence she had in her team and then they believed in each other."
Regardless of the other players stepping up, make no mistake, the team needed Erkfritz to be the driving force against the big time opponents, and she did not disappoint. At the Breslin Center, Erkfritz answered the bell, with 19 points and 10 rebounds in the semifinals.
She followed it up 22 points, 11 rebounds and four blocks in the championship game. Not even a punch to the face could slow her down in that game, which is what happened during a scramble under the hoop.
"It really fired up my team more than anything. I'm pretty sure that punch made us want us to win even more," Erkfritz said. "We were like, 'Ok, it's a game now.'"
After the punch, Kastel was at first just happy to see Erkfritz keep her composure, then excited for what the opposition may have unleashed.
"That's like taking your life in your own hands," Kastel said.
The next first for Erkfritz will be this fall at Northwood University, where she'll be the first female scholarship athlete from Manchester in any sport since 1993, before Erkfritz was even born.
Erkfritz can't wait.
"I got really sad for my last game, until you know I got to thinking I have four more years of college basketball," Erkfrtiz said. "I'm just really happy with my choice (of schools) and just really excited."
Pete Cunningham can be reached at petercunningham@annarbor.com. Follow him on Twitter @petcunningham.