Posted on
Fri, Apr 5, 2013 : 5:45 a.m.
Milan's C.J. Turnage is AnnArbor.com 2013 Washtenaw County Boys Basketball Player of the Year
By Kyle Austin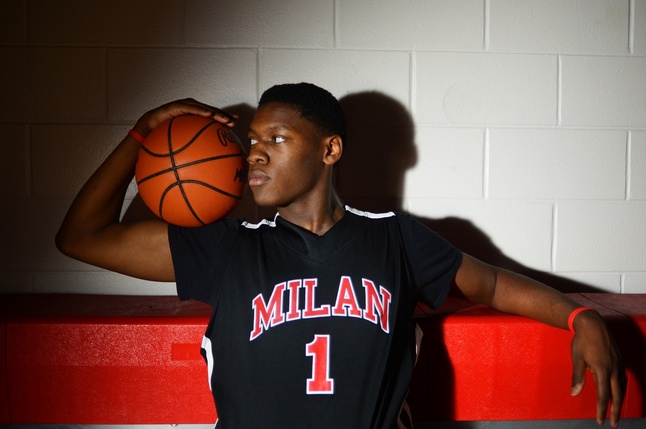 Melanie Maxwell | AnnArbor.com
The journey began in an open gym in July 2009, when new coach met new player and the course of a program changed.
Josh Tropea was the incoming coach at Milan High School, taking over a program that had gone 3-39 in the two seasons before.
C.J. Turnage was an incoming freshman who showed promise but had yet to grow into his body.
In the nearly four years since that day, Turnage developed into a dominating high school basketball player, able to play inside, outside and above the rim.
And as Turnage has gone, so has Milan: the Big Reds have gone 40-5 in the last two seasons, winning back-to-back Huron League titles and won two district titles in the last three years.
Tropea puts the connection between those two events in no uncertain terms.
"Bottom line, it's C.J.," Tropea said. "C.J. did this. This is C.J.'s legacy he left at Milan. He has more wins than anybody that's ever played at Milan, and maybe that stat is more impressive than anything."
ANNARBOR.COM 2013 WASHTENAW COUNTY DREAM TEAM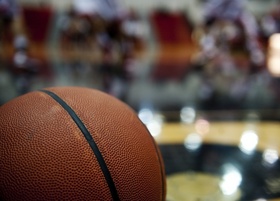 After four long months, the boys and girls high school basketball season is finally over. To officially close the book on the season, AnnArbor.com is releasing its 2013 Washtenaw County Dream Team package. Below is the online publishing schedule for the various elements of postseason awards.
Dream Team Schedule:
Thursday: Girls 2013 Player of the Year article.
Friday: Boys 2013 Player of the Year video and article.
Sunday: Boys 2013 Washtenaw County Dream Team and Girls 2013. Washtenaw County Dream Team.
Next week: Girls 2013 Player of the Year video; Hockey, wrestling, swimming and bowling player of the year articles.
*Entire package available in AnnArbor.com's Sunday, April 7 print edition.
And after by far his best offensive season, one that led Milan to a 22-1 overall record and a regional final berth, Turnage is the AnnArbor.com Washtenaw County Player of the Year.
His Milan legacy is not lost on Turnage. He realized early in the year that he had a chance to score the 1,000th point of his career, and made getting there a goal. He accomplished it in the second-to-last game of the regular season with a 28-point performance against Monroe Jefferson.
Turnage is one of only four players in Milan history to do that. And the name on the top of that list is plenty meaningful: Stan Joplin, Turnage's uncle and a Milan legend who holds the school scoring record. Joplin went on to play at the University of Toledo and coach there for 12 years.
"At the beginning of the year, I remember I said that I wanted to leave a legacy," Turnage said. "I wanted to be known, I wanted to be in the hall of fame, and I feel I left that this year. It really means a lot to me."
For the year, Turnage shot an astounding 71 percent from the field while averaging 19.1 points, 3.9 assists and 7.9 rebounds per game. He scored more than 20 points in seven of his team's nine games down the stretch, including 28 in a district opener against Saline.
Turnage was named Honorable Mention All-State and will play at Saginaw Valley State next year.
Coming into this season, Turnage was plenty athletic, but wasn't necessarily known for his scoring. Tropea said Turnage was the team's most talented player before this year, but deferred the scoring to seniors and instead took on a role of facilitator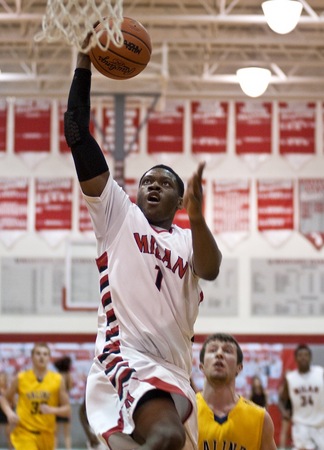 Joseph Tobianski | AnnArbor.com file
But this year, Turnage took a look at this team's roster and knew that would have to change. Milan graduated 11 seniors from last year's team. Turnage was one of only three players returning to Milan with varsity experience.
"We didn't have a lot of threats on offense, mainly me and Latin (Davis) were the offense," Turnage said. "I knew what I had to do before the season started so I wanted to make sure I got that done."
More than just as a scorer, Turnage developed a reputation as a dunker. A typical Milan game usually included multiple Turnage dunks, many on passes from Davis. Asked to name his favorite moment of the year, Turnage recalled a series of dunks he had against Monroe.
"I had two alley-oops, about three fast-break dunks," Turnage said. "I did a reverse dunk that had the crowd rumbling."
To see him play now, it's hard to imagine that athleticism wasn't his strong suit growing up. His father, Calvin Turnage Sr., encouraged him to be an all-around player, to score, rebound and distribute the ball. But it wasn't until he got to Milan that he developed into a premier player.
"I used to tell my wife all the time that when his athleticism kicks in he's going to be quite a player," Calvin Turnage said. "It kind of grew in his sophomore and junior year, because that's when he started playing above the rim, he started being a little bit stronger."
As he moves on to Saginaw Valley State, Turnage will join a program that has had just one winning season in the last decade, playing for a coach that just finished his first year.
It's a familiar situation.
"In four years if he leaves and Saginaw Valley State is a premiere player in the GLIAC, C.J.'s going to be able to leave his stamp on that and say he was a huge part of that," Tropea said.
Kyle Austin covers sports for AnnArbor.com. He can be reached at kyleaustin@annarbor.com or 734-623-2535. Follow him on Twitter @KAustin_AA.