Posted on
Thu, May 31, 2012 : 5:59 a.m.
One year after her father's suicide and shooting of her mother, Maya Long seeks refuge on the track
By Pete Cunningham
Jeffrey Smith | AnnArbor.com
The 400-meter dash is a short enough race to need sprinter's speed, but long enough to need a distance runner's mental fortitude. Runners who fly around the final turn often end up looking like they're running in sand for the final 50 meters.
"Push through the pain," Marlow Long used to tell his daughter, Maya Long, about that fateful final stretch.
When the Ann Arbor Huron High School senior runs the 400, she says she can still hear her father yelling, as though he's standing at the fence, cheering for his baby girl. "Push through the pain."
She also thinks about him whenever she climbs into the green 1999 Chevy Malibu he bought her when she got her driver's license, and at multiple other moments of mundane daily life.
"I just think about him all the time," Maya said. "He was very involved with everything that I did."
In the early morning of May 28, 2011, Marlow Long shot Maya's mother, Katrina Long, in the neck and shoulder and then turned the gun on himself, ending his life at the age of 37.
Marlow always told Maya to push through the pain.
He never told her how strong the pain could be.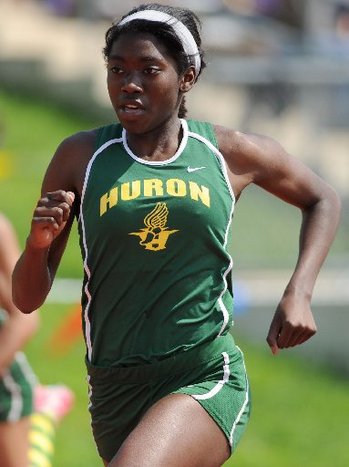 Angela J. Cesere | AnnArbor.com
A final conversation
Marlow never missed Maya's track meets.
Maybe that's why their final conversation seemed so strange.
Maya met Marlow and Katrina in a park on May 27. She filled her father in on the regional track meet he had missed the week before.
A junior at the time, Maya told her father about her victories in the 200- and 400-meter dashes. That was nothing new. What made this story special was that one of Maya's opponents was a former state champion in the 400 and previously undefeated in both events.
Maya would go into the state championships as the top seed in the 400 and No. 2 in the 200 as the result of her performance.
Of all meets, why did he miss this one?
Maya took her 4-year-old sister, Monae, home and left her recently divorced parents at the park at their request. Looking back on the conversation, it still seems strange to Maya.
She didn't think it would be their last.
After Maya left her parents, their meeting took a turn for the worse. According to Katrina, Marlow had grown verbally and physically abusive since their divorce in November 2010.
Though Katrina said she could sense Marlow was losing control of himself around January, she never imagined what would come next. Marlow pulled a gun and made Katrina drive around for several hours until stopping at Dolph Park Nature Area around midnight.
Shortly after 1 a.m., Marlow shot Katrina.
"With Marlow, it was 'if I can't have you, no one else can,'" Katrina said.
Katrina managed to escape the vehicle and draw the attention of two people entering the park. She got in their car and they drove her out of the park and called 911.
When police arrived at Dolph Park, they found Marlow in his car with a self-inflicted gunshot wound to the head. He was pronounced dead early that morning.
With her mother at the University of Michigan Hospital, a social worker Maya had never met broke the news to her. She barely remembers the night.
"I try to block it out," Maya said. "It wasn't a family member who told me, so I wasn't even paying attention. I just shut down."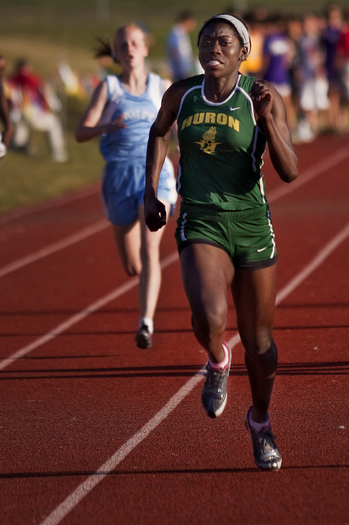 Jeffrey Smith | AnnArbor.com
Track is an outlet
More than ever, Maya has heeded her father's advice since his death. Track has been her outlet.
Physical pain, in races and training, is something she looks forward to. Dealing with it is an escape from the emotional agony that lingers.
"It actually feels really good," Maya said. "Whenever I feel like that, I know I can just keep going, pushing myself."
Despite their final encounter, Katrina remembers Marlow as a great father.
It was Marlow who would always be the coach of Rec & Ed basketball teams for Mia, Maya's 13-year-old sister. It was Marlow who would work for hours with Maya on basketball or soccer, whenever she wanted to improve on something, and then with track when she decided to focus solely on one sport in high school.
Maya said Marlow was like having her own private coach. Though sports held a special place in Marlow's relationship with his daughters, it wasn't their only connection. Marlow drove his daughters to school and, when his work schedule permitted, it was Marlow who the girls would see when they got home.
"He was their foundation," Katrina said. "There was never a lack of anything in terms of being a father."
But as a husband, Marlow had shortcomings. Katrina said she was the victim of physical and verbal abuse. In between the birth of Mia and the couple's youngest daughter, Monae, now 5, Marlow fathered a son out of wedlock.
Still, Katrina defends him as a father.
"My personal relationship (with Marlow) was totally different from what the kids knew of their dad," Katrina said. "The girls had a very close relationship with their dad and what went on between him and I was between him and I. They were never involved."
Katrina said the girls were sheltered when it came to the turmoil of the couple's relationship. She said Marlow was never abusive to his daughters and never to her in front of them.
But there's no hiding attempted murder and a suicide.
That final action can blur the perception of any man, no matter how much was kept from the children beforehand. It's a dichotomy Katrina and Maya both say they struggle to reconcile.
"For me, as a mother, it's just really hard to even try to understand everything that has happened, but through prayer and a faith in God, and trying to instill faith in the girls, we try to get through," Katrina said. "We are a close family, and day-by-day that's how they handle."
"I didn't want to believe (he did that). No one would want to," Maya said. "It was really hard for me, but I wanted to celebrate the life of my mom."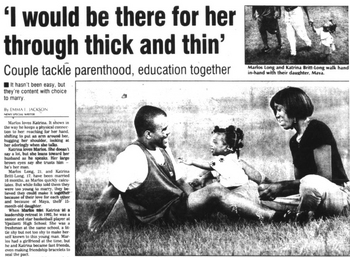 Courtesy of Ann Arbor District Library
Through thick and thin
Katrina and Marlow married when they were teenagers and Maya was born when Katrina was a sophomore at Ypsilanti High School.
In a 1995 Ann Arbor News story about the challenges of teen pregnancy, the couple spoke of their everlasting love despite the challenges they may face down the road.
A picture from the article shows a 15-month-old Maya lunging affectionately toward Marlow with Katrina looking on. Marlow's gaze is split between wife and daughter, a toothy grin spanning his face.
"I would be there for her through thick and thin, if not physically, then emotionally," Marlow said in the article.
This is how Katrina hopes her daughters can remember their father.
Memorial Day was the 1-year anniversary of Marlow's suicide. As people across the country honored fallen veterans, Maya, Katrina, Mia and Monae made a trip to Marlow's grave.
They shared their best memories of Marlow, trying to keep his last action out of their minds, which wasn't easy.
"Emotionally, it was hard for them. We prayed at the site, talked about some good times and moved on," said Katrina. She described visiting the grave as reliving the night of Marlow's death, and her shooting, all over again.
"It was hard," she said.
This weekend will also mark the 1-year anniversary of last year's state championships, which Maya participated in despite her father's death exactly one week before. She barely slept or ate before that meet and lost 10 pounds.
Maya Long does not have 10 pounds to lose.
She took third in the 400, fifth in the 200 and anchored Huron's winning 3,200-meter relay team while running on fumes.
Huron coach Keri Kirk told Maya she didn't have to run that day, but was amazed by the performance.
"All we wanted was for her and her family to be OK," Kirk said. "Maya handled it as well as any person I can imagine.
"She could have quit, could have stopped and no one would blame her. The team environment that we create, I think, has helped her in some ways to heal."
Amazing? Definitely. Maya's best? Far from it.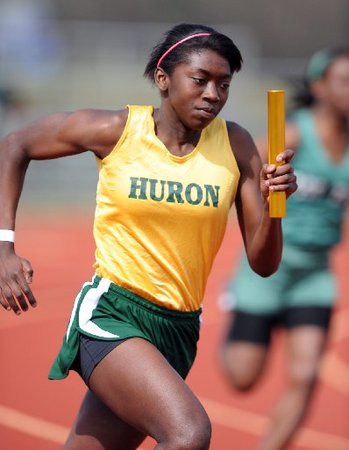 AnnArbor.com file photo
Last one, best one
Throughout the past year, Kirk has offered a shoulder to cry on and an ear to listen during what has been a tumultuous time. She has also helped Maya push through the pain, like her father used to plead.
"I was letting her know I was there, but also still challenging her to live up to her potential," Kirk said, "She's a next-level athlete, and I wanted to help her keep focused on getting to that next level."
Maya accepted a track scholarship to the University of Michigan. Before her father's death, she considered going far away for college and, according to Kirk, had her pick of the best programs in the nation.
Kirk said Louisiana State, currently the top-ranked women's track team, was among her suitors.
She chose Michigan, in part, to be close to her mother and sisters.
"Originally, I wanted to go far away, but I think that's any high schooler's dream," Maya said. "After what happened, the best thing for me was to stay close to home."
It's a decision Katrina didn't pressure Maya into, but one she is grateful for. She said Maya's support to her sisters has been invaluable.
"She's been the backbone for the whole family, yet she has managed to succeed," Katrina said.
Katrina calls the day Maya signed her letter of intent, "one of the greatest moments of my life."
One of Kirk's favorite mottos is "Last one, best one," motivating her athletes to try to perform at their peak on the biggest stage.
Maya's last memory of her father is far from her best one. Though she may heal from it, it can never be replaced.
She goes into this weekend's Division 1 state championships at East Kentwood High School as the top seed in the 400 and No. 2 in the 200 once again. She plans to make her last memory of a state championship her best one, and hopes it can help the healing process.
She's not alone.
"I have been waiting 365 days for this," said Kirk. "We all went in with heavy hearts last year and you knew it wasn't going to be (Maya's) best. Watching her, you could just tell she wasn't herself.
"She has unfinished business. It wasn't her fault, but she knows she's capable of amazing things and I'll be happy to see everything she's gone through and her hard work come to fruition on Saturday."
As much as the absence of her father still looms, Maya wants redemption, too.
"I feel as good as I did (physically) last year, before everything happened, and I'm excited," Maya said.
"It's still going to be hard with him not there, and he's always in the back of my mind, but I've prepared the full year and I'm ready to go out there and perform."
Contact Pete Cunningham at petercunningham@annarbor.com or by phone at 734-623-2561. Follow him on Twitter @petcunningham.