Posted on
Sat, Dec 8, 2012 : 11:33 a.m.
Paul Test: Pioneer assistant who shoved Huron coach was fired without due process
By Kyle Austin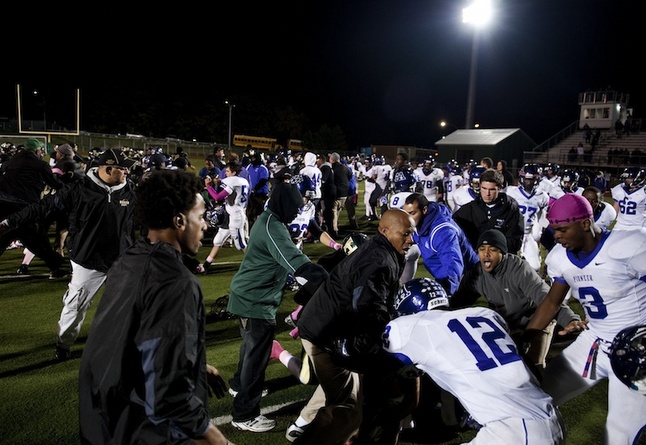 Daniel Brenner | AnnArbor.com
A day after announcing his resignation as Pioneer High School's head football coach, Paul Test criticized Ann Arbor Public Schools' response to the Huron-Pioneer football brawl, saying the firing of a Pioneer assistant coach was done without due process.
Former Pioneer assistant Vince Wortmann was terminated four days after the Oct. 12 brawl, for shoving then-Huron coach Cory Gildersleeve during the postgame handshake. Test and Gildersleeve both received two-game suspensions.
Test said Wortmann's termination "bothered me a lot."
"I would say the fact that coach Gildersleeve and I were suspended for two weeks and he was terminated was inappropriate," Test said. "Either suspend them all and investigate or terminate them all, but why suspend two and terminate another without due process?"
District spokesperson Liz Margolis said only that Wortmann was contracted through a private company called PCMI, and that the district notified PCMI that it was "no longer interested in his employment."
"That's all I'm going to really say to it," Margolis said. "I'm sure Paul Test has his own feelings about it."
The official's report of the game describes Wortmann shoving Gildersleeve with both hands in response to Gildersleeve physically forcing Test backward during the postgame handshake.
The Washtenaw County prosecutor's Office opted not to charge Wortmann for his role in the brawl, ruling that he acted legally in defense of Test. In an email to Pioneer Athletic Director Eve Claar the day after the incident, Wortmann contended he acted in defense of Test.
"I think the official's report and the prosecutor's report confirms that what he did was act in a defensive posture," Test said. "He saw someone that he cares about and respects...being disrespected, if nothing else, is what he saw. There's no question he saw that."
Test also said Wortmann's shove didn't incite the brawl, but declined to elaborate, citing legal reasons.
Wortmann spent four years on the Pioneer staff, Test said.
"He's someone who has been very loyal, very hard-working, and is an excellent coach," Test said.
Test resigned Thursday at Pioneer's head coach, but said the decision wasn't related to the brawl.
Kyle Austin covers sports for AnnArbor.com. He can be reached at kyleaustin@annarbor.com or 734-623-2535. Follow him on Twitter @KAustin_AA.