Posted on
Fri, Dec 7, 2012 : 3:53 p.m.
Pioneer head football coach Paul Test resigns, says brawl wasn't reason for decision
By Kyle Austin
Pioneer High School head football coach Paul Test announced his retirement Thursday night at his team's postseason banquet, ending his two-year run as head of the program.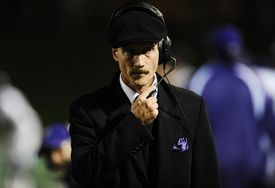 The announcement comes less than two months after the Oct. 12 Pioneer-Huron postgame brawl that resulted in suspensions, a dismissal and criminal charges.
Test said his decision to retire was not based on the brawl and its aftermath.
"It was not decided by that," Test said Friday afternoon. "Had that never had happened, I was still considering what I inevitably did anyway."
In the immediate aftermath of the brawl, Test said he felt pressure to resign, but was assured that he would not be asked to. He said in the end, the decision to retire was his alone.
"There was initially some discussion of pressure, but I was assured a while back by (Pioneer Athletic Director Eve Claar) that there was no pressure from anyone else," Test said. "That's the truth."
Test retired from his teaching position last year, and no longer holds any job within Ann Arbor Public Schools.
Huron head coach Cory Gildersleeve also resigned at his team's banquet in early November. Both coaches were suspended two games for their roles in the brawl.
The retirement ends Test's second stint as Pioneer head coach, after he previously coached the team from 1991-94. He also spent 20 years as an assistant at Pioneer and with other area programs, including Huron.
Test retires with a 16-7 record in two seasons, two Southeastern Conference Red Division titles, and a 2011 division title. His team this year advanced to the district finals before falling to Saline.
But his retirement comes while there is still ongoing fallout from the brawl. One of his players, Bashir Garain, was in a courtroom Thursday morning, facing assault charges after police say he used his crutch as a weapon during the brawl. Test was present to show his support as Garain waived his preliminary hearing and pleaded not guilty.
While Test said the brawl and its aftermath didn't directly lead to his resignation, he admitted the ongoing fallout has taken its toll in the last two months. That fallout has included his suspension, the suspension of players, the firing of one of his assistant coaches and the criminal charges.
"One thing I've learned is that most of us want to control things in our lives, and one thing I've found is that most of what has come to the forefront is that we're not in control," Test said. "I wasn't in control of what transpired that night, and that's unfortunate."
Test said he is remorseful for what happened during the brawl, but also said that he couldn't have done anything differently. He reiterated Friday afternoon that one of his assistant coaches called for a deep pass late in the game, with Pioneer holding a 35-6 lead. Test said he had no knowledge of the pass beforehand, but that he "should have been more aware."
That pass incensed Gildersleeve and the Huron sideline. According to the referee's report from the game, Gildersleeve pushed Test during the postgame handshake.
"I feel bad for the kids, both Huron and Pioneer kids that were involved in the aftermath, and the repercussions from them getting in trouble," Test said. "Ultimately I'm responsible, but ultimately I don't know what I could have done differently. It was sad that I couldn't just wave a magic wand and make it stop."
Yet despite the brawl, Test said he feels good about what he was able to accomplish at Pioneer, and didn't rule out returning to coaching in a different capacity.
"I've been doing it for 36 years and felt it was the right time," Test said of his retirement. "I felt good about it being culminated after two successful seasons.
Kyle Austin covers sports for AnnArbor.com. He can be reached at kyleaustin@annarbor.com or 734-623-2535. Follow him on Twitter @KAustin_AA.