Posted on
Thu, Dec 6, 2012 : 10:25 a.m.
Attorney: Pioneer student charged with assault in football brawl didn't hit anyone with crutch
By John Counts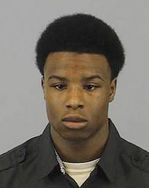 Courtesy of WSCO
This story was updated at 1:49 p.m. with information from the Ann Arbor Police Department.
Bashir Traevon Garain, of Ann Arbor, pleaded not guilty in the 14A-1 District Court Thursday morning to two felony and two misdemeanor charges related to the October football brawl between Pioneer and Huron high schools.
The 18-year-old Pioneer High School student waived his preliminary examination and had his case bound over to circuit court.
Garain appeared before Judge Cedric Simpson for only a few minutes and responded with a hushed, "Yes, sir," when asked if he understood the court proceedings.
Garain is charged with two counts of assault with a dangerous weapon, which are felonies, and two counts of assault and battery, which are misdemeanors, for his alleged part in the post-game fight. Police say Garain, a sidelined player on Pioneer, used his crutch as a weapon.
Walter White, Garain's attorney, said it was clear from video of the fight that his client didn't hit anyone with the crutch, and that the assault charges stem from Garain swinging the crutch once.
"The crutch hit the ground," White said. "It didn't hit anybody."
White said the video, which has not been released to the media, shows Garain shaking hands with Huron players at the end of the game. When the fight broke out, Garain, who had a football-related knee injury, hopped away and was standing away from the main action, White said. When the crowd surged, however, Garain was subsumed.
"That's when the crutch got swung," White said.
White maintains the video will show that Garain is "clearly trying to avoid trouble" and, while he swung and threw the crutch, it did not hit anyone.
"We'll let the facts play out in the judicial system," said Ann Arbor police Lt. Robert Pfannes about what exactly happened.
White said there is no connection between the charges against Garain and the Huron player who suffered head injuries during the fracas.
Pfannes confirmed this. He said two juveniles will be charged in that matter. Police are not releasing any information about the two juveniles, but both are expected to be charged with two counts of assault with intent to commit great bodily harm less than murder, a felony, and two counts apiece of misdemeanor assault and battery, Pfannes said.
"Both subjects are believed to have inflicted injury to a subject who was on the ground," Pfannes said.
The victims in the case were in court and prepared to testify Thursday morning at the preliminary examination, a hearing used to determined whether there's probable cause a crime was committed and the person accused committed it. White said there isn't any hostility between Garain and the victims in the case.
"There doesn't seem to be any hard feelings," he said.
White said the examination was waived because it was unnecessary.
"(We'll) take it up to the (circuit) court ... and see how it goes," he said. "It's a very trial-able case, but it's a very resolvable case. It's too early to see how it will end up."
Pioneer head football coach Paul Test attended the hearing to provide support for Garain and his family. He said it was difficult to watch one of his players go through the process. Test was suspended for two games for his role in the brawl.
"I'm sorry for the situation," Test said. "I'm sorry for my inability to stop it from happening."
Garain is scheduled to appear in the Washtenaw County Trial Court before Judge Donald Shelton at 1:30 p.m. on Jan. 29.
AnnArbor.com prep sports reporter Kyle Austin contributed to this report. John Counts covers cops and courts for AnnArbor.com. He can be reached at johncounts@annarbor.com or you can follow him on Twitter.