Posted on
Wed, Feb 20, 2013 : 12:37 a.m.
Alleged racial slur leads to brief altercation between Pioneer players and Temperance Bedford fans
By Kyle Austin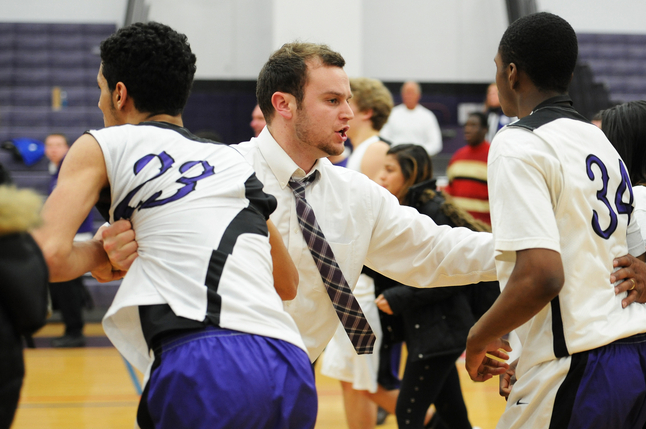 Melanie Maxwell I AnnArbor.com
An alleged racial slur from a Temperance Bedford fan to Pioneer forward Jibreel Hussein sparked a small altercation in the aftermath of the two teams' boys basketball game Tuesday night at Pioneer High School.
The two sides were quickly separated and no punches were thrown, according to both Pioneer coach Rex Stanczak and athletic director Eve Claar.
Stanczak said a Bedford fan directed a racial slur at Hussein, and that Bedford fans previously used racial slurs during Pioneer's game at Bedford earlier this season and during Tuesday's junior varsity game.
"Someone's got to do something about these Bedford fans," Stanczak said. "I understand that they're from a little different area of the world, but you just can't do that to kids."
Stanczak said he did not personally hear a racial slur, but was told by Hussein what was said.
Hussein scored five of his team's last six points in a 64-61 win, and recorded a steal with six seconds left that sealed the win. The game ended with Hussein missing a dunk at the buzzer with his team up three.
After the horn, Hussein approached the Bedford student section and showboated, pointing at his jersey.
Minutes later, fans and multiple Pioneer players, including Hussein, were seen shouting with Bedford fans. Pioneer staffers and coaches quickly separated the two groups, and the court was cleared.
Stanczak said racial slurs were directed both at Hussein and at family members.
"That's really why he was so adamant about it, because they're such a close family," Stanczak said.
Pioneer players were escorted to the locker room while fans were removed from the court. Stanczak said the Pioneer players later left the building together accompanied by an assistant coach.
Claar said Tuesday night that she and Bedford athletic director Mark German had already spoken about the event.
Stanczak said he plans to speak to his team about the event and how to learn from it.
"You have to understand that you're from Ann Arbor, which is a highly educated town, which is liberal-minded and people understand that the color of someone's skin doesn't matter," Stanczak said. "It's not like that everywhere in the world, and you just have to understand that. Ignorance is a tough thing."
Skyline assistant coach Jay Shunnar, a former standout player for Huron who also played at the University of Toledo, said he had similar experiences when he played.
Shunnar, like Hussein, is Muslim. His given name is Jihad, which he changed to Jay in the summer of 2008 before enrolling at Toledo.
"You get these schools from other areas that haven't seen a kid like Jibreel, it's unfortunate," Shunnar said after Skyline's game against Huron on Tuesday night. "I had to change my name because of it. I grew up as Jihad for 18 years, when I went to college, I was Jay."
"Because he's one of the best players in our area people feel like that's a way to get to him, by making a comment like that. That's a way to rub him the wrong way," said Shunnar. "It's really unfortunate and I hope it stops because we really don't need that kind of stuff."
Shunnar said when he played he used the negativity as fuel and hopes Hussein can do the same.
"That should challenge him to go. That should make him want to play harder be better. You know, because people think he can't do it just because he's a Muslim," Shunnar said.
Longtime Huron head coach Waleed Samaha was surprised when he heard about the incident.
"It's very surprising. It's surprising and disappointing, you don't want to have a kid experience that and I know the administration there takes that stuff seriously and Mark German and those guys aren't going to tolerate that," Samaha said.
Samaha said his team has not had any type of similar incident with Bedford in the past.
"We have a particularly strong relationship with Bedford," Samaha said. "They've never given our kids a problem, their student section, after the game you'll see a lot of kids and coaches talking huddling around after the game."
-- Pete Cunningham contributed to this report.
Kyle Austin covers sports for AnnArbor.com. He can be reached at kyleaustin@annarbor.com or 734-623-2535. Follow him on Twitter @KAustin_AA.