Posted on
Wed, Apr 24, 2013 : 5:58 a.m.
Possibility of $1M cut in athletics has Ann Arbor Public Schools coaches worried
By Pete Cunningham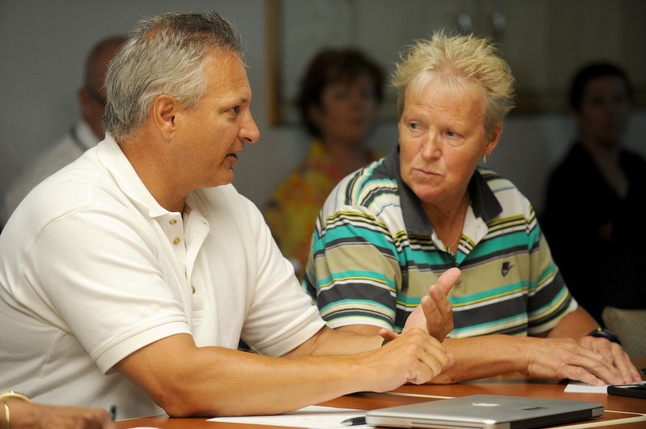 Angela J. Cesere | AnnArbor.com file photo
The
Ann Arbor Public Schools
Board of Education will be presented with a budget proposal on Wednesday, complete with a plan to reduce the athletics budget once again.
High school coaches in the district are worried what the athletic department will look like if $1 million has to be trimmed from the district's $3 million athletics budget, as was proposed back in December.
Cuts would be nothing new to athletics, with roughly $1.6 million being reduced from the budget from 2009 to 2011. In 2011, another $200,000 was cut from the athletics budget, followed by $188,500 this year.
"We've already been cut down to bare bones," said Pioneer golf coach Steve Rodriguez. "I don't know where $1 million could possibly come from."
School board member Christine Stead said based on the board packet, it appears the proposed cut that will be presented by the administration is less than $1 million, but Stead would not elaborate. Even if the cuts are less than $1 million, there is a fear among coaches about what cuts are coming down the line.
Rodriguez has been a teacher at Pioneer for more than 30 years and a coach with the girls and boys golf programs since 1985. Since the $1 million figure originally was put out, Rodriguez has been part of discussions with coaches district-wide, parents and the district's three athletic directors about what those cuts might look like and trying to garner support for them not to happen.
"I've just been trying to let people know what's going on so they can let their voices be heard," Rodriguez said.
Huron athletic director Dottie Davis said she, Pioneer athletic director Eve Claar and Skyline athletic director John Young were tasked with drawing up plans to make $1 million in cuts work. Among the ideas included in the plans, school officials said, were cuts to middle school sports, increasing the pay-to-participate fee and eliminating some transportation to away games. The athletic directors said they have not been told what the final proposal the administration is presenting to the board will be.
The $1 million figure was put out when the district's deficit was projected as $17 million to $20 million. Recent projections have the district's deficit at $8.67 million.
"We don't know how much we're going to get cut yet, we're hoping the least," Davis said.
Rodriguez said framing the $1 million in cuts as a 33.3 percent reduction is misleading considering $800,000 of that budget is generated by the teams through methods such as pay-to-participate fees and ticket sales. He said the only place he can fathom more cuts is to cut coaches' salaries, further cuts to the transportation budget and referees fees. The district only pays for busing if a team competes outside of Washtenaw County during the week and has a $150 pay-to-participate fee with a $75 additional fee for a second sport.
"Now I'm not going to sit here and tell you that there's a lot of coaches that coach for money, but if you factor in the time we spend — in season, not even factoring in out of season — we're working for less than $1.15 an hour," Rodriguez said. "There's no program in Ann Arbor public schools that has a more cost effective way of educating our kids than we do in sports. (More cuts) just makes no sense."
"We've become much more involved in the business of fundraising and because we've been successful in spite of the support we've been given, I think that's why it's easy for them to say, 'oh we'll just cut athletics, it's not that big of a deal,' because we continue to be successful," Rodriguez added.
Rodriguez pointed out the academic benefits of sports such as providing an incentive for athletes to maintain a grade point average above 2.5, the minimum to be eligible to participate in varsity sports.
"Not only do we spend a great deal of time coaching and going through plays but we're also providing tutorial services and — teachers that are in the building — are constantly in contact with teachers for kids that are at risk," Rodriguez said. "You talk to some kids on that list, if you eliminate the incentive to get a 2.5, I don't know what would happen to them or the district if they don't keep a strong athletic program…I've had teachers tell me over and over again, if it weren't for a certain sport they would have a hard time getting Sally, Jimmy, Johnny or whoever to class."
The district saved $93,000 by moving lacrosse to a club sport in 2012-13. Pioneer girls coach Zachary Maghes has remained positive during the era of reduced spending on athletics, but is concerned what will happen if more sports suffer the fate lacrosse did.
"It's unfortunate, but we are making it work and will continue to build a strong program," Maghes said. "One concern I do have is if all teams become self-funded it may make for a lot of competition among teams in the community.
"On the flip side, I feel there are lots of opportunity as long as the community is willing to support student athletes."
Last year, $58,000 was cut from the budget by the district no longer paying entry fees for tournaments and $37,500 by eliminating middle school athletic directors.
"I think we're all as coaches trying to figure out where we go," said Pioneer boys basketball coach Rex Stanczak.
Rodriguez said he expects many parents, coaches and athletes to be on hand to speak up against any proposed cuts to athletics at Wednesday's Board of Education meeting.
"If they cut an additional $1 million, this is why I've finally spoke up, we won't be able to continue," Rodriguez said.
Pete Cunningham covers sports for AnnArbor.com. He can be reached at petercunningham@annarbor.com. Follow him on Twitter @petcunningham.