Posted on
Thu, Nov 1, 2012 : 12:07 a.m.
Saline, Manchester, Greenhills sweep into volleyball district finals, plus other Wednesday results
By AnnArbor.com Staff
AnnArbor.com Washtenaw County Scoreboard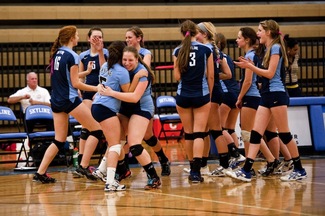 Joseph Tobianski | AnnArbor.com
GIRLS VOLLEYBALL
Saline 3, Monroe 0
Story | Boxscore | Bracket
Kara Rogers finished with 15 kills and 28 digs to lead Saline to a 25-17, 25-13, 25-17 district semifinal victory over Monroe.
Saline advances to Saturday's district final where they will host Temperance Bedford at 7 p.m.
"This was exactly the type of match that we needed to play tonight," said Saline head coach Lisa Shea. "We needed to remind ourselves how good we can be with our ball control and defense. We played with a lot of confidence and were very crisp. Kara Rogers had the type of match we need everyone to have. She is a terrific offensive player but she really excelled defensively tonight."
Temperance Bedford 3, Milan 0
Story | Boxscore | Bracket
Temperance Bedford beat Milan 25-4, 25-11, 25-11 to advance to the district final against host Saline on Saturday at 7 p.m.
Rachel Eliason finished with three kills and eight digs to lead Milan in the match, and teammate Madison Castle added two aces and seven assists.
"Bedford is a very experienced and well-rounded team with a Ms. Volleyball candidate playing at libero," Milan coach Hai Hoang said. "They served well against us, and we had a hard time serve-receiving, but we never stopped fighting, even after dropping the first set 4-25. I was impressed with our team's resolve in the face of adversity tonight."
Manchester 3, Clinton 0
Story | Boxscore | Bracket
Manchester scored a 25-21, 25-14, 25-10 victory and will face will face Adrian Madison in the finals.
"Our defense was good," Manchester coach Sarah Andrews said. "Our attacking was on and our serving was on. It was a little emotional in the first game. It was also close in the first game, but they really dominated the rest of the night.
McKenna Erkfritz had 18 kills, two aces and three blocks for Manchester, which improved to 49-2-3 overall. Jesse Coltre contributed 34 assists and two aces. Loni Rickelmann added seven kills, and Taylor Manders had 23 digs and three aces.
Greenhills 3, Ypsilanti Arbor Preparatory 0
Story | Boxscore | Bracket
Greenhills won 25-9, 25-20, 25-15 to advance to the final.
Jackie Oestreich finished with 22 kills and one block to lead Greenhills, and teammate Liz Lusk added 17 kills, nine aces and 18 digs.
Sydney Bartell finished with 37 assists, four digs and five aces as well for Greenhills, which advances to the district final at Whitmore Lake at 7 p.m. Friday. Greenhills will play the winner of the Willow Run-Whitmore Lake semifinal with a district title on the line.
Willow Run vs. Whitmore Lake
No information available
AnnArbor.com Coverage
Huron 3, Pioneer 0
Story | Boxscore | Photo Gallery | Bracket
Skyline 3, Dexter 1
Story | Boxscore | Photo Gallery | Bracket
BOYS SOCCER