with gallery:

Saline football transitions out of summer and into new era and more high school football notes

Posted on Mon, Aug 6, 2012 : 8:52 p.m.

For most high schoolers, summer is a time to relax and enjoy a couple months off from homework and studying. A break from school didn't mean a break from work for members of the Saline High School football team, though, as they spent part of their summer learning a whole new scheme in order to be ready for fall practices.

The extra time seems to have paid off.

First-year coach Joe Palka said he was pleased with the first two-hour practice of the year Monday, attributing the work done in the summer by his players as a major factor.

"To be able to put some things in over the summer was helpful. By and large I thought the 'want to' was there out of our kids," Palka said. "They're really ready and eager to learn and get better."

During the summer many players met and held seven-on-seven drills in hopes of grasping some of the basics of the new philosophies.

As Palka and his staff overhaul the offense and defensive schemes, the team also went away last week for a camp at Northwood University.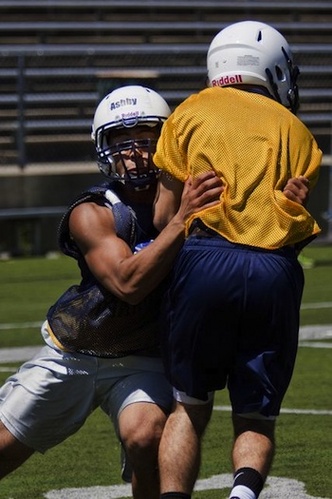 Jeffrey Smith | AnnArbor.com
"I think our passing game is ahead of everything else because of the seven-on-sevens," Palka said. "Our ability to go away to camp and install offense and defense is helpful, especially on day one."
According to Palka, the teams he's taken over have traditionally started slow as the team learns the finer points of the scheme. But, that's not to say Palka expects the same thing to happen this season.
"We usually get better by the middle to end of the year," Palka said. "There's just so many things that we're changing early, it takes a while."
While the change is going to be a lengthy process, Palka has a familiar face on the sidelines with him to help the offense adapt.
Former University of Michigan tight end Kevin Koger joined Palka's staff as an assistant coach. Koger played for Palka from 2005-08 at Toledo (Ohio) Whitmer High School where he set career records for receiving yards and touchdowns.
"He's been huge, he already knows the signals better than anybody else," Palka said. "He knows exactly what I'm looking for. It's going to be a huge bonus for us."
After only one, two-hour practice it's impossible to predict how the season is going to play out for the Hornets. For now, Palka and his staff are taking the transition one step at a time.
"I think we got a chance to surprise some people this year, but our only goal right now is to get better every day."
Gold (and blue) standard
There's little new at Chelsea High School, where long-time head coach Brad Bush and the Bulldogs started their quest for a 14th consecutive playoff appearance on Monday.
Sixty-six varsity football players turned a hallway in the high school into a human antfarm, some quietly and purposefully returning training equipment from the gymnasium to the weight room while maneuvering through lines of others waiting their turn to be weighed and measured.
At a moment's notice, the organized chaos clears and players are seated for meetings.
Fall camp is a scripted routine for the veteran Bulldogs staff, but the first day is always hectic as coaches verify physicals and get the 145 players in the program properly equipped.
"But that first meeting, when you have them in there and every team in the state has a chance to be good," Bush said. "There's something special about that."
Not surprisingly, Chelsea has a chance to be good in 2012. AnnArbor.com Dream Team member Berkley Edwards (5-9, 180) is back for his senior season after rushing for 1,520 yards and 18 touchdowns in 2011.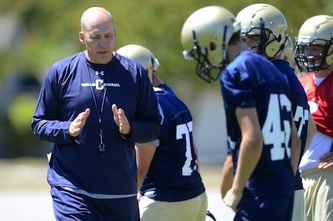 Melanie Maxwell | AnnArbor.com
Edwards has scholarship offers from California, Iowa, Minnesota and seven different Mid-American Conference programs, according to Scout.com.
But unlike when current Michigan State running back Nick Hill was dominating for the Bulldogs, Edwards won't be asked to carry the full offensive load. Bush is high on senior running back Colton Platt and thinks his three-way quarterback competition will result in a starting signal caller that can give the Bulldogs a balanced attack
Nate Bossory, a transfer from Manchester, is vying for the starting position with two seniors that saw varsity action last season - Alex Maloney and Logan Brown.
Defensively, Chelsea will be led by Central Michigan commitment Michael Steinhauer, a 6-3, 265-pound defensive lineman who missed half of his junior season with a knee injury.
Bush admits he is concerned about his team's depth in the secondary, and with that was off to oversee the team's 1:30 p.m. defensive practice.
After that two-hour session, the team breaks for dinner and reports back for a 6 p.m. offensive practice.
It'll be a 13-hour day for Bush and some of his varsity staff, who were on the field when the freshmen and junior varsity teams reported at 8 a.m. The freshman team is one of the largest in recent program history, with 44 of the school's roughly 100 male freshmen students reporting for camp.
"The first two weeks are really grueling," Bush said. "But I think it helps the overall program that I'm at least able to see all the kids, have a good feel for what they're doing on freshman and JV. It helps that I can be here to see it."
Leading man
When Aedan York reported to he first day of practice last season, he knew it was senior quarterback Andy Creal's team to lead. York was cast in a supporting role, and he was a willing backup, prepared for a year as an understudy.
That all changed when Creal blew out his knee in the second week of the season, thrusting York into the starting spot.
Even though York took the snaps from center as Pioneer won nine consecutive games - seven regular season and two playoffs -- he is the first to admit it wasn't quarterback play that won those battles.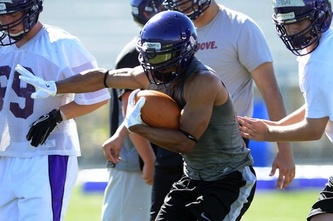 Melanie Maxwell | AnnArbor.com
York's main responsibility was to not fumble the ball while handing to
Drake Johnson
. Johnson, now a freshman at Michigan, rushed for 2,800 yards and 38 touchdowns and was Pioneer's first second and third best option on offense. York passed for fewer yards on the season (320) than Johnson rushed for in three separate games.
York won't be taking the backseat to anyone this year from a leadership standpoint. It's a good thing, because it's doubtful he'd fit. At 6-foot-3, 200 lbs. York reported to camp two inches taller and 15 pounds heavier than he was last year.
His growth has been about more than height and weight, though.
"Last year I came in and I wasn't even expecting to play, Andy got hurt and I had to fill in," York said on Monday. "Now I feel like it's more my team I'm more commanding of the offense.
"The guys are looking to me to make plays, looking to me to be a leader."
Pioneer coach Paul Test said the Pioneers will still be a power team, but York's maturity and confidence will allow for more versatility.
"York has 11 games under his belt, he's much further along right now than he was at any time last year. He's more aggressive, he's more confident," Test said. "We'll be more balanced with the run and the pass, but we're still hanging our hat on power football, I mean that's our bread and butter."
New normal
The first four years of first days of football practice at Skyline High School have been anything but normal. With a new school which added a class every year, the team increased by a class size every year of its existence.
Normal, no. Consistent, yes.
Having never graduated a single player until last year, it was never a question whom the leaders were from year to year for Skyline because it was always the same players.
Skyline could always rely on two-time All-State receiver Jordan Woods (1,163 receiving yards, 16 touchdowns), quarterback Andrew Copp (1,732 passing yards, 27 TDs) and receiver Theron Wilson (607 yards, 11 TDs) -- who were also All-State last year -- as the go-to players.
But they're all gone now.
The only consistent contributor from last year's high flying offense is senior wide receiver, Jack Clark. Clark, who last year had a team best 49 receptions for 510 yards and four tourchdowns, is looking to fill that leadership role.
"I've had Copp, Theron and Jordan to look up to the last couple years, but this year it's kind of my time to step up and become the leader of this football team and really take that role," Clark said on Monday. "To really take that role as the number one receiver after having obviously two All-Staters last year is going to be some big shoes to fill, but I think I'm capable of doing it."
"This year I'm going to have to kind of take a role where I step up and make sure everyone's on the same page everyone's working hard, stuff like that," Clark added.
River Rats start from scratch
After a disappointing 3-6 season last year, Ann Arbor Huron High School football coach Cory Gildersleeve knew something needed to change in his program. One of the first things he did was eliminate any sense of entitlement.
With that in mind, the River Rats opened their first practice of the season with every position on the depth chart open. Every position from the quarterback to the punter is open and the competition began Monday with Huron's first practice of the year.
"We went to a tryout policy this year, 9-12 grade," said Gildersleeve. "It starts today and on Friday we'll announce who makes the team and then we'll be able to start to go from there."
Gildersleeve said he and his staff looked at the program from top-to-bottom and is instituting many changes geared toward turning the program around.
"It was a very disappointing season and we've worked very hard this offseason to correct some of those things," Gildersleeve said. "There's not a position that we have right now on the football field that's going to get wrapped up until we get into game week."
-- Pete Cunningham and Rich Rezler contributed to this article.