Posted on
Tue, Dec 7, 2010 : 8:35 p.m.
Maintaining focus on Big Chill business at hand is easier said than done for Wolverines, Spartans
By Jeff Arnold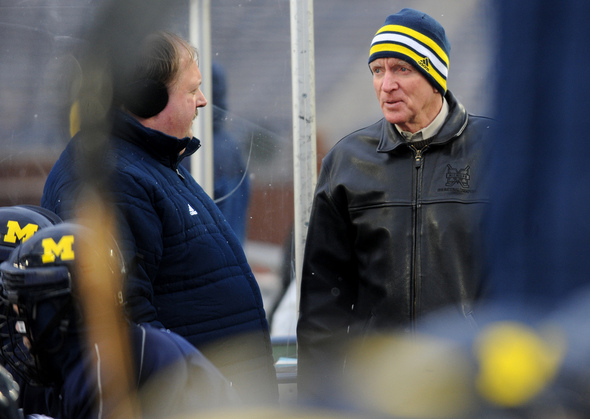 Melanie Maxwell I AnnArbor.com
The Michigan hockey team began formal outdoor preparations for The Big Chill at the Big House Tuesday afternoon, skating inside Michigan Stadium for a second straight bone-chilling day.
The Wolverines' first outdoor session Monday went off without any on-ice instruction, designed to give players a chance to enjoy the surroundings before they face rival Michigan State in Saturday's Big Chill main event (3 p.m., Fox Sports Detroit).
Tuesday's practice was to be more structured, giving Michigan coach Red Berenson the chance to get first first serious outdoor look at his team. Nearly everything went according to plan, with one notable exception.
Berenson wasn't there.
Michigan associate head coach Mel Pearson said Berenson called him mid-morning Tuesday, saying he was under the weather and would be not reporting to work.
Pearson said Berenson stayed home to get well, making sure he will be ready for the remainder of the week and for Saturday's conference game with the Spartans.
The Wolverines went ahead with their game-planning, skating for just more than an hour. Although Pearson was hoping to get Michigan's first serious practice out of the way, he said players were still having trouble focusing, especially near the end of the outdoor practice.
"We were a little casual, a little relaxed today," Pearson said. "I think it's still a novelty for them being out here, so hopefully (Wednesday), Thursday and Friday we'll be a little more serious, a little more focused."
Michigan State won't practice inside Michigan Stadium until Friday afternoon, when both teams skate for the final time prior to Saturday's game. Even though his team hasn't gotten the chance to experience playing in an outdoor setting, Spartans coach Rick Comley was already concerned about potential distractions.
Michigan State players watched a replay of the 2001 Cold War outdoor game played at Spartan Stadium together as a team Monday and began preparations for the Wolverines Tuesday at Munn Ice Arena. In addition to trying to prepare his players for the weather conditions they will play in, Comley said it's difficult to simulate what playing in front of more than 109,000 fans will be like.
Even so, Comley is embracing everything Saturday's outdoor Big Chill involves.
"It's the combination of factors -- the fact it's outdoors, the fact that it's Michigan, the fact that it's going to have 100,000 people there -- it doesn't get any better than that," Comley said.
"We have so many Michigan kids, how can you not be wrapped up in it? So you may as well embrace it and go along for the ride. It's such a great rivalry that once the puck drops and you're lined up against that jersey, there's no question the kids are going to play."
Michigan State (6-8-3, 3-7-1 CCHA) has lost five of its last seven games and is coming off a 1-0 loss to Ferris State. But as much as Comley's youthful Spartans have struggled, they acknowledged Tuesday that none of that matters when it comes to facing Michigan.
Now, the trick is to get over the fact they will be playing outdoors. Many of Comley's players said they will use Friday's practice to adjust to their surroundings, but admit that early on Saturday, they may have trouble focusing on the task at hand.
"You definitely have to worry about keeping control of your emotions," Michigan State captain Torey Krug said. "We have to mentally prepare ourselves for what's to come. No one can say, 'We're ready for 100,000 people.' We can tell ourselves that, but you can't really be sure until you walk down that tunnel."
Jeff Arnold covers Michigan hockey for AnnArbor.com and can be reached at (734) 623-2554 or by e-mail at jeffarnold@annarbor.com. Follow him on Twitter @jeffreyparnold.