Posted on
Mon, Jul 15, 2013 : 12:30 p.m.
Regents set to re-approve Michigan Stadium liquor license application for NHL Winter Classic
By Kyle Austin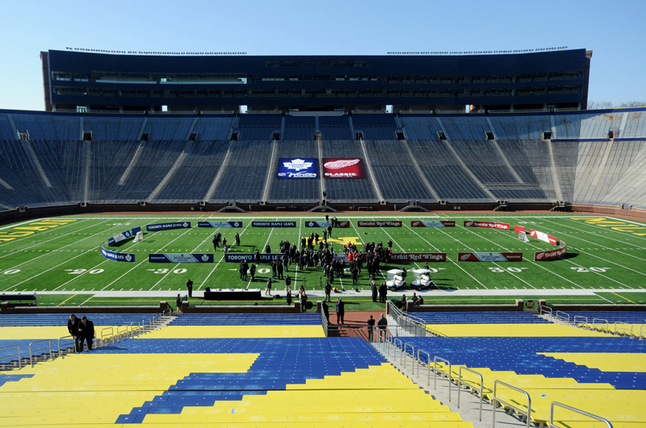 Melanie Maxwell| AnnArbor.com file photo
Michigan is once again getting ready to allow beer to flow at Michigan Stadium.
The Michigan Board of Regents is set to vote at its Thursday meeting whether or not to approve an application for a temporary liquor license that would allow beer to be sold at the Jan. 1, 2014 Winter Classic at Michigan Stadium.
The hockey game between the Detroit Red Wings and Toronto Maple Leafs was originally scheduled for New Year's Day, 2013, before the NHL lockout pushed it back one year. The lease agreement between Michigan and the NHL was approved by the regents in March.
Beer was scheduled to be served at last year's event before its cancelation. Last summer, state lawmakers had to pass HB 5611 to allow for a license to be granted at Michigan Stadium after it was discovered that one-day liquor licenses can't be granted for large events. Regents voted last June to approve the application for that license, which the state then granted.
Liquor sales are normally outlawed at the facility, and school leaders have said they have no intention of changing that policy for university-sanctioned events.
"The fact that there will be liquor served is no problem whatsoever," said regent S. Martin Taylor said in February of 2012. "This in a non-university event. We are truly just leasing the facilities."
The regents are also expected to approve the schematic design for the the new field hockey facilities improvement project. The regents approved of the $13.5 million project back in May.
Kyle Austin covers sports for AnnArbor.com.