Posted on
Fri, Nov 16, 2012 : 11:36 p.m.
Michigan hockey alumni return to Yost for rededication and soak in the atmosphere
By Kyle Austin
Daniel Brenner | AnnArbor.com
When Marty Turco and Brendan Morrison walked onto the ice during the first intermission Friday night at Yost Ice Arena, they exchanged a knowing look.
"What we wouldn't do to just have another chance to step back out here and play and try to soak it in a little bit more." Turco said.
Turco, the former Michigan goalie, and Morrison, a forward, both of whom were national champions at Michigan, have both enjoyed lengthy NHL careers. But Friday, they were pining for a chance to get back to college, after taking in the atmosphere in Michigan's 4-1 loss to Notre Dame.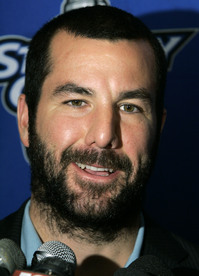 And while the atmosphere was familiar, the environment is different than any former players remember.
The two were part of a group of approximately 80 former players who returned to Yost for its rededication ceremony, following a major facelift before the season. The group took to the ice during the first intermission, where they cut pieces from a net using oversized scissors, while a packed house waived glowsticks.
During the offseason, the arena underwent a $16 million upgrade that included new metal bleachers, luxury boxes and a sound system. A year ago, the Yost scoreboard was replaced.
But as a goalie, Turco noticed the new windows on both ends of the arena, letting in more light than ever.
"It's easy to notice the windows in the back," Turco said. "I think most people are fans of natural light."
The night also gave both former teammates and players from different eras a chance to connect or reconnect.
"You get to see old teammates, the guys who came before us who laid the foundation, and then see some of the guys who are even younger who you helped recruit or helped watch," Turco said.
Turco, 37, joined the Boston Bruins for the second half of the 2011-12 season, and said he still hopes to play professional hockey if given the chance.
"The body feels good," Turco said. "I'm not hanging my hat on the chances, but if I can, great."