Posted on
Sat, Jul 13, 2013 : 1:43 p.m.
Fights, blood and music fill the card at Ann Arbor's A2 Fest
By Pete Cunningham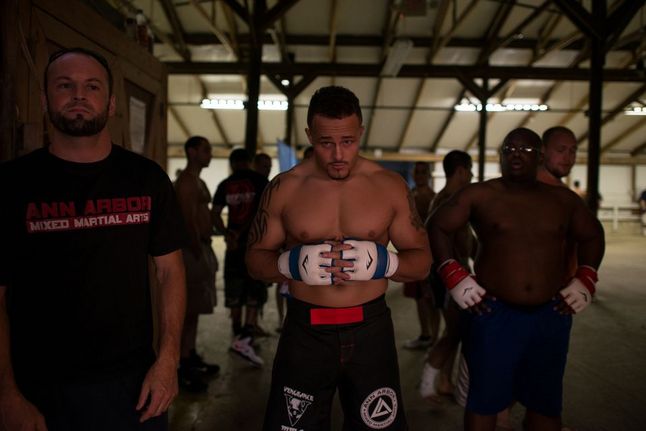 Courtney Sacco | AnnArbor.com
Pacing up and down the gravel-covered parking lot of the Washtenaw Farm Council fairgrounds, Greg Sizemore somehow appears calm and nervous -- relaxed yet jittery -- all at once. It's Friday night at 6 p.m., an hour before Sizemore is scheduled for a mixed martial arts fight with the Michigan Combat League during A2 Fest, and three hours before Sizemore will actually step in the ring.
The music will blare through the steel canopy when Sizemore walks toward the caged octagon for his fight, but for now he keeps his headphones around his neck, focused in his own thoughts. He is alone while he paces, and a scattered few begin to fill the bleachers that surround the ring. Organizers put final touches on the ring while dust and rocks kick up from the ground beneath Sizemore's feet.
A championship fight on the Las Vegas strip this is not.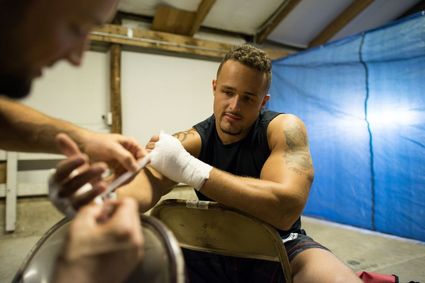 Courtney Sacco | AnnArbor.com
"Kickboxing it primarily my fighting style," said Sizemore, 29, who is from Ypsilanti and trains at
Ann Arbor Mixed Martial Arts
off of Jackson Road. "I've had six fights and my goal is just to get better."
"A lot of these gyms train by just going in and sparring, trial and error. Our gym is more technique, they teach power and strength will come behind the technique," Sizemore said.
Sizemore said he has the two things essential to keep fighting as his recreational sport of choice: a job where it doesn't matter if he comes in bruised up on Monday - he's a personal trainer - and a supportive wife.
"A lot of people ask me 'why do you let him do this?' I don't let him do anything. He's going to do it whether I 'let him' or not, so I just figure I gotta be on board and be here to show support," said Mignon Sizemore, Greg's wife, who said she can't eat days before Greg's fights because of nervousness. She rocks with anxiety as Greg's fight grow nearer and holds her breath when he's in the ring.
"It's just nerves. You can't even explain it," she said.
Behind the organization of the night's fights is a man who has known more glorious venues than the dusty confines of the fairgrounds near the Ann Arbor-Saline border — Jake Short. A former professional fighter, Short is the co-owner and promoter of the Michigan Combat League, an amateur mixed martial arts circuit. When Short was asked join the bill at A2 Fest music festival he went to work on putting together a 10-fight card.
With separate stages for heavy metal, rock, hip-hop and techno at the fairgrounds, the music festival was billed as "Mixed Mayhem," so why not feature some mixed martial arts?
"I like to say the only thing amateur about my promotion is the fighter's status," said Short, shortly before the first fight of the night. "Everything I do "I want my show to be an experience for everybody so they enjoy themselves…I try my best to get guys who train at legitimate gyms who do have legitimate backgrounds…I try to get the best fighters I can."
"This is where you gain a lot of experience, really cut your teeth. You have to build yourself as a fighter and these type of shows are absolutely necessary to the process," said Danny McIntire, the head coach at Ann Arbor Mixed Martial Arts and a former professional fighter himself. "This is awesome. With the rock shows and stuff you're introducing the sport to new people."
Before the first fight of the night Short has gone from calm to frustrated as several fighters are no-shows. His message to fighters shortly before the start of the show is scattered with profanity - disparaging toward those who bailed and encouraging for those who will fight.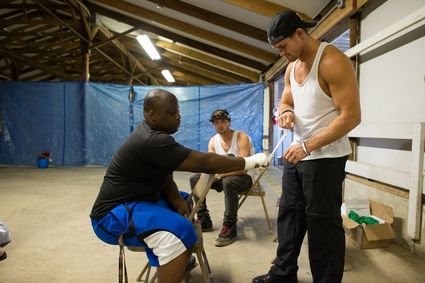 Courtney Sacco | AnnArbor.com
"Some of you guys showed up and took a fight on three or four hours notice, I appreciate it more than you guys can imagine," Short tells the fighters.
While the young fighters bounce in anticipation of their bouts, dreams of making it to the professional ranks alive in some of them, Short takes a moment to bring the adrenaline down a peg.
"This is amateur. You're going to go back to your normal life after this. Don't get your (expletive) arm broke, don't get hurt," Short said. "If you're in there getting (messed) up, tap out. There's no shame in that. Live to fight another day…You're getting in the cage, 95 percent of people won't do that."
As much as Short tries to remind them they are far from the bright lights of the Ultimate Fighting Championship - mixed martial arts' greatest stage - the man who speaks to the fighters after Short is a reminder that it's not an impossible dream. The referee for the night is Daron "Detroit Superstar" Cruickshank, a fighter now with the UFC and not far removed from venues such as these.
While a dusty cage under an open canopy at a fairground may seem as far from the UFC as a driveway pick-up basketball game is from the NBA, Cruickshank said it's an essential level for the sport.
"The amateur level is where you hone your skills," said Cruickshank. "You get comfortable in the cage, you get experience, and you just learn your craft."
We've got Blood
At 8:15 p.m., the first fight of the night is finally underway, more than an hour behind schedule. Pete Trevino Jr., known as "Mr. Throw Down", welcomes fans and the card-girl, Tatiana Marie, walks around the ring with the round cards high above her head.
Trevino screams his signature phrase into the microphone, "It's tiiiiiiime to throw down!" and the action begins.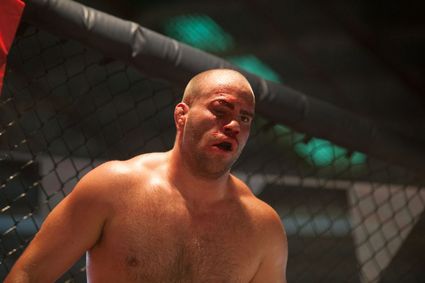 Courtney Sacco | AnnArbor.com
Not even a minute into the first fight and Trevino's pink tuxedo coat - fresh out of the dry cleaning bag - is in need of another wash, allowing Trevino to deliver his other signature phrase
"Ladies and gentleman, we've got blood!" he screams, to the delight of the crowd.
Between bouts, Trevino explains to the fighters and crowd that the intent of his announcement isn't meant to bring attention to the fighter's misfortune.
The blood is a badge of honor.
"That's those guys' hearts literally pouring out of them," Trevino said.
A man who went by the name David Horner - making his octagon debut - is the man whose blood is all over Trevino's lapel. He also happens to be the first to have his hand raised of victory. After having a cut above his right eye split open from a combination knee and punch to the face in the second round of his fight, Horner recovered and choked his opponent out in the third and final three-minute round.
The man with his eye swollen shut was announced as David Horner, but everyone in his corner screamed words of encouragement for "Alex." The man and his supporters declined to be interviewed after the fight, suggesting that not everyone willing to step in the ring necessarily wants it to be known.
Trainers on hand couldn't give the man stitches, so they wrapped his eye and suggested he go to the hospital. He instead grabbed a 22-ounce can of Bud Light and made his way to the back row of the arena, watching the remainder of the fights through his left eye.
A hospital trip could wait.
The first fight the man saw through his one eye is between Sizemore and 21-year-old David Ratliff. Though the fights began behind schedule, Sizemore and Ratliff's fight is rushed when a fighter in the match before them bails at the last second. The fighter had his hands taped, put on a pair of Short's brand new $70 gloves, said he was going to the bathroom and never returned
Fuming, Short comes into the back and Sizemore and Ratliff both volunteer to step into the ring ahead of their scheduled slot.
"I'll fight right now," Sizemore said.
After the fight Sizemore would admit it wasn't a lack of fear that made him want him want to step up. "My nerves were going, but I was ready to go…The nerves that fear, you gotta keep it to a minimum, but it's what makes you a better fighter."
Ratliff nodded in silent approval and Short's satisfaction shines through his frustration.
"Let's (expletive) do it," Short said.
Celebratory pizza
Ratliff and Sizemore's fight is over in the first round. Sizemore lands a series of kicks to the body before eventually getting the significantly heavier Ratliff to tap out with a rear-naked choke.
Primarily a striker, Sizemore is thrilled to land his first-ever submission victory. He jumps to the top of the cage as his brother screams in celebration from the stands. Mignon can finally breathe.
While many fighters grabbed a beer after their fights to wind down, Sizemore smiled at the thought of going home with Mignon, relaxing in front of the TV and having a whole Pizza Hut pizza to himself. Sizemore said he doesn't drink, and said he couldn't imagine a better way to wind down than with a "cheat meal" in front of him, and a victory behind him.
Ratliff is at the other end of the spectrum, but surprisingly upbeat after the loss. He made his way to his car with his girlfriend pushing their 9-month-old daughter, Arianna, in a stroller. They got in their car and drove off into the sunset during the night's first intermission.
Courtney Sacco | AnnArbor.com
Back at the cage, Trevino hopped up and down shadow boxing as if it were he who would get in the ring after the break.
"These guys do it for pride for honor. Because they love it," Trevino said. "That's why I love this, the same reason I love watching Little League baseball. These guys are out here for no other reason than love of the sport."
The intermission is over and more fighters wait to have their name called. Marie makes her way up the stairs and around the ring, while another set of fighters follow soon after.
The fighters and fights of the Michigan Combat League at A2 Fest:
Pete Cunningham covers sports for AnnArbor.com. He can be reached at petercunningham@annarbor.com. Follow him on Twitter @petcunningham.