Posted on
Thu, May 9, 2013 : 5:30 a.m.
Michigan softball team makes 9-year-old Natalie Harper part of the team
By Pete Cunningham
"She's coming! Hutch is coming!"
Nine-year-old Natalie Harper couldn't contain her excitement after the Michigan softball team's win over Northwestern on Friday. It's a three-hour drive from her home in Warsaw, Ind., but Natalie wasn't restless from the drive. She was restless from not having made it in so long.
Natalie and her parents traveled up to Ann Arbor for every home softball series during the spring, and once this year followed the team to a tournament in Louisville, Ky. It had been two weeks since Natalie had seen Michigan softball coach Carol "Hutch" Hutchins and the players - the longest stretch since before March - and she could barely stand to wait any longer.
"Where is she? Where's Hutch?" Natalie asked an elderly usher after several assistants walked past, but with still no sign of her beloved Hutch.
"She's coming," the usher said with a smile, and before Natalie could ask again, Hutchins had emerged from the crowd.
Natalie leaped for a hug but in her excitement tripped and fell onto the ground outside of Alumni Field. No amount of concrete could temper Natalie's excitement, though. Almost as soon as she fell, she was back on her feet and running to the locker room to see the players she'd missed for two weeks.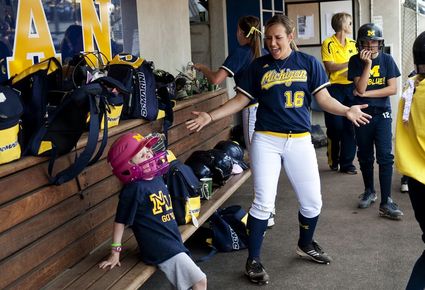 Daniel Brenner | AnnArbor.com
A young boy watched with a sad look on his face as Natalie was allowed to go where only a privileged few non-team members are ever allowed.
What the boy failed to realize is that - while Natalie may never appear in a boxscore, or field a ground ball for Michigan - she's a part of the team.
"Natalie's just become part of our program," Hutchins explained. "There's always that occasional special person that we let inside, and she's one of them, so she's part of our team."
The Wolverines first allowed Natalie behind the curtain back in 2010. Natalie and her parents made a trip up to Ann Arbor and arrived early so Natalie could get pictures of the players during warmups. Natalie caught the eye of then-seniors Nikki Nemitz (who is now with the team as a volunteer assistant) and Roya St. Clair.
"They gave her a softball and said 'come after the game and we'll help you get the players to sign it,'" recalls Courtney Harper, Natalie's mother.
Nemitz and St. Clair did more than just get Natalie a few autographs. They introduced her to everyone on the team and the coaching staff. The Harpers began coming to more games, and the team gradually involved Natalie more and more from game-to-game, then season-to-season.
Four seasons later, and there isn't a weekend during the softball season that Courtney and her husband Danny don't bring their daughter to see her beloved Wolverines. Courtney is a stay-at-home mom and homeschools Natalie, while Danny saves up his vacation days for the spring. The Harpers drive in on Friday, stay at a hotel for the entire weekend and don't miss a minute of the action if they can help it.
"We always tell people we don't take our vacations weeks at a time, we take them several weekends at a time. It's kind of how we do our family vacations," Courtney said.
Danny and Courtney watch the games from the outfield bleachers while Natalie enjoys a better view from inside the dugout.
"Every year as the new freshmen come in, they get to know her and she gets to know them and they've just built a really good relationship with each other," Courtney said. "She loves them, they love her, and she just loves coming and cheering them on."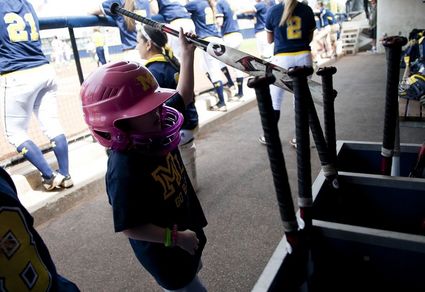 Daniel Brenner | AnnArbor.com
No one rides in the Wolverines' dugout for free, though. The team isn't acting as a pro-bono babysitting service. Natalie, with her pink helmet with a block 'M' on the forehead, shags bats after every hit or walk. Natalie makes sure to keep up with the chatter during the game and does sprints between innings with the bench players.
It's quite the commitment for a third-grader. Luckily, there's a gap in her helmet's mask that's a perfect slot for pretzel sticks and juice box straws, which Natalie takes advantage of throughout the game, sure to keep her energy level up.
As if it were ever in question.
Courtney said it's Natalie's goal to one day beat the team in a race during the between-inning sprints. Natalie nearly accomplished her goal during Sunday's game, but not exactly in the manner she had hoped. The players acted like they were starting their run, then all stopped as Natalie sprinted ahead. It only took her a few steps to realize the players were teasing, and that she was all alone. She sprinted back to her teammates, not embarrassed, but amused by the gaffe, as were all the players.
It was a rare occasion that Natalie was alone during the game.
"When I'm in the dugout and she's in the dugout hanging with me, we just try and have a good time and act like she's one of the players," said junior utility player Katie Luetkens, who is connected at the hip with Natalie during the game, holding her hand and singing with her during the pregame highlight video and doing cheers during the game.
"It's just our job to make her feel special because she's a special part of our team and a special part of our day," Luetkens said.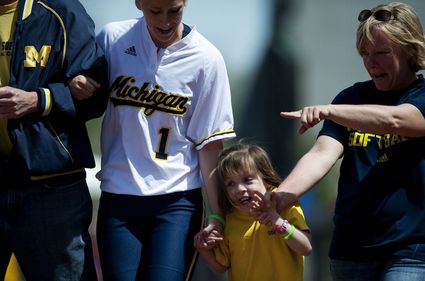 Daniel Brenner | AnnArbor.com
The team doesn't just make Natalie's day. The opposite is often true.
"The relationship is great and she really does help this team," said senior third baseman Amy Knapp, Natalie's favorite player. Courtney said Natalie is like a "mini-Amy," because of their similarly upbeat personalities.
"She tells me I'm her favorite player, and I tell her she's my favorite 9-year old," Knapp said with a huge smile on her face.
Those aren't just words. Knapp and her parents had Amy's favorite 9-year-old join them during senior day activities at Alumni Field on Sunday.
"We want her on the field and we want her excitement to carry over to us. She's a part of the team and she needs to be there for everything," Knapp said.
Natalie struggles to find the words to describe why she loves the team so much, though it's not from shyness. It's doubtful anyone has ever accused Natalie of being shy.
"I love all the players, they do nice things for me. In the locker room, the dugout, watching them practice batting and stuff, and in the huddle," Natalie said, her smile and gut busting chuckle taking over from there.
The Michigan softball team is the No. 1 seed in the Big Ten Softball Tournament in Nebraska Friday-Sunday at Nebraska.
Pete Cunningham covers sports for AnnArbor.com. He can be reached at petercunningham@annarbor.com. Follow him on Twitter @petcunningham.