Posted on
Thu, Jul 25, 2013 : 5:30 a.m.
Ron English insists pressure doesn't change despite new boss, coordinators but same contract
By Pete Cunningham
Melanie Maxwell | AnnArbor.com
MAC Football Media day coverage:
Eastern Michigan football coach Ron English will start the 2013 season with a new boss, a new offensive coordinator, a new defensive coordinator (note: himself) and a new starting quarterback.
What won't be new is his contract.
In the fifth and final year of English's deal with school, English has an overall record of 10-38. But even with the landscape shifting all around him, English insists the pressure is no different this year than it is any other year in the cutthroat business that is college football.
"I think that you're almost immune, as a coach, to (the uncertainty) part of it," English said at MAC Football Media Day at Ford Field in Detroit on Tuesday. "I think in this profession, I'm going on my 21st year coaching college football, I've coached junior college, I've coached at the highest level and I've coached in between…what I try to focus on is what's most important and that's definitely where my focus is."
English and new Eastern Michigan athletic director Heather Lyke spoke briefly on Tuesday in Detroit and were scheduled for a more formal sit down on Wednesday morning. Those hoping for a "win or be go home" set of expectations to come out of that meeting shouldn't hold their collective breath.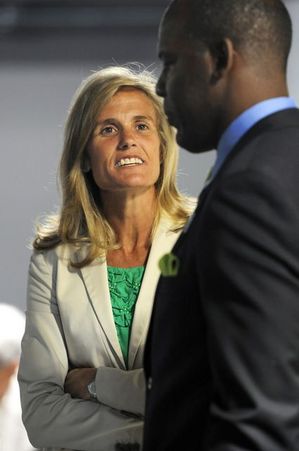 Melanie Maxwell | AnnArbor.com
"The focus of the meeting is really to spend a little time get to know coach English, find out about his particular program and learn about the challenges he's facing and learn about the opportunity that we have and really just spend some time building a relationship with him," Lyke said on Tuesday. "I'll share some of my expectations as well, of all of our head coaches at Eastern Michigan, but with him in particular."
Lyke said English and the program are to be evaluated at the end of the year stating that there will be a "thorough evaluation of his program throughout the entire season," with an emphasis on "entire."
There won't likely be a magic number of wins English is expected to reach to keep his job, but improvement from last year's 2-10 will be part of the discussion.
"Ron knows where he stands. He's really aware of competitive success and what we need to do," Lyke said. "This period of time gives me time to get to know him and start to evaluate his program, like we will all of the athletic programs at Eastern, but certainly his being front and center it kicks off right away.
"It'll give me a lot of time to evaluate the program - thoroughly, top to bottom - from coaching staff and personnel on down to throughout all aspects."
Players are aware of what this season will mean for English's future, but try not to think about it.
"We can't think that far into the future because we know if we do that, we're going to get distracted," Kalonji Kashama said. "We're looking at this season at this year and we're going to do the best we can to make it a successful year, so we can go to a bowl game, go to a MAC championship and all that."
The Eagles haven't been to a bowl game since 1987, which is also the last time the team won a MAC championship. The drought is unparalleled in a conference that is a shining example of parity. The Eagles are one of just three teams in the 13-team conference to have not been to a bowl game in the past four years. One of the other teams - UMass, which became a football-only MAC member in 2012 - is not bowl eligible until this season. The other, Akron, made the Motor City Bowl in 2005.
Eastern and UMass are the only MAC teams to have never played in the MAC Championship game, which has been held since 1997. Eastern's ineptitude is unparalleled in the conference
"That's something we're going to pride ourselves in this year. We expect to be the team that takes us to that winning record, that takes us to that bowl game, first one since 1987," said redshirt-junior offensive lineman Lincoln Hansen on Tuesday. "That is something we are well aware of and that's something we will take great pride in, being the first team to accomplish that in quite sometime."
If that doesn't happen, Eastern is in a good position - with a new athletic director and English's expiring contract - for a clean start at the end of the season. English said that won't change how he operates because at the end of the day, everyone has the same goals: improving and winning.
"I don't coach in fear of losing a job and I don't coach to get another job," English said. "I just try to stay in the present."
Pete Cunningham covers sports for AnnArbor.com. He can be reached at petercunningham@annarbor.com. Follow him on Twitter @petcunningham.