Posted on
Sun, Mar 6, 2011 : 1:03 p.m.
A long process led to the growth of Evan Smotrycz as a Michigan basketball post player
By Michael Rothstein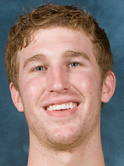 Michigan basketball coach John Beilein floated the idea early this season. He was starting three freshmen and was impressed enough with the progress of one that he considered expanding his role.
Watching Michigan now, it'd be easy to think that player would be guard Tim Hardaway Jr. But it wasn't. At the time, Beilein flirted with making 6-foot-9 forward Evan Smotrycz a more versatile player. Fast.
A process that lasted more than a month was unveiled during the first half of Michigan's 70-63 win over Michigan State on Saturday. Smotrycz caught the ball in the paint and, for the first time all season, used post moves to score.
Smotrycz had shown ability to make shots from the outside, scoring 14 points against Bowling Green and 18 at Clemson in the season's first month. Beilein talked about moving him inside, to give Michigan a complement to the third freshman in the starting lineup, Jordan Morgan.
The process began and Smotrycz struggled. He lost his starting spot to junior Stu Douglass, but gained knowledge.
MICHIGAN 70, MICHIGAN STATE 63
"Evan did almost no post defense, no post moves in September and October," Beilein said. "Just so much to learn about if he was going to play a perimeter four. Starting in January, he's really worked hard on both post defense and post offense.
"The past couple weeks, he's sort of attached himself to that a little bit, knowing that if teams were taking away his (3-point shooting) game, how else can he help us?"
The 19-year-old debuted his post game Saturday with good results. He scored 14 points — his first double-digit scoring game since Jan. 30 against Iowa — and was effective inside and outside. He made a 3-pointer and also used an up-and-under move twice to score baskets in the paint.
Smotrycz, who shot 22 free throws before Saturday, made all five attempts and even had three steals.
"I'm not trying to move all the way to the post, but it's good to have dimensions to my game because then they can't just switch on screens," Smotrycz said. "They can switch and then I can take a little guy to the post.
"But yeah, this was the first time I was scoring a little bit in the post."
So why bring out this wrinkle against Michigan State, in Michigan's most important game of the season?
Michigan looked at Michigan State, which usually plays multiple post players, and saw a need to have an interior presence besides Morgan.
"We didn't want to just let them come in here and punk us," Smotrycz said. "We wanted to show that we were the tougher team."
Michigan built much of Smotrycz's newfound toughness over the past month-and-a-half, when it appeared he was struggling on the court. His scoring decreased and his minutes shrunk from almost 20 a game to around 10 minutes against Iowa, Wisconsin and Minnesota.
It was all in preparation for this: To turn Evan Smotrycz from one-dimensional into an effective college post player.
"We've invested a lot of sweat in the last month, month-and-a-half developing him into a reliable five," said Michigan assistant coach Bacari Alexander, who works primarily with post players. "He came into our program as a four. As you grow as a player, you just add things to your repertoire.
"You saw him as a five man doing some really nice things."
Michael Rothstein covers Michigan basketball for AnnArbor.com. He can be reached at (734) 623-2558, by e-mail at michaelrothstein@annarbor.com or follow along on Twitter @mikerothstein.