Posted on
Wed, Feb 13, 2013 : 5:45 a.m.
Spartans fan sees evidence of a new day in Michigan rivalry despite Tuesday's blowout
By Kyle Feldscher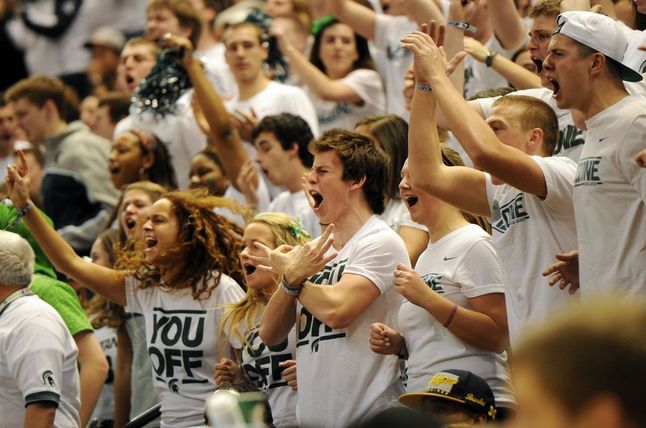 Melanie Maxwell | AnnArbor.com
EAST LANSING -- For the first time in my years of going to Michigan State University basketball games, the Breslin Center atmosphere reached its peak for a
Michigan game Tuesday night.
I've heard it ear-splittingly loud quite a few times. Drew Neitzel's three-pointer that put a dagger in No. 1 Wisconsin in 2007 stands out among others.
But never for Michigan.
Games against Purdue, Ohio State and Wisconsin and the odd big out-of-conference game always got the most noise. Michigan games have always been big, but during my time in school — from 2006 to 2010 — there was rarely anything on the line when the Spartans and Wolverines matched up.
RESIDENT SPARTAN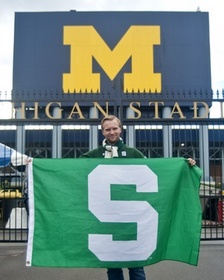 Melanie Maxwell | AnnArbor.com file photo
AnnArbor.com cops and courts reporter Kyle Feldscher is a Michigan State alumnus and unabashed Spartans fan who occasionally chimes in on the Michigan-Michigan State rivalry from a Spartan living in Ann Arbor's perspective. Check out his previous work:
Tuesday night was different. The building buzzed like a hornet's nest. Seated way up in section 218, I was just one row in front of some nervous Maize Ragers who made the same trip from Ann Arbor. They were loud too, singing The Victors as they tend to do.
Their noise was drowned out in the game's opening minutes, but that their noise needed to even be drowned out is a recent development in my tenure.
My experiences in the Izzone for Michigan games were, for the most part, humorous. I remember singing Country Roads to John Beilein during his first game at MSU, poking fun of the fact that Michigan was raiding West Virginia for all their coaches at the time, but I honestly don't remember specific elements of any of the games.
They were, by definition, unmemorable.
Michigan fans made the trip, but never in impressive numbers.
It didn't feel like a rivalry before those games. It didn't feel like a rivalry during those games. It didn't feel like a win over a rival after those games.
Tuesday was different. Michigan didn't hold up its end of the bargain on the court, but still, Tuesday was different.
MSU defeated Michigan by double digits in the three times they played at home during my school years, but the games were unremarkable, regular games. It was loud, but it was never the adrenaline-fueled scene of chaos that took place in the Izzone during those great 40 minutes on Tuesday.
We Spartans fans hate to admit it, but Tuesday was different because it mattered. Tuesday was different because — and we hate to admit this too — Michigan's good again.
Tuesday felt like a win over a rival.
I've watched enough Michigan basketball this year to know that this is a great team. The sloppy Wolverines that appeared on Tuesday ran into a Spartan buzzsaw, and that'll happen to the best of teams.
Even though Michigan fell in incredibly embarrassing fashion Tuesday night, it's clear there's a new day in the rivalry. It bugs us to admit this, but Michigan State fans recognize the growing importance of this rivalry. Even before the Spartans put the hurt on Michigan, the Izzone bounced like popcorn on a stove and the usually quiet folks in the green seats -- normally reserved for the older generation of respected alumni -- were on their feet early and often.
Trust me, it takes a lot to get the green seaters riled up.
I've never heard Breslin as consistently loud as it was Tuesday. The noise came in waves and seemed to put a blanket over some of Michigan's top stars, most notably Tim Hardaway Jr. and Glenn Robinson III.
In the past that atmosphere wasn't something fans found necessary for the Michigan game.
Though Michigan reacted horribly to the hostile environment on Tuesday, the atmosphere it faced at the Breslin Center — and Assembly Hall and the Kohl Center and in Columbus before that — are a testament to their newly-found status in the Big Ten's elite.
The Michigan fans themselves adapted much better in the hostile atmosphere than the players they came to cheer and that too was a testament to a new growth in the rivalry.
There was a large block of Michigan fans in my corner of the Breslin Center, near Gate A. Throughout the stands, highlighter yellow-clad fans stood out against the whiteout conditions in the Breslin Center seats.
Even though there were Michigan fans starting to make their way toward the exits with 11 minutes remaining, most of the Maize Ragers stayed until the end.
More Michigan fans left early than I ever remember even coming in the first place.
That's a credit to them. When the rivalry gets better, the fans get better too. They were classy throughout the game and I heard a lot of intelligent basketball talk around me.
Simply not the case in past years. Good for them.
Good for the rivalry.
Nothing needs to be said about this Spartan win, one of the greatest regular season results in program history. Everything that could be said as trash talk from one fan to another was said on the court.
At the end of the day, this was an anomaly. A glorious, glorious, majestic anomaly that I'll savor for the rest of my life.
And as great as the win was, I know that's not how all the games will be. Michigan is a team to be nervous about again. Michigan's a team to be pumped for when they take court, and elated when the victories come.
For these wins to continue to feel this good, let's face it, they can't all feel this good.
So welcome back to the rivalry Michigan. Stick around, it's fun up here.
As much as I like to see Michigan back as a legitimate rival and in the conversation with Michigan State as one of the Big Ten's best basketball programs, I still just want my Spartans to win.
Jud Heathcote said it best, "You want a healthy rivalry, but you don't want to lose to those bastards either."
Kyle Feldscher covers cops and courts for AnnArbor.com. He can be reached at kylefeldscher@annarbor.com or you can follow him on Twitter.