Posted on
Fri, Dec 21, 2012 : 5:35 a.m.
EMU basketball coach Rob Murphy says blowout loss to No. 2 Michigan won't be what team is measured by
By Pete Cunningham
Eastern Michigan basketball coach Rob Murphy stood at a lectern following his team's 93-54 loss to Michigan on Thursday and recognized the better team had won.
By a lot.
Murphy was dejected by the blowout loss at the Crisler Center, but also realistic. Eastern's not at the level of the top teams in the country, and its goals aren't affected by losses to them, no matter how embarrassing the score.
"I can't judge my team when we play Syracuse, Michigan, Kentucky. That's not the big picture for us," Murphy said. "I'm realistic as a coach."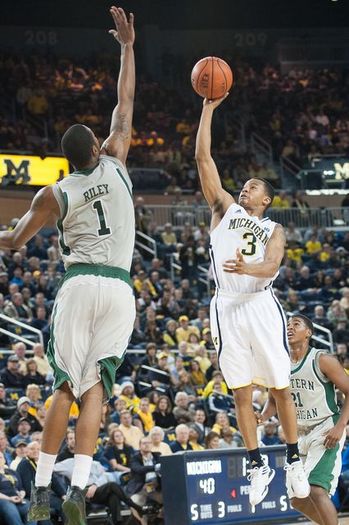 Courtney Sacco | AnnArbor.com
Realistic for Murphy and his team isn't being competitive with Michigan, or No. 3 Syracuse, which beat
Eastern 84-48 earlier this month
, or defending national champion Kentucky, who the Eagles (6-4) play next month.
The team's goal is to be competitive in the Mid-American Conference, which Murphy recognizes isn't at the level of the top conferences in the country.
"For us, ultimate goal is to win the MAC conference," Murphy said. "When we get to MAC play we'll be playing more our level teams and we'll really see what we can do."
Recognizing that MAC play might not be the same as Big Ten play doesn't mean Eastern's players are comfortable conceding victory to the top programs in the country.
"We still have our conference play to come up, but at the same time we still want to come in here and we don't want to say 'ah, we're playing Michigan, we're going to lose,'" said freshman guard Jalen Ross. "We still want to come in here and win and even if we don't win, compete to win. We don't plan on it getting out of hand."
And in MAC play, Eastern will need to play better than it did against the Wolverines. The Eagles shot 10-of-28 (35.7 percent) from the field on Thursday. They'll have to do that without two main contributors in Ray Lee and James Still.
Still was dismissed from the team for legal troubles while Lee's foot injury from two weeks ago, according to Murphy, is likely season ending.
"We expected (Still) to score, be one of our better defenders and be able to rebound the basketball. Ray Lee is one of our better scorers at the guard position and when you're struggling to get points, obviously we miss him," Murphy said. "I'm not saying we would have won this game (with Still and Lee), but we'd be in much better shape at this point in the season to compete with a high level team like Michigan. But moving forward we'll just continue to get better as the schedule moves on."
In Lee's absence, Ross is one of the guards who will have to step up.
"It's been a difficult kind of challenge for me because I'm more of a setup guy," said Ross, who had nine points on Thursday. "Coach has just been telling me I have to step up and just be a little more aggressive on the offensive end because we're kind of lacking some scoring right now because (Lee's) our top scorer coming off the bench."
Murphy thinks his team, even without Still and Lee, can accomplish its goal.
"I think we still have the pieces to compete in the MAC," Murphy said.
Pete Cunningham covers sports for AnnArbor.com. Contact him at petercunningham@annarbor.com. Follow him on Twitter @petcunningham.