Posted on
Thu, May 5, 2011 : 1:49 p.m.
5 keys for the Michigan basketball team to ensure a successful 2011-12 season
By Michael Rothstein
With Darius Morris off to a professional basketball future, part of the dynamic of next season's Michigan basketball team is going to change.
Expectations surrounding an experienced team with a freshman point guard will still be high, but perhaps not Top 10 to Top 15 caliber nationally as the Wolverines were had Morris stuck around for another year. The players will also have to get used to life without one of their locker room leaders, something that can't be understated.
So here are five key areas for the Michigan basketball program to address before October.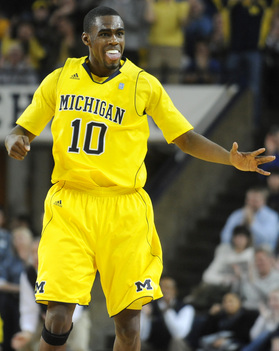 File photo
1. Make sure Trey Burke is ready
Michigan's coaches can't work with Trey Burke until classes start the first week of September, but he will be on campus starting in June — he is contemplating coming before classes start to work with the current players, but it isn't definite — and has already been training hard and watching a Michigan's games from last season to try and understand the offense. Michigan's options at the point are Burke, freshman Carlton Brundidge and senior Stu Douglass, but Burke is the one with the most to gain with Morris' departure.
2. Ensure Hardaway is more comfortable with the ball
There is little doubt more of Michigan's offense will run through sophomore Tim Hardaway Jr. next season. By the end of last season he was comfortable working off the ball screens — that part of Michigan's offense isn't changing — but he's going to handle the ball more this year and could be looked to as more of a facilitator than a season ago.
3. Keep pushing Jon Horford
If you're looking for a candidate to make a Morris-esque leap from his freshman to sophomore year, look to Jon Horford. The Grand Ledge native has the tools — when he received meaningful minutes last season he was one of Michigan's most efficient players — and his body has the most room to grow of any current Wolverine. He has the same frame as his brother, Al, who is an NBA All-Star. If Jon Horford develops his body like Al did, he has the chance to be a different, but special, player.
4. Don't be complacent
The last time Michigan had high expectations, it struggled through the 2009-10 season. Part of that came from some players resting on what they had done during the 2008-09 season. Zack Novak, Michigan's leader next season, needs to make sure none of that lethargy sets in this summer. It was something the coaching staff also stressed during this past season and through individual workouts: Don't rest on what you did. Improve for the future.
5. Stay healthy
This is obvious and left mostly to chance, but Michigan has largely been injury-free to the core of its lineup the past two seasons. This team has more depth than any of John Beilein's previous teams in Ann Arbor, but keeping the top seven guys healthy is important.
Michael Rothstein covers University of Michigan basketball for AnnArbor.com. He can be reached at (734) 623-2558, by email at michaelrothstein@annarbor.com or follow along on Twitter @mikerothstein