Posted on
Mon, Mar 26, 2012 : 12:49 p.m.
Grading the 2011-12 Michigan basketball team's junior class
By Nick Baumgardner
Jeff Sinlair | AnnArbor.com
For the Michigan basketball program, finding leadership may be one of the biggest areas of concern entering next season.
With the departures of senior co-captains Zack Novak and Stu Douglass, the Wolverines will have to find on-court (and off-court) leaders in different places in 2012-13.
As of now, the Wolverines expect to have four seniors on their roster: Matt Vogirch, Blake McLimans, Eso Akunne and Josh Bartelstein.
Here's a look at how all four fared this past year.
MICHIGAN BASKETBALL GRADES
This is the second of a four-part season-review series of each Michigan basketball player in 2011-12, looking at what they did well, where they struggled and what's next.
Sunday: Seniors

Today: Juniors

Tuesday: Sophomores

Wednesday: Freshmen

Matt Vogrich

Final numbers: 2.3 ppg, 1.3 rpg, 38.2 FG%, 30.2 3FG%
High points: Vogrich's best stretch of the season came in mid-February, when he went a combined 5-for-6 from 3-point range, finally seeming to break out of his season-long long-range slump.
The shooting guard then came up big in Michigan's overtime win at Northwestern later in the month, hitting three more clutch triples in front of a slew of friends and family in a nine-point performances.
Those three games were classic examples of what Michigan hoped to get from Vogrich night in and night out this season. An able shooter who could come off the bench and be lights out from deep, while also holding serve defensively for 10-15 minutes per game.
Low points: Vogrich really struggled out of the gate this season, starting the year 1-for-13 from 3-point range through Michigan's first nine games of the year.
He slowly began to crawl out of that slump as the year wore on, but never really seemed to get over it completely.
As a freshman, he shot 39 percent from deep, last season, he was at 38.7 percent. But this past year, Vogrich connected on only 30.2 percent of his long-range attempts.
Vogrich had his moments, and showed some capability of playing solid spot defense now and again, but his shot never seemed to find consistent comfort.
Future: Vogrich had a rough go at times this season, but he's still a very capable shooter. And his struggles should only serve as motivation for him moving forward.
With the departures of Zack Novak and Stu Douglass, Vogrich will have a shot at more minutes next season, likely competing with freshman Nik Stauskas at the two-guard spot.
And, with the transfer of Carlton Brundidge and the uncertain future of Trey Burke, the Wolverines will need all the ball-handlers they can get. In short, he'll have plenty of opportunity to put together his best season to date in his final go around.
Final grade: C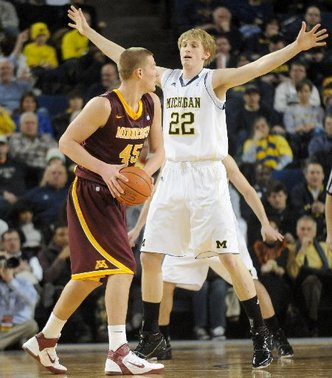 Angela J. Cesere | AnnArbor.com
Blake McLimans
Final numbers: 0.8 ppg, 0.7 rpg, 10-for-21 FG, 4.2 minutes per game
High points: McLimans really looked like he'd made a serious leap into John Beilein's rotation in December, seeing extended action against Virginia and Iowa State, and seeing even more against Arkansas-Pine Bluff and Alabama A&M.
He never provided much in terms of consistent numbers, but was doing a fine job of providing minutes when Jordan Morgan and Evan Smotrycz left the floor due to foul trouble.
He rarely ever took poorly selected shots, and often made the very most out of his time on the floor when called upon for the first two-thirds of the year.
Low points: Toward the end of February, McLimans' ability to provide quality minutes off the bench seemed to dip.
He got 11 minutes of action early at Northwestern, but didn't do much with them, failing to score and picking up two fouls in the process.
From there, he seemed to lose his rotation spot to undersized Colton Christian, who took over as Michigan's emergency post player.
After the Northwestern game on Feb. 25, McLimans never saw rotation action again.
Future: McLimans is going to have his work cut out for him next year in a rather crowded front court.
The transfer of Evan Smotrycz will open up a few minutes, but the return of a healthy Jon Horford will provide even more competition.
If the 6-foot-11 big man can finally develop a consistent outside shot, though, everything may change. Michigan won't have a deep shooting big man next year, and McLimans could well be the answer to that problem.
Final grade: C
Angela J. Cesere | AnnArbor.com
Eso Akunne
Final numbers: 1.7 ppg, 0.7 rpg, 7-for-8 FG, 4.0 minutes per game
High points: Like McLimans, Akunne made an early-season push to grab a spot in Michigan's rotation, highlighted in a 12-minute, five-point performance against Iowa State.
Actually, the former Father Gabriel Richard standout began the season 5-for-5 from the floor over his first six appearances.
He also served as Michigan's emergency backup to Burke early on, entering the game as a true reserve point guard from time to time.
Low points: Akunne was lost for the season after a foot injury against Purdue in late January required surgery, eventually sidelining him for the final two months of the year.
Prior to that, Akunne's minutes began to slip a bit, as Beilein started using Brundidge as a backup option to Burke early in games.
Akunne didn't suit up again for Michigan after his injury, but was off crutches in March, and participated in the team's open practice at the NCAA Tournament.
Future: The local product should have another shot at breaking into the rotation next season, if he's healthy.
Brundidge is gone, as are Novak and Douglass. And though Michigan is currently pursuing other ballhandlers in the spring recruiting period, Akunne could find himself in a relatively small group of point guards if Burke opts for the NBA.
Final grade: Incomplete
Angela J. Cesere | AnnArbor.com
Josh Bartelstein
Final numbers: 11 appearances, 14 minutes, three points
High points: Bartelstein, like senior Corey Person, is an all-around, team-first walk-on who rarely seemed overly concerned with minutes, and more worried about the club's on-court success.
A behind the scenes player, Bartelstein -- the son of high-powered NBA agent Mark Bartelstein -- hit the big time this winter when he was featured alongside roommate Zack Novak on an episode of the Big Ten Network's "The Journey."
In the episode, Bartelstein showed viewers the hole in the wall Novak delivered after a rough video game session.
Low points: Again, Bartelstein is a high-character, team-first player, a guy who shines in practice and helps keep spirits up in the locker room and on the sideline during games.
So, when the team suffers, he suffers. If he had a low point this season, it came when the season ended for he and his teammates.
Future: Author of the popular "Bartelstein Blog," the soon-to-be senior walk on will very much serve the role Person served this past season.
Michigan will be desperately searching for leadership wherever it can find it next season, and Bartelstein may be a player Beilein looks to for help in that area.
Final grade: A
Nick Baumgardner covers Michigan basketball for AnnArbor.com. He can be reached at 734-623-2514, by email at nickbaumgardner@annarbor.com and followed on Twitter @nickbaumgardner.
Want to stay connected to Wolverine basketball in your Facebook newsfeed? "Like" AnnArbor.com's Michigan Basketball News & Views.