Posted on
Thu, Oct 27, 2011 : 3:07 p.m.
Hanging together: Michigan basketball team says chemistry will help avoid a familiar collapse
By Nick Baumgardner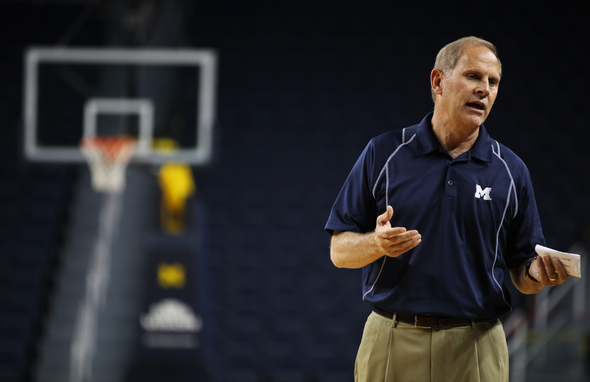 Jeff Sainlar | AnnArbor.com
ROSEMONT, Ill. — The last time the Michigan basketball program faced the expectations it currently holds, it fell flat on its face.
The Wolverines' lofty outlook for the 2009-10 campaign promptly turned into a fizzle. Michigan quickly its national ranking, lost America's attention and clunked its way to a 15-17 year.
Who's to say that won't happen again?
Oddly enough, it was may have been Duke coach Mike Krzyzewski.
"After the (loss to Duke in the 2010-11 NCAA Tournament), Coach K stopped me in the hallway and said, 'You guys look like one of the closest teams I've ever seen,' " Michigan senior guard Stu Douglass said. "That was a huge compliment. And last year was a big step for us."
At the Big Ten's annual basketball media day Thursday, Michigan coach John Beilein and players were asked why anyone should expect this year's team to be any different than the 2009-10 bunch that looked great on paper before falling apart.
The resounding answer came in two parts: Better depth, and the players really, really like each other.
BIG TEN MEDIA DAY
AnnArbor.com sports reporter Nick Baumgardner attended the Big Ten basketball media day in Rosemont, Ill., on Thursday. Listed below is a compilation of his coverage.
Michigan's 2009-10 bunch had ability.
Manny Harris
and
DeShawn Sims
both returned after having breakout seasons a year prior.
From there, things got rather thin.
"If those two didn't have a good game, we had a very difficult chance of winning," Beilein said.
Beilein said an early-season injury to Harris played a factor in the group's struggles that year. Additionally, he explained how the Wolverines didn't have enough established pieces to handle the amount of adversity a college basketball season brings.
This time around, things appear different.
Sure it lost Darius Morris, but Beilein insists that won't derail the season.
Michigan has proven seniors in Douglass and Novak, it has one of the more talented sophomores in the country in Tim Hardaway Jr., freshmen guards Trey Burke and Carlton Brundidge are expected to contribute immediately and sophomore forwards Jordan Morgan, Evan Smotrycz and Jon Horford have continued to develop inside.
"The rest of the pieces were not complete yet," Beilein said of 2009-10. "This team may have a few more pieces.
"And we have a great team chemistry as well."
The former is notable, but the latter seems far more important.
Douglass explained how the group doesn't point fingers any longer, doesn't waste time bickering amongst each other during games or practice and has a genuine admiration for each other on and off the floor.
It was a lesson he said they learned the hard way during a six-game losing streak a year ago. Since then, the bond has only grown stronger.
"When things are down, you have to pick up your teammates," he said. "When things aren't going our way, we know we have to stay positive."
Michigan senior guard Zack Novak, who served as a captain on the 2009-10 squad, echoed Douglass' statements.
Beyond that, though, he explained how the overall culture of Beilein's basketball program has evolved. When a player enters the system now, he's taught to put the team before himself, and he's also accepted by everyone else inside the locker room.
As a sophomore two years ago, there were issues Novak said he wasn't prepared to deal with as a leader. Now, with Douglass by his side, he insists things will be different.
"Something didn't click that year," said Novak, who remains a captain this season. "With this team, we really do have a group of guys that love to be around each other.
"And that's really half the battle. If you have a group of guys that really love being around each other, you want to see them succeed. And that's big."
Beilein's club has depth, and it genuinely cares for one another.
Krzyzewski saw it last March. And, in time, the Wolverines hope the rest of the country will as well.
"A lot of intangibles go into winning," Beilein said. "And we hope we possess as many as you would need."
Nick Baumgardner covers Michigan basketball for AnnArbor.com. He can be reached at 734-623-2514, by email at nickbaumgardner@annarbor.com and followed on Twitter @nickbaumgardner.