Posted on
Thu, Oct 27, 2011 : 4:02 p.m.
John Beilein to decide on starting point guard soon, and more notes
By Nick Baumgardner
ROSEMONT, Ill. — Who starts at point guard?
That's a question Michigan basketball coach John Beilein has been peppered with several times already this month, and it was no different Thursday at the Big Ten basketball media day.
A hot topic, for sure, but a decision Beilein says he still hasn't made.
"I would think three or four days before that first game against Ferris State (on Nov. 11) on a Friday night (I'll decide)," he said. "We'll probably choose (the starter) the week of that game."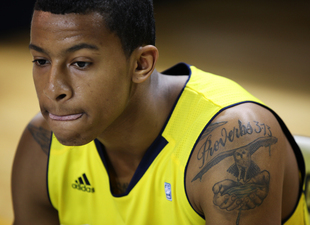 Jeff Sainlar | AnnArbor.com
The question of who takes over for the NBA-departed
Darius Morris
is a popular one, but it's also valid.
Morris set a single-season assist record as a sophomore last season, and had he returned, a ceiling for Michigan's potential this year might have not have existed.
Still, the Wolverines have candidates.
Beilein pointed to freshmen Trey Burke and Carlton Brundidge, as well as senior Stu Douglass as candidates to fill the void earlier this month at the team's media day.
Burke is the team's only true point guard, but he's never played a college game. Douglass is admittedly not a natural point guard, and may be better served playing off the ball. Brundidge enters the equation having never really played point guard, though he says he's confident he can do so.
It's a tough decision, and one that will require more than the nearly two calendar weeks of practice the team's had.
Prior to Michigan's season-opener, the Wolverines will play at Toledo on Sunday in a closed scrimmage (according to CBSSports.com), before playing their lone exhibition against Wayne State on Nov. 4.
The season begins on Nov. 11 with a home matchup against Ferris State.
Team not concerned with preseason polls
The Wolverines did not finish inside the Big Ten's official media-voted preseason favorites top three poll.
They don't seem to care.
BIG TEN MEDIA DAY
AnnArbor.com sports reporter Nick Baumgardner attended the Big Ten basketball media day in Rosemont, Ill., on Thursday. Listed below is a compilation of his coverage.
"We finished in that group in the middle (last season)," Beilein said. "Our guys, and we've talked about this as a team, we really focus on development, and want to be in the talk in February and March."
Michigan also failed to get a player on the league's Preseason All-Big Ten team. Asked his thoughts on that topic, Michigan sophomore guard Tim Hardaway Jr. said he wasn't concerned.
And added he had no idea who was even on the list.
"I don't think about that, you brought it up just now, I didn't even know that," he said. "I'm just worried about practice and the season.
"Everybody has a point to prove, but it's not about one man. It's about the team."
Player Development Center nearing completion
Both the men's and women's basketball coaching staffs moved into their offices at Michigan's new Player Development Center earlier this week.
The players themselves have yet to make the same transition yet, as the remainder of the new PDC facilities (training rooms, practice courts, locker rooms, etc) have yet to be completed.
Beilein said progress is being made, though, and expects the finishing touches to be put on the building in roughly two weeks.
"Our practice facility is all but completed, it's two weeks away," he said. "That's just going to lead to much more efficiency in how we operate every day.
"It's a good environment right now to grow as a basketball program."
Burke showing off-court intangibles early
When asked how he felt Burke compared to the rest of the talked-about freshmen across the country, Beilein said he had no idea.
What he does know, though, is that Burke is in as good a spot to make an impact as any first-year player in America.
"He walked into a great situation with Darius Morris graduating," he said. "At the same time, there's a lot that goes on from going to a high school guard to a college guard.
"He's shown great moxie, great poise and a lot of toughness. Those are three things you'd like to have a freshman have. And usually that takes a few years to accumulate. He showed, last week, some positive things in those areas beyond his ability to make a jump shot or make a play."
Beilein doesn't speak on Austin Hatch
Asked Thursday if he's had any contact with 2013 commit Austin Hatch, Beilein declined comment, explaining he's not allowed to speak on unsigned recruits without NCAA permission.
"I'm really guarded, and I'm really not allowed to talk about that," Beilein said. "Any statement that we make about a recruit in that situation, I want to be OK'd by the NCAA."
The Fort Wayne Journal Gazette reported earlier this month that Hatch had been released from Munson Medical Center in Traverse City after four months of rehabilitation following a June plane crash that took the lives of both his father and stepmother.
Updates on Hatch, 16-year-old junior at Canterbury High School in Fort Wayne, Ind., had been provided through a caringbridge.org page by his family. Access to that page is now restricted.
Nick Baumgardner covers Michigan basketball for AnnArbor.com. He can be reached at 734-623-2514, by email at nickbaumgardner@annarbor.com and followed on Twitter @nickbaumgardner.