Posted on
Wed, Jan 4, 2012 : 5:58 a.m.
Is the Michigan basketball team for real? We're about to find out
By Nick Baumgardner
The road.
It's where average teams go to die, where good teams go to be humbled and where great teams find a way.
The road doesn't care about your winning streak, or your national ranking. It really has no time for your potential, nor does it feel the need to take pity on your weary body.
It can be brutal, unforgiving and inherently cruel.
In Bloomington, Ind., when the home team is solid, it can be all those things and a whole lot more.
And, guess what, Michigan basketball fans. The home team in Bloomington this season is a bit more than solid. It's downright inhospitable.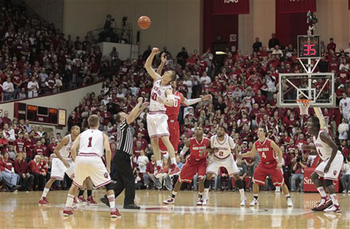 Associated Press
The 16th-ranked Wolverines have technically ventured onto the road twice this season.
A 12-point loss in Charlottesville to now 21st-ranked Virginia, and a 10-point win in Auburn Hills against Oakland (though, let's be honest, that one really doesn't count).
In one true rowdy road environment, Michigan is 0-1. And on Thursday (9 p.m., ESPN2), the environment the Wolverines will walk into has been a little more than rowdy over the years.
It's been a house of horror.
Michigan will be looking for just its third victory at Indiana since the 1987-88 season. The Wolverines have two wins in their last 21 trips to Bloomington's Assembly Hall, and Michigan's last win there came in overtime during the 2008-09 year — a season when Indiana won just six games due to a litany of NCAA issues left over from former coach Kelvin Sampson.
This season, Indiana coach Tom Crean seems to have resurrected the Big Ten's most storied basketball program. The Hoosiers, led by super freshman Cody Zeller, are off to a 13-1 start, with home wins against a top-ranked opponent (Kentucky) and second-ranked opponent (Ohio State) so far.
So, long story short, we're about to find out just how "for real" Michigan is.
Freshman point guard Trey Burke has been refreshingly steady this season, leading all Big Ten freshmen in assists with five per game, and he's second among freshmen in scoring at 14 points per game.
But on the road this season, he's winless.
Sophomore forward Evan Smotrycz has been reborn into an inside-out player so far, notching three double-doubles in a row while maintaining a 54.5 percent success rate from 3-point range.
But on the road this season, he's winless.
Tim Hardaway Jr. has shown flashes of turning the corner from impressive youngster into All-Big Ten performer, dropping 26 points last week against Penn State and hitting the game-icing shot to put away Minnesota.
But on the road this season, he's winless.
Clearly, you see where we're going here.
Michigan has been impressive at times, holding its own against Duke while on Maui, knocking off Memphis and rattling through a seven-game win streak against less-than-notable opponents.
The ESPN/USA Today Coaches poll gave the Wolverines their highest national ranking in 14 years earlier this week, and Michigan is projected by many to make back-to-back NCAA Tournaments for the first time since 1996.
But as of right now, it's winless on the road.
In college basketball, and in the Big Ten, there are good teams — and then there are teams that win on the road.
Which distinction awaits Michigan this season?
We'll get the first part of our answer Thursday night.
Nick Baumgardner covers Michigan basketball for AnnArbor.com. He can be reached at 734-623-2514, by email at nickbaumgardner@annarbor.com and followed on Twitter @nickbaumgardner.
Want to stay connected to Wolverine basketball in your Facebook newsfeed? "Like" AnnArbor.com's Michigan Basketball News & Views.