Posted on
Sat, Mar 10, 2012 : 12:04 a.m.
Michigan basketball team gets rubber match with Ohio State in B1G Tournament semifinal
By Nick Baumgardner
INDIANAPOLIS -- Anyone ready for a rubber match?
Shortly after dispatching Minnesota in overtime Friday to advance to the Big Ten Tournament semifinals, the Michigan basketball team found out who its next opponent would be.
None other than rival Ohio State.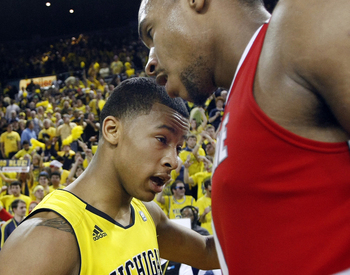 AP Photo
The Buckeyes got 30 points and 12 rebounds from sophomore forward Jared Sullinger and held Purdue forward Robbie Hummel to just six points in a dominating 88-68 win over the Boilermakers in the quarterfinal nightcap.
No. 2-seeded Michigan and No. 3 Ohio State will tangle 25 minutes after No. 1 Michigan State and No. 4 Wisconsin open semifinal play at 1:40 p.m. (CBS).
Saturday marks the first time in tournament history that all the top four seeds will appear in the semifinal round.
The Buckeyes took the first meeting with the Wolverines earlier this season in Columbus, getting a dominant performance inside in a 64-49 victory. Michigan then returned the favor less than a month later in Ann Arbor, scoring a 56-51 win in front of an ESPN College GameDay home crowd.
The bout will also mark the third time this season that a pair of childhood friends tangle on the court. Michigan freshman point guard Trey Burke will face off with Sullinger, a former Columbus Northland High School and AAU teammate.
On Friday, both Burke and Sullinger tallied 30 points.
"I watched Trey play (earlier in the day)," Sullinger said. "He played a great game.
"Hopefully not tomorrow."
As for Burke, much of the previous subplots surrounding the first two Ohio State games centered around the Buckeyes' choice to bypass him in the recruiting process, settling for current reserve point guard Shannon Scott instead.
After beating Minnesota, the co-Big Ten Freshman of the Year said that storyline is rather played out at this point, and it'll just be the Wolverines vs. the Buckeyes, not Trey Burke vs. Ohio State.
"I'm over it now, really," Burke said. "We're just trying to win at this point in the season, every single game matters now.
"It's not really a Ohio State-Trey Burke thing, it's an Ohio State-Michigan thing. Every game matters. The focus isn't going to be on me, and my focus isn't going to be to try to prove Columbus wrong by going for 40 points. It's all about winning."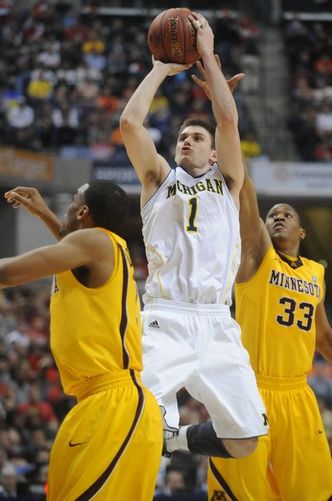 Melanie Maxwell | AnnArbor.com
Focused throughout
For most of the game against Minnesota Friday, Michigan's Evan Smotrycz, Zack Novak and Stu Douglass were virtually non-existent.
But when it mattered the most, all three showed up in their own way.
After the Wolverines fell behind by nine points late in the second half, Novak ignited Michigan's late charge with two quick 3-pointers, his only baskets of the game, to make it a one-possession game in the final minutes of regulation.
Then it was Smotrycz's turn. With Michigan scrambling to tie the game, Smotrycz corralled a pass from Douglass and buried a 3-pointer from the wing to knot things up with just 17.4 seconds to play. It was the only basket he made all night.
In overtime, Douglass found a way to contribute, opening the scoring for Michigan with a 3-pointer and hitting a runner in the lane to put Michigan up seven. The two buckets in the extra session were his only two of the game.
"You've just got to move on to the next play," Smotrycz said. "Guys are telling you to just 'be ready, be ready.'
"You never know where that ball's going to go."
MICHIGAN 73, MINNESOTA 69 (OT)

Tired legs?
Burke, Novak, Douglass and Tim Hardaway Jr. each played at least 40 minutes Friday while Jordan Morgan logged 35 minutes.
The game ended at roughly 9 p.m., meaning Michigan will have less than 24 hours before taking the floor again against Ohio State on Saturday. The Wolverines and Buckeyes will tangle 25 minutes after the completion of the Michigan State-Wisconsin matchup, which tips at 1:40 p.m.
Ohio State, meanwhile, blew the doors off Purdue, giving itself the luxury of resting several key players during the game's final moments.
Despite the heavy minutes, though, Michigan says it'll have no problem gearing up again Saturday.
"Before the tournament, I knew I was going to be sore," Burke said. "It kind of reminds me of AAU, when you have another game the next day and the next day.
"I know how important it is to get treatment, stretch, get in the cold tub. I'll be ready to go."

Odds and ends

The Wolverines lost the battle on the glass against Minnesota 37-25, but managed to out-score the Golden Gophers in the paint, 25-24. Michigan is 10-5 when it gets out-rebounded. ... Matt Vogrich's two free throws in the first half were his first in 15 games. ... Minnesota committed 16 turnovers, resulting in 15 Michigan points. ... Michigan did not register a field goal for the game's first 6:34.
Nick Baumgardner covers Michigan basketball for AnnArbor.com. He can be reached at 734-623-2514, by email at nickbaumgardner@annarbor.com and followed on Twitter @nickbaumgardner.
Want to stay connected to Wolverine basketball in your Facebook newsfeed? "Like" AnnArbor.com's Michigan Basketball News & Views.