Posted on
Fri, Mar 9, 2012 : 10:56 p.m.
Michigan's 'Lamborghinis,' Trey Burke and Tim Hardaway Jr. making the difference in March
By Nick Baumgardner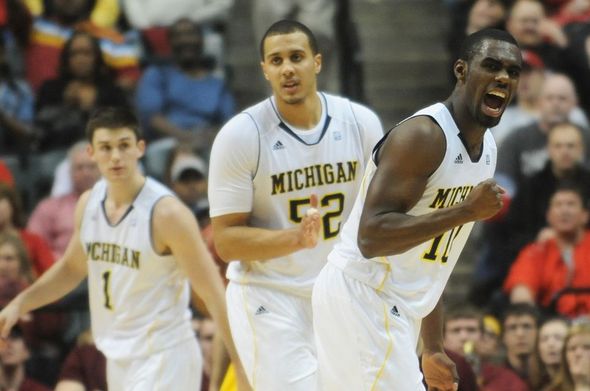 Melanie Maxwell | AnnArbor.com
INDIANAPOLIS -- After he and fellow captain Stu Douglass were dubbed "foundation players" recently, Michigan basketball senior Zack Novak offered a different description for young guns Trey Burke and Tim Hardaway Jr.
If Novak and Douglass are the foundation, then Burke and Hardaway were the giant living room and the 60-inch television set.
On Friday, though, after Burke and Hardaway combined for 50 points in Michigan's 73-69 overtime win against Minnesota in the quarterfinals of the Big Ten Tournament, Novak upped the ante.
"They were the (Lamborghini) with the super model in the front seat sitting out in the driveway today," Novak said. "That was impressive."
In 45 minutes of basketball, Burke and Hardaway showed why this Michigan team has the ability to go from good to very good in one hot second.
Already steady with the foundation of leadership provided by Douglass and Novak, as well as key role players in Jordan Morgan, Evan Smotrycz and Matt Vogrich, the Wolverines have the ability to go punch-for-punch with anyone in the Big Ten for one reason.
Burke and Hardaway are really, really good.
"Trey and Tim are those shiny new electronic appliances, the pool tables, the whole deal," Douglass said. "They keep impressing me, it's crazy."
Playing with tape on his left wrist and eventually a bloody cut over his left eye, Burke turned in the best performance of an already sizzling freshman campaign on perhaps the team's biggest stage to date.
When the rest of the Wolverines couldn't hit the ocean during the game's first 20 minutes, Burke was there, scoring 11 of the team's first 12 points and single-handedly keeping Michigan on the floor with a charged-up Minnesota squad.
When the Golden Gophers went on a 17-5 run to take control of the game in the second half, Burke was there, bulling his way into the lane before finishing off a physical two-handed layup in the post to stop the run and give Michigan new life.
He played the entire 45 minutes, something he's done three times this season, and never once showed signs of slowing down.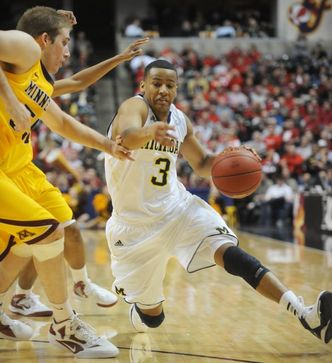 Melanie Maxwell | AnnArbor.com
"I know I'm capable of (taking a game over)," Burke said afterward. "In high school that was kind of my role, growing up that was kind of my role.
"If I'm having an off night, Tim can go for 25 or 30. Zack can go for 17. That's what's special about this team, we don't have a lot of off-nights (collectively)."
Burke did plenty of heavy lifting Friday, but Hardaway wasn't far behind.
After deferring to his freshman point guard in the first half, Hardaway wouldn't let Michigan fade away early in the second, scoring the team's first nine points of the frame to keep the Wolverines alive.
After Hardaway's acrobatic 3-point play off a backdoor cut put the Wolverines up 40-37 early in the second half, he and Burke had combined 33 of the club's 40 points. Morgan had five, Vogrich has two and everyone else had zilch.
As a unit, Michigan wasn't firing on all cylinders. But in the end, it didn't matter, because the best two players on the floor were wearing maize and blue.
"We don't think about that," Hardaway said after being asked if he realized he and Burke would have to carry Michigan on Friday. "We just think about doing whatever we have to (in order to) get this team a win, we're just trying to move on to the next play and the (next) round.
"We're doing what we can, we've got this whole team behind our back, they're loving it, they're showing us confidence, and we're going to keep on going."
A year ago, Michigan had a dynamic point guard in Darius Morris, and a blossoming wing in Hardaway. But this season, Burke's been able to do everything Morris did -- and perhaps more.
Hardaway, meanwhile, has continued to blossom down the stretch, showing signs of the elite wing most college basketball experts believe him to be.
Call them what you will.
A pair of Lamborghinis, big-screen televisions or high-end pool tables. To Michigan, Burke and Hardaway fit the bill.
And with March ready to hit its hottest point, the Wolverines' dynamic duo may mean even more.
"Just looking at stats, they both played incredible," Novak said. "Without them stepping up, we don't win this game."
A priceless pair, indeed.
Nick Baumgardner covers Michigan basketball for AnnArbor.com. He can be reached at 734-623-2514, by email at nickbaumgardner@annarbor.com and followed on Twitter @nickbaumgardner.
Want to stay connected to Wolverine basketball in your Facebook newsfeed? "Like" AnnArbor.com's Michigan Basketball News & Views.