Posted on
Mon, Nov 21, 2011 : 6:23 p.m.
Michigan guards Tim Hardaway Jr., Trey Burke steal athletic Memphis' thunder
By Nick Baumgardner
LAHAINA, Hawaii -- Trey Burke was pretty clear about one thing Monday.
The Michigan basketball team's freshman guard and ballyhooed Memphis sophomore guard Joe Jackson were not playing a game of one-on-one.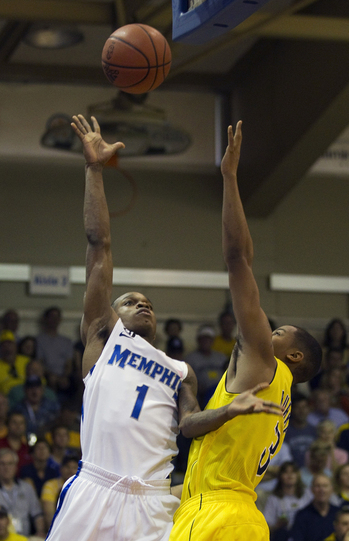 AP Photo
However, if one were so inclined to compare the two during
No. 15 Michigan's 73-61 Maui Invitational win over the No. 8 Tigers
, Burke's fairly confident he'll be happy with the results.
"If you did the math," Burke said, "I basically beat him."
Prior to arriving at Memphis a season ago, Jackson was a consensus five-star prospect, regarded as one of the country's most athletic and capable guards. As a freshman, he lived up to his billing, averaging nearly 10 points a game.
Burke did win Ohio's Mr. Basketball award a season ago, but in no way got the type or national respect Jackson received prior to his freshman season.
Things might start changing now.
Burke was poised and in control from wire-to-wire, dropping in 14 points and handing out four assists in 35 minutes of action. Jackson, meanwhile, was all over the place. He went 3-for-9 from the floor to finish with seven points.
"I didn't take it as a me vs. him challenge. I knew he was good and I played against him in high school," Burke said. "I just made sure that whenever he pressured me full-court (I was ready)."
Burke continued his impressive early-season play against the best opponent Michigan has faced this year, and is now averaging 11 points, 2.8 assists and 2.2 turnovers per game.
Darius Morris
, though he could've fooled Memphis coach
Josh Pastner
.
"I know they lost a really good player in Darius Morris, who is a pro," Pastner said. "But they didn't have too much drop off with Burke.
"He's really good and he's only a freshman."
The other guard-vs-guard comparison Monday featured Michigan sophomore Tim Hardaway Jr. and Memphis sophomore Will Barton.
Barton, like Jackson, was a five-star recruit out of high school and rated as the No. 11 overall prospect by Rivals.com in 2010.
Hardaway was a three-star prospect, not listed among the Rivals Top 150 and known more for his famous father than for his own game.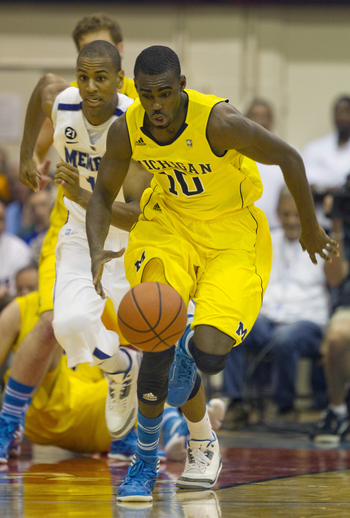 AP Photo
On Monday, he introduced Barton, Memphis and the rest of the country to the latter.
Hardaway had little trouble finding easy baskets inside, and showed consistency with his jump shot in scoring a game-high 21 points. He finished 9-for-10 from the foul line, added seven rebounds and dropped in a game-high five assists.
Barton went 3-for-12 with nine points and a turnover.
"It was just about going in there and sticking with the gameplan," Hardaway said. "I knew we had mismatches out there and they were really overplaying us. We were just trying to stay smart and just play hard at the same time."
Like he did for Burke, Pastner heaped high praise on Hardaway.
"Of course, Hardaway Jr. is a pro," he said. "There is no doubt about that. A really, really good player."
If Monday proved anything, outside of Michigan earning early proof that it belongs in the Top 25, perhaps it's that recruiting rankings don't mean everything.
Burke and Hardaway didn't really care to look too deeply into the situation, though.
They're 4-0. They don't have to.
"I'm just glad we got the win," Burke said.
Nick Baumgardner covers Michigan basketball for AnnArbor.com. He can be reached at 734-623-2514, by email at nickbaumgardner@annarbor.com and followed on Twitter @nickbaumgardner.
'Like' our Michigan Basketball News & Views page on Facebook to follow our coverage of the Michigan basketball team.