Posted on
Mon, Nov 21, 2011 : 7:54 p.m.
Michigan confuses Memphis with its defense, then beats up the Tigers on the glass in 12-point win
By Nick Baumgardner
LAHAINA, Hawaii — Monday's opening-round Maui Invitational matchup between Michigan and Memphis couldn't have featured two more contrasting styles.
Memphis is up-tempo, wanting to run in virtually any situation. Michigan is more subdued, relying on stout defense and sharp shooting to get the job done.
The Wolverines hung with the Tigers at their own game early, but in the end, slow and steady definitely won the race.
"We got sloppy offensively, we started rushing some things and we didn't want the score to be 100-90," Michigan senior guard Zack Novak said. "We slowed down, got good shots, switched to the zone and the biggest thing we did was rebound."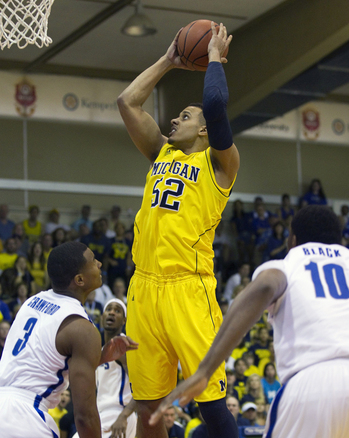 AP Photo
Having confounded Memphis earlier in the half with a brief look at the 1-3-1 zone, Michigan began switching between man-to-man and an aggressive 2-3 zone toward the end of the first half.
The result was several one-shot possessions for Memphis and a 10-0 run to close the half for Michigan, giving the Wolverines a six-point lead they'd never surrender.
"We're not a big zone team," said Memphis coach Josh Pastner, whose team went 19-for-57 from the floor. "(Michigan is) very good at what they do.
"We practiced it for the last 72 hours. ... If you're making shots, you probably are going to get out of the zone. We didn't make shots."
The Tigers didn't only not make buckets. They didn't rebound, either.
Entering the game, Michigan had been out-rebounded 96-93 during three games against Ferris State, Towson and Western Illinois. Against the highly-athletic Tigers, though, the Wolverines owned the glass.
Michigan held a 38-29 rebounding edge on the game. Thirty-two of those rebounds were on the defensive glass, negating any chance of Memphis putbacks.
"We just made hits, we got guys blocked out," Novak said. "Rebounding just comes down to effort a lot of times. We really knew they were going to fly at the glass, that's how they scored a lot of points in the tape we saw.
"We figured if we could keep them off the glass and not give them second chances, then our chances to win were going to go way up."

Full-bench depth

Tasked with playing three games in three days, Michigan coach John Beilein expected to expand his rotation to keep players fresh throughout the week.
Beilein was true to his word, and his bench didn't disappoint.
Michigan played 11 players Monday and got extended minutes from seldom-used players like Colton Christian, Blake McLimans and Eso Akunne.
RELATED CONTENT
Christian dropped in a bucket, drew a charge and grabbed a rebound in his four minutes. McLimans pulled down a rebound and played effective zone defense in his seven minutes.
Akunne's deep 3-pointer midway through the second half gave the Wolverines their largest lead of the game and sent the entire maize and blue sideline into the biggest frenzy its been in all season.
"We're going to be here for three days, win or lose. I wanted to make sure we gave a little bit more rest than we were giving," Beilein said. "And we stopped and embraced the moment when Eso hit that shot.
"Rather than go right in the huddle, I told the assistant coaches, 'Let's just think about what happened. That young man has worked so hard, and now on a national stage he makes that shot.' Then we went back in the huddle and you could see the team's reaction (also)."

Inside shooting burst

Michigan developed a reputation as a 3-point-happy basketball team a season ago, and appeared to live up to it during the first three games of the 2011-12 season.
On Monday, though, Michigan proved it didn't need a long-distance barrage to beat a good basketball team.
The Wolverines went just 6-for-20 from 3-point range, but finished 21-for-30 from inside the arc -- a 70-percent shooting clip.
"You look at a lot of the big wins we've had in the past and we really shot the lights out," Novak said. "Today, we shot well, but it wasn't a 3-point barrage or anything. We've got players that worked really hard to expand their game so that we're more than just a 3-point shooting team.
"You can see it already this season, we haven't shot the ball particularly well (from the outside), but we're still winning. That's only going to help us down the road."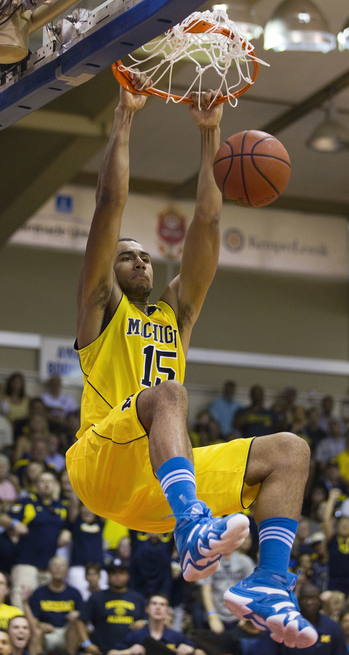 AP Photo
Special Maui gear
The Michigan basketball team wore special sky-blue Maui Invitational warmup shooting shirts and new sky-blue Adidas socks and shoes.
The shoes are called 'adiZero Crazy Light,' dubbed by Adidas as 'the lightest basketball shoes ever.'
The team's blue shooting shirts included a Hawaiian-themed logo Ku, the Hawaiian god of war.
The gear is exclusively designed by Adidas for this year's Maui event and will be worn by Michigan, Kansas, Tennessee, UCLA and Chaminade.

Odds and ends

For the first time this season, Michigan found itself in foul trouble. Sophomore forward Jordan Morgan played just 11 minutes after picking up two fouls early. Forward Evan Smotrycz finished with four fouls and Novak fouled out. ... The Lahaina Civic Center features a large wall sign honoring all former champions and tournament most valuable players. Michigan won the tournament in 1988 and Glen Rice was the event's MVP. The only problem is, the sign features the wrong spelling of Rice's first name, listing him as "Glenn."
Nick Baumgardner covers Michigan basketball for AnnArbor.com. He can be reached at 734-623-2514, by email at nickbaumgardner@annarbor.com and followed on Twitter @nickbaumgardner.