Posted on
Wed, Nov 23, 2011 : 10:52 p.m.
Michigan basketball team scorches Maui nets in 79-63 win against UCLA
By Nick Baumgardner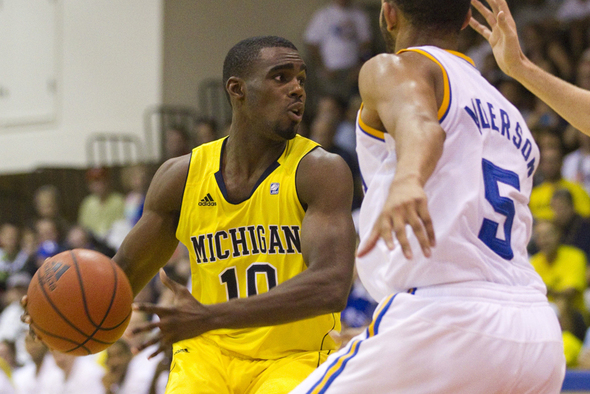 Updated 10:52 p.m.
LAHAINA, Hawaii -- The bad news: The Michigan basketball team has to leave paradise.
The good news: The Wolverines will depart feeling pretty good about themselves.
Michigan got 20 points, four rebound and four assists from Tim Hardaway Jr. and a career-high 22 points from Zack Novak on Wednesday as the 15th-ranked Wolverines closed out the 2011 Maui Invitational in style with a 79-63 win over UCLA at the Lahaina Civic Center.
"I like, for the most part, how we competed under the bright lights," Michigan coach John Beilein said. "It doesn't get any brighter than (Maui) this time of year.
"And that's big for us."
The Wolverines earned third place in the event, winning two of three games, and moved to 5-1 on the young season.
After struggling to put an entire offensive game together Wednesday in an 82-75 loss to Duke, Michigan had little problem scorching the net against the Bruins.
MICHIGAN 79, UCLA 63

Nick Baumgardner's recap of Wednesday night's Maui Invitational third-place game:
CAREER NIGHT FOR NOVAK
Michigan senior captain Zack Novak put on the best scoring display of his career, dropping in a career-high 22 points on 7-for-8 shooting as Michigan used a 13-0 first-half run and a 15-4 second-half spurt to dispatch UCLA.
HORFORD'S BIG DAY
Jon Horford had the best game of his Michigan career -- in the first half. With Jordan Morgan in foul trouble, Horford had a career-high 12 points to go along with seven rebounds in the first half. He didn't score or grab another rebound after the break, finishing 5-for-5 from the floor.
TRENDING TREY
Freshman point guard Trey Burke made a name for himself in Maui, enough to impress the Twitter-verse, anyway. During halftime against UCLA, Burke's name was a trending topic in the United States. He finished with five points, five assists and three rebounds.
QUOTE
""I like how we competed under the bright lights, and (they) don't get any brighter this time of year. That's big for us, you don't know how people are going to (react) when there are teams and coaches you see on TV every day and, all of a sudden, that's you. I really liked what we saw."
— -- Michigan coach John Beilein
RELATED CONTENT
Jon Horford's career half helps Michigan fend off UCLA's post players
Notebook:More than a leader, Zack Novak serves as go-to shooter in Maui win
Boxscore
|
Big Ten scoreboard
The Wolverines shot a blistering 61.7 percent from the floor as a team, 65.7 percent in the second half. Hardaway Jr. finished 8-for-13 from the field, while Novak went 7-for-8, 4-of-5 from 3-point range.
Sophomore forward Jon Horford added a career-high 12 points -- all in the first half -- to go along with seven rebounds.
"We just worked our offense," Novak said. "We got good shots, 49 shots for 70-some points, that's how we want to play.
"That tells me we were working the offense and getting good looks. When we do that, we've got pretty good shooters who can knock them down."
UCLA, meanwhile, dipped to 1-4 on the season, and never seemed to have enough of an answer for Michigan's sharp shooting -- as the Wolverines held the Bruins to a 41.8 percent shooting night.
"They hurt us every way imaginable," UCLA coach Ben Howland said.
Michigan seized control early as Hardaway dropped in seven points in the game's first seven minutes and Horford began to establish himself inside, leading to a 13-0 run to put the Wolverines up 19-8 at the 11-minute mark.
UCLA would claw back, though, getting as close as three after a Josh Smith putback closed an 11-5 spurt. Michigan extended its edge back out to as many as 10 after a pair of Horford foul shots, but UCLA would get a 3-pointer at the first half horn from Jerime Anderson to make it 38-31 at the break.
The Bruins would stay within striking range early in the second, pulling within five after a layup from Smith at the 12:51 mark, but from there, it would be all Michigan.
The Wolverines would spend the next four minutes on a 15-4 run, capped by a long 3-pointer from Hardaway, giving them their largest lead of 16 with 8:08 to go.
The lead would grow as high as 20 after a Novak free throw with less than two minutes to play.
"Coach Beilein and the staff do a great job of seeing how the defense is playing myself and the other guards," Hardaway said. "They draw up plays, and we just go out there and execute.
"We have to trust the offense and take our open spots."
Travis Wear led the Bruins with 16 points, while Smith and Anderson each added 12.
Evan Smotrycz finished his night with seven points and eight rebounds, as the Wolverines out-boarded UCLA 32-24.
Freshman point guard Trey Burke added five points and five assists for the Wolverines.
Michigan returns to action Tuesday when it travels to Virginia to take part in the Big Ten-ACC Challenge. It'll be Michigan's fourth game away from home in an eight-day stretch.
But given the progress his team made in Maui, Beilein didn't seem overly concerned.
"We're going to leave (Thursday), fly all Thanksgiving day and end up having like three different practices (Friday) to keep them awake," Beilein said. "And then, we'll take Saturday off and try and help our (football team) beat Ohio."
Nick Baumgardner covers Michigan basketball for AnnArbor.com. He can be reached at 734-623-2514, by email at nickbaumgardner@annarbor.com and followed on Twitter @nickbaumgardner.
'Like' our Michigan Basketball News & Views page on Facebook to follow our coverage of the Michigan basketball team.