Posted on
Wed, Nov 23, 2011 : 10:43 p.m.
Jon Horford's career half helps Michigan fend off UCLA's post presence in Maui Invitational win
By Nick Baumgardner
Michigan sophomore forward Jon Horford didn't score a single point or grab one rebound after halftime.
He really didn't need to, either. His impact had already been made.
Horford scored a career-high 12 points to go along with seven rebounds, all in the first half Wednesday against UCLA, giving him the first true breakout performance of his career and allowing Michigan to negate a distinct interior advantage held by the Bruins.
"I just went in and felt good," said Horford, who added three blocked shots and two steals. "I knew what I had to do. Go in, grab some boards and play decent defense."
The Wolverines were lucky he responded, because for the second time in three days, sophomore forward Jordan Morgan was forced to exit the first half early due to foul trouble.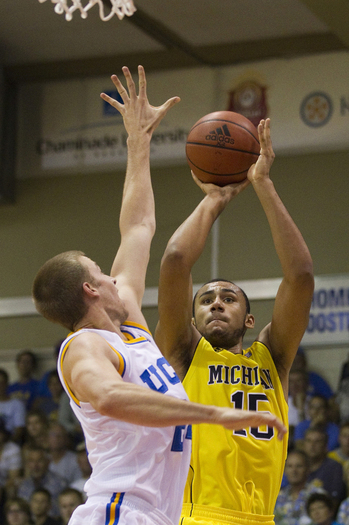 AP Photo
On Monday against
No. 8 Memphis
, Horford picked up the slack, finishing with six points, six rebounds and four blocks in just 12 minutes.
His effort against UCLA was far more impressive, though, especially considering the Bruins' girth on the block.
With Morgan on the bench, Horford and Evan Smotrycz were virtually alone in defending UCLA's front-line foursome of Josh Smith, Travis Wear, David Wear and Reeves Nelson.
Smith and the two Wears stand at 6-foot-10, while Nelson checks in at 6-foot-8. The four players also tip the scales at a combined weight of 985 pounds.
And though Travis Wear and Smith -- who weights 305 pounds -- did some damage (combined 28 points), Horford's early efforts kept things from getting out of control.
"Jon went in there and got to the right place at the right time," Michigan coach John Beilein said. "Jon's taking baby steps every day, they're in the right direction.
"That was big for us to have him, because he also got some rebounds. ... It's really hard, when you front Josh Smith, it's another zip code to get to the other side of him. We had to really work (inside)."
Beilein spoke at length throughout the tournament about the growth of freshman point guard Trey Burke, but on Wednesday, he added Horford's name to the list of improving youngsters.
Morgan appears to be the team's starter in the middle at this point, but Horford's proving to be a more than capable backup.
In Maui, Horford averaged six points and 4.7 rebounds in 11.7 minutes per game.
If that pace keeps up, Beilein says he'll be more than happy.
"The big thing is the learning curve will grow," he said. "I see some development and Jon's a great example with the three blocks, the points and the rebounds.
"Now, we've got to press on and improve from here."
Nick Baumgardner covers Michigan basketball for AnnArbor.com. He can be reached at 734-623-2514, by email at nickbaumgardner@annarbor.com and followed on Twitter @nickbaumgardner.