Posted on
Wed, Nov 23, 2011 : 10:49 p.m.
More than just a leader, Michigan senior Zack Novak serves as go-to shooter in Maui Invitational win
By Nick Baumgardner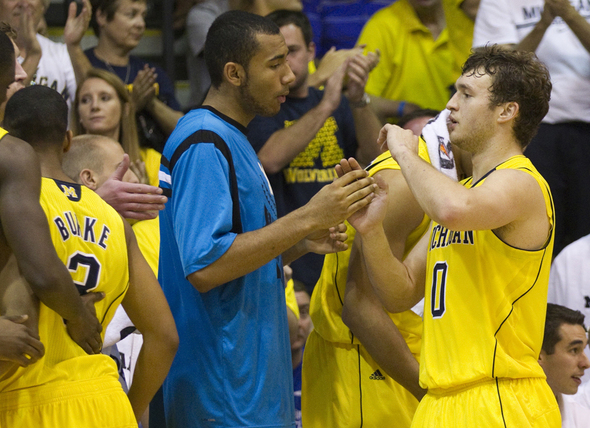 AP Photo
Michigan basketball senior guard Zack Novak made two mistakes all game Wednesday.
He missed a 3-pointer five minutes into the second half, and he missed a free throw with 1:28 to go.
Outside of that, pretty much perfect. Not a bad day's work.
AP Photo
"We've got really good guys on the perimeter who are able to get in the lane and draw help," said Novak, who finished with a career-high 22 points on 7-for-8 shooting in
a 79-63 win over UCLA
. "A lot of my looks, I was wide open.
Trey Burke
got in there,
Tim (Hardaway Jr.)
gets in there really well.
"My job's easy. I've just got to be there wide open and knock them down."
Novak has always been a capable shooter, but is known more for his floor game and his unflinching leadership inside the Michigan locker room. He's served as a team captain since his sophomore season.
But when he puts on a shooting performance like he did Wednesday, the Wolverines suddenly have the capability to click at a completely different level.
"It just gets everybody else open and gets us into the flow of the offense," Hardaway said of how Novak's performance changed the game. "It gets us more easy looks and it allows us to run our offense.
"Having other guys knock down shots, having that fourth or fifth guy knock down shots, it helps us as a team and helps us get into the flow of things."
Michigan coach John Beilein said Novak's performance was a product of work he put in during the offseason focusing on what he called his 'in-between game.'
"We see this in practice quite often," Beilein said. "(Defenders) will get to him, but he (fakes), takes a dribble and puts it in.
"It was big for him to be able to do that and make all the gutty plays out there just like normal."
Hardaway makes All-Tournament team
After averaging 20 points and 4.7 rebounds in three games at the 2011 Maui Invitational, Hardaway Jr. was named to the event's five-man All-Tournament team.
Hardaway joined Georgetown's Jason Clark, Kansas' Thomas Robinson and Duke's Austin Rivers and Ryan Kelly on the squad.
Kelly was named the tournament's Most Valuable Player.

Early minutes for Brundidge
Michigan freshman guard Carlton Brundidge played for the first time since the Towson game, entering with 4:21 to play in the first half.
Brundidge played five minutes, scoring two points and collecting two rebounds.
Beilein played 14 players Wednesday, but said he didn't feel his starters suffered from too much fatigue while playing their third game in three days.
"Even though we had a lot of minutes, we're in pretty good shape and I sensed we were fresh entering this game," Beilein said. "We were fresh and we played with a lot of energy to start."

Trending Trey

Burke finished the 2011 Maui Invitational with an average of 12 points, six assists and 3.7 rebounds.
His acrobatic layup against Duke on Tuesday was featured as a "Top Play" on ESPN's SportsCenter, and on Wednesday, his name continued to rise -- hitting the Twitter-verse.
During halftime of the UCLA game, Burke was trending on Twitter in the United States.

Beilein radio show to begin Dec. 5

Beilein will begin the fifth season of his "Inside Michigan Basketball" radio show on Monday, Dec. 5 at the Pizza House in Ann Arbor.
Beilein and Michigan play-by-play announcer Matt Shepard will co-host the one-hour program, beginning at 7 p.m. The program will be broadcast on 1270-AM WXYT in Detroit and 1050-AM WTKA in Ann Arbor.

Michigan Maui contingent starts 'Beat Ohio' chant

With two minutes to play against UCLA, the contingent of Michigan fans at the Lahaina Civic Center showed their support for the Wolverine football team by beginning a chant of "Beat Ohio."
During the second half of Michigan's win over Nebraska last weekend at Michigan Stadium, the capacity crowd began belting out the same chant in anticipation for Saturday's game between the Wolverines and Buckeyes.
Nick Baumgardner covers Michigan basketball for AnnArbor.com. He can be reached at 734-623-2514, by email at nickbaumgardner@annarbor.com and followed on Twitter @nickbaumgardner.