Posted on
Sun, Mar 24, 2013 : 5:45 a.m.
Michigan women's basketball hopes to continue raising bar for program in NCAA Tournament
By Pete Cunningham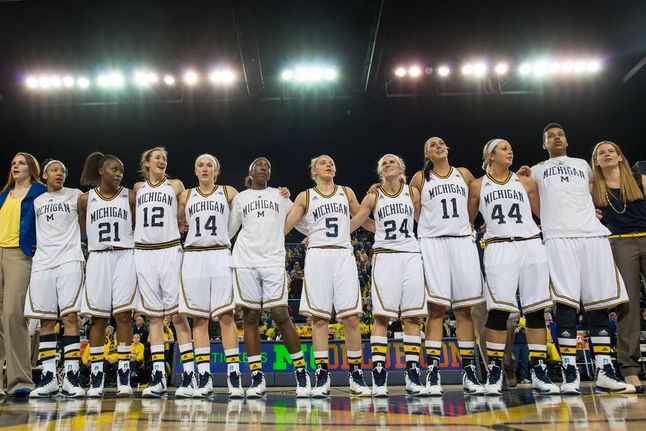 Courtney Sacco | AnnArbor.com file photo
Related:
Male practice players vital to the success of the women's basketball team
Make the NCAA Tournament for the first time in 11 years. Check.
Snap a six-year, 12-game losing streak against archrival Michigan State. Check.
Return to the NCAA tournament for the program's first back-to-back tournament appearances since the 2000-2001. Check.
Win an NCAA tournament game…To be determined.
The senior class for the Michigan women's basketball team has raised the bar for the program at every turn and on Sunday will get the opportunity to do so once again in the opening round of the 2013 NCAA Tournament.
As the No. 8 seed in the Spokane, Wash. Region, Michigan (21-10) will take on Villanova (21-10) in Palo Alto, Calif. (7:30 p.m., ESPN2) in search of the program's first NCAA Tournament win since 2001.
Last year, Michigan was a bubble team and getting into the tournament was an accomplishment. This year, as per usual for this group, the bar has been raised.
"Considering they hadn't been there until last year for a long time I think last year kind of gave them a little bit of a taste of it," said first-year coach Kim Barnes Arico. "This year, our expectations have changed a little bit. You're not just happy to get there anymore. You want to be successful once you get there."
Courtney Sacco | AnnArbor.com file photo
Senior
Rachel Sheffer
believes last year's tournament experience, an 88-67 loss to Oklahoma, will help this year's squad.
"Being in the tournament last year, I really think it's going to give us a better look on how to face the tournament," Sheffer said. "I think just having that experience under us is going to help a lot in moving past the first game and being ready for the first game and moving forward."
That experience is something not a single player on the Villanova team has. The Wildcats are back in the tournament for the first time since 2009. Though fifth-year seniors Laura Sweeney and Megan Pearson were on that 2009 team, both were redshirted and didn't play that season.
Though Michigan has tournament experience, what the team experienced is something Barnes Arico never had in her 10 years at St. John's: a first round loss. Barnes Arico took St. John's to four NCAA tournaments in her tenure and has never lost an opening round game and last year advanced to the Sweet 16.
The Wolverines' first-year coach isn't just experienced at leading her teams to first round victories, but against the Wildcats, whom St. John's faced in league play in the Big East.
Barnes Arico's teams were 5-6 against Villanova and she considers her professional relationship with Villanova coach Harry Perretta one of the strongest she developed in her time in the Big East.
"I'm really good friends with Harry Perretta. It's funny, when I got the job here, I got a call from Harry, he said. 'Alright I'm coming out to Michigan to visit you and (John) Beilien,'" said Barnes Arico, who said Perretta is close with the Michigan men's coach. "I've sat down with him to talk basketball, I've sat down with him to talk about his offense, so yeah I know Villanova really well I know coach Perretta really well.
"So it should be interesting."
Should Michigan advance past Villanova, it will likely have the daunting task of facing the No. 1 seed in the region, Stanford in the next round. Prior to the expansion of the tournament field to 64 teams in 1994, only three times had a No. 1 seed lost prior to the Sweet 16. Since the expansion, No. 1 seeds are 72-3 against No. 8 and No. 9 seeds in the Round of 32.
Sheffer said the team will worry about that should they be so fortunate.
"The only think that really matters is Villanova, so Stanford, I don't think is on anybody's minds," Sheffer said.
Pete Cunningham covers sports for AnnArbor.com. He can be reached at petercunningham@annarbor.com. Follow him on Twitter @petcunningham.