Posted on
Sun, Mar 24, 2013 : 5:35 a.m.
Male practice players vital to the success of the women's basketball team
By Pete Cunningham
Alex Geisenhoff played high school at Maple Grove Senior High in Minnesota, where the team, much like Geisenhoff - a 6-foot tall point guard - was good, but nothing special.
So it seems unlikely that Geisenhoff's ability to play like an All-American would be a critical element in the success of Michigan's women's basketball team. Actually, make that several All-Americans.
This despite never actually logging a minute of playing time for the Wolverines.
Geisenhoff is one of the Michigan women's basketball team's male practice squad players. When the Wolverines were preparing to face some of the best players in the country, like Penn State's Maggie Lucas, or Duke's Alexis Jones, Geisenhoff would switch from a neuroscience to theatre major and become those players.
Photo courtesy of Michigan Athletics
A self-described above average - but not great - player, Geisenhoff has loved playing the role of star player/villain against the women's team.
"To be honest, it's a lot of fun because I would have freedom of what (the top scorers) would do, and pretty much had freedom to shoot or take anyone off the dribble," Geisenhoff said. "You get the ball and you just score. It was fun. Made me feel like a lot better."
But boosting Gesenhoff's self-esteem isn't the reason for his practice participation. He is one of a rotation of about 15 male students who scrimmage and drill against the women's team.
In exchange for their time and effort, the practice players get some gear and an invite to the end of the year banquet. It's not much, but that, a good workout and the satisfaction of helping out seems enough for them.
"They don't really get all the perks that we get, but they go through a lot of the same things that a student athlete does," said senior Kate Thompson. " It really means a lot and they've been so vital in preparing us."
The logic behind women's basketball teams using male players is simple. To become faster, stronger and more athletic, the girls practice against opponents who are faster, stronger and more athletic.
It also helps to not practice against the same players every single day.
"It brings another level of speed and athleticism to practice," said Michigan coach Kim Barnes Arico. "As you're trying to prepare for some of the top teams in the country, you have to prepare to face that speed and athleticism.
"And to not go against each other every single day and bang against each other, but to go against different bodies has really helped us throughout the year."
But the guys don't just come out a pickup game. Whoever Michigan is playing against, that's who the male players are instructed to emulate.
Villanova is a fast-paced 3-point shooting team, so that's how the practice players played this week in preparation for the Wolverines' matchup in the opening round of the NCAA Tournament (7:35, ESPN2).
"We were just firing up shots. Even when the defenders were in our face," said Lafi Khalil, Geisenhoff's roommate and a fellow practice player.
Khalil, who was a starting point guard for the Sterling Heights High School varsity team in 2009, said when he first began playing with the women's team, his natural instinct was to tone down his physical style of play.
He quickly learned his apprehension was unnecessary.
"I realized these girls are the real deal, they're real athletes," Khalil said. "To be honest they're better competition than what you'll get in most male rec leagues."
And sooner or later, every guy gets put in his place by the uber-competitive women's players who are friendly when they see their practice partners around campus, but not so much in between the lines at practice.
"It's a total compartmentalization," Khalil said. "On the court, they're all business. There's no smiling and it's just always competitive."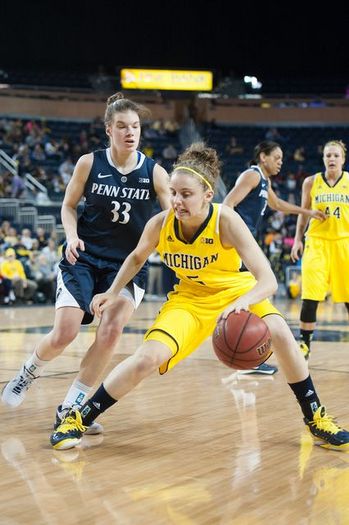 Courtney Sacco | AnnArbor.com file photo
Barnes Arico made a point of thanking the dozen or so practice players who came out for the
team's selection show celebration
on Monday, but offered a fair warning about the week ahead.
"Fellas, you have the most important week ahead of you," she said in reference to the Villanova preparations.
"I'll be anybody you want me to be," Geisenhoff responded, which fetched a room-wide laugh.
Thompson said a funny thing happens when the practice players are told to play like some of the nation's best female players: they actually start playing like those players. She recalled a practice when Geisenhoff's job was to prepare the team for Lucas, Penn State's Big Ten Player of the Year.
"He was shooting lights out, couldn't miss," Thompson said with a laugh. "Sometimes when they get into that persona, it's like they really start playing like they're one of the best shooters in the country or something."
"I love our practice team, I really do," Thompson said. "And they just take practice up to the next level it really makes a difference."
Legendary Tennessee coach Pat Summit -- who won six national titles with the Lady Volunteers -- is often credited with popularizing the method of using male practice players, which is commonplace today. Former Michigan coach Kevin Borseth used male practice players sparingly; whereas, Barnes Arico utilizes many as often as possible.
But it's not a free ride with Barnes Arico.
If the punishment for losing a scrimmage is wind sprints, that goes for the guys too.
"It was a little bit of a surprise at first, but just like the competitor in you just says, 'hey I lost, I've got to pay the price,' I'm not going to do it again," said Mackenzie Ladd, a senior who has been on the practice squad since his freshman year.
At 6-2 170 pounds Ladd played guard for his high school team in Kalamazoo, but he's one of the bigger practice squad players so he's had to add a low post game to his repertoire.
Like Khalil, he quickly found out "going easy on the girls" was an unnecessary bit of chivalry. While Geisenhoff and Khalil said the sharpshooting Thompson was the toughest to guard on the team, Ladd went with 6-4 center Sam Arnold.
"I always have a tough time against her," Ladd said. "She's so strong and difficult physically, and just knows how to get great position on you."

On Sunday, it will be Villanova tasked with dealing with Arnold and Thompson, and possibly the Spokane, Wash. Regional's top seed in Stanford on Tuesday should the Wolverines advance.
Getting past the top seed would be a historic feat, and should it happen the women's team will have a Sweet 16 to prepare for, and group of practice players ready to help them do so.
Pete Cunningham covers sports for AnnArbor.com. He can be reached at petercunningham@annarbor.com. Follow him on Twitter @petcunningham.