Posted on
Sat, Dec 10, 2011 : 5:59 a.m.
Now Michigan's main man, Tim Hardaway Jr. adjusting to being center of attention
By Nick Baumgardner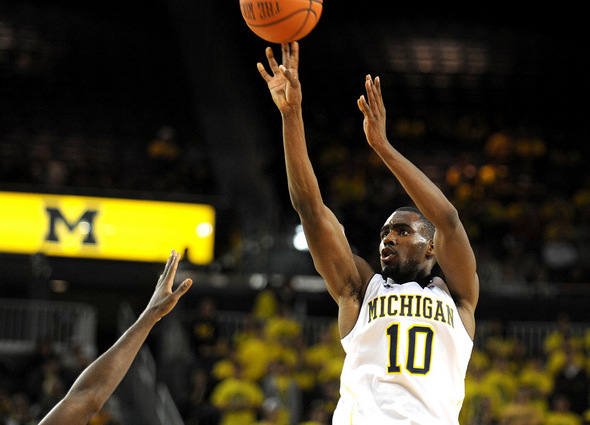 Angela J. Cesere | AnnArbor.com
Michigan basketball sophomore Tim Hardaway Jr. knew this season would be different.
After a breakout freshman campaign, Hardaway knew he wasn't going to be sneaking up on any opponents as a sophomore.
He was right -- he's not.
And now, he's trying to figure out how to handle all the on-court attention.
"It's a process," said Hardaway, who will look to lead Michigan on Saturday against Oakland (4 p.m., FSD) at The Palace of Auburn Hills. "And it's going to keep getting worse as the year goes on. Everyone's going to keep watching film to see how to play me.
"I've got to get used to it."
With Darius Morris gone, Hardaway, as expected, has spent most of the season being targeted by opposing coaches as Michigan's top offensive player.
Against
Duke during the 2011 Maui Invitational,
Hardaway was held scoreless during the first half when Blue Devils coach
Mike Krzyzewski
implemented a complete denial defense against Michigan's standout sophomore.
With the help of a few halftime adjustments, Hardaway was able to respond, dropping in 19 points after the break in a seven-point loss.
During a Big Ten/ACC Challenge game against Virginia, Hardaway wasn't as fortunate.
The Cavaliers made it a mission early to attack Hardaway, driving the ball toward him repeatedly in the early going, eventually leading to foul trouble that forced him to the bench for most of the first half.
Unlike the Duke loss, though, Hardaway never recovered. He finished with just five points in a 12-point loss.
"It's definitely frustrating," said Hardaway, who currently leads Michigan in scoring at 15.9 points per game. "You're trying to focus on being the key guy and trying to help your team out as much as possible, and you're restricted.
"That's when trusting your teammates comes into play."
To combat the constant target on his back, Hardaway said he's spent more time watching film with Michigan coach John Beilein, who helps him break down every unique defensive look he's seeing.
Beilein said the idea of being hunted each game isn't new for Hardaway. He was forced to combat the same situation in high school. But Hardaway's not in high school any longer.
"The schemes keep changing, and he's certainly seen that in high school enough, but this is a whole different thing," Beilein said. "But he is adjusting to it and becoming more comfortable with it.
"And we're becoming more comfortable (knowing when) we have to change. Sometimes he just has to be a decoy if they'll pay that much attention to him."
Deferring to other players at times is fine, Beilein says. However, make no mistake, Hardaway is Michigan's top scoring option.
And junk defense or not, he says it's the staff's job to figure out how to help Hardaway fight through all the extra attention.
"There are times where we really need to get the ball in his hands, in his sweet spot," Beilein said. "And that usually gives us good results."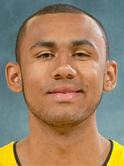 Horford good to go Saturday
Michigan sophomore forward Jon Horford was limited in practice this week with a foot injury, but is expected to play against Oakland, according to Beilein.
Beilein said the staff will evaluate how Horford feels during and after Saturday's game, and then decide whether or not his injury needs further rest.
"We've kept him out of all full-court action (in practice)," Beilein said. "He rides the bike when we run sprints or do full-court layups. We'll see how it looks and how it feels after this game.
"Because then we'll have a decision to make. If we shut him down, (we have to see) how long it's for and when (we do it)."

Beilein still confident in struggling shooters

Michigan senior guard Stu Douglass and junior guard Matt Vogrich are both currently stuck in an early-season shooting funk.
Douglass has shot just 10-for-36 (28 percent) from 3-point range, while Vogrich is just 1-for-12 (8.3 percent).
Vogrich is just 6-for-20 from the floor overall this season, while Douglass is 20-for-53.
Despite the struggles, Beilein says both players have maintained positive attitudes this week, and will continue to have the green light going forward.
"The stats probably speak louder than what they think," Beilein said. "We all know they can shoot. We see a kid that shot a high (number of) 3's and has a low (percentage), we say 'he's still a shooter, his coach isn't stupid and he wouldn't let him shoot if he can't shoot.'
"It's there, it's just a matter of them getting the reps."

Odds and ends

Michigan departed for Auburn Hills after practice Friday and planned to hold a 10 a.m. shootaround at The Palace prior to Saturday's 4 p.m. game. ... Beilein said Michigan spent most of the early part of the week focusing on individual improvement, rather than solely prepping for Oakland for seven days.
Nick Baumgardner covers Michigan basketball for AnnArbor.com. He can be reached at 734-623-2514, by email at nickbaumgardner@annarbor.com and followed on Twitter @nickbaumgardner.
Want to stay connected to Wolverine basketball in your Facebook newsfeed? "Like" AnnArbor.com's Michigan Basketball News & Views.