Posted on
Mon, Jul 11, 2011 : 8:37 p.m.
Strong tie between Detroit and Michigan athletics is apparent at Jalen Rose golf outing
By Pete Cunningham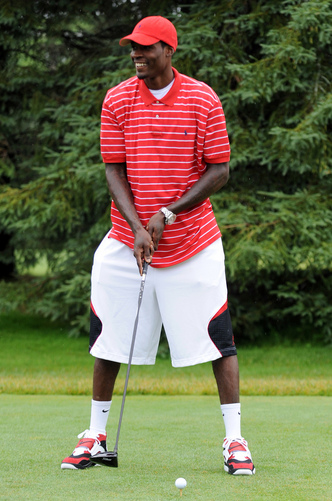 Melanie Maxwell I AnnArbor.com
Former Michigan basketball guard Manny Harris is not a golfer.
That much was obvious when it took Harris not one, not two, but three attempts to connect with his first tee shot at Barton Hills Country Club on Monday.
Harris, fresh off of his rookie season with the Cleveland Cavaliers, obviously wasn't at the Jalen Rose Leadership Academy Golf Outing to impress anyone with his backswing.
A product of the Detroit Public School system, Harris was there to support Rose's efforts to better the education of the city's youth.
"I think it's big that Jalen is doing what he's doing," said Harris, a 2007 graduate of Redford High School, who was born and raised in Detroit.
"If you can come back and give back, especially if it's a school and the state of Michigan as a whole, I think it's big to do that."
Harris wasn't the only person with Michigan and DPS ties in Ann Arbor on Monday to support Rose's public charter school, scheduled to open on the Northwest side of Detroit this fall.
"It's awesome what Jalen is doing," said former Michigan and current Pittsburgh Steelers linebacker Larry Foote, a 1998 Detroit Pershing graduate.
"We need more quality schools and I know Jalen Rose is a well educated man and he knows the importance of education, and he's going to bring that energy to the city."
Foote has long expressed interest in returning to Detroit when his playing days are over to coach at Pershing with a similar goal of helping the youth of his struggling city.
"That's always been a goal of mine, to go back to the city. Not just winning games, but having an impact in these kids' lives," Foote said. "We need to start getting these kids young and education is the key."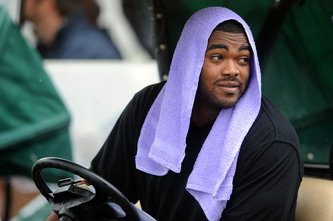 Melanie Maxwell I AnnArbor.com
NFL defensive end Brandon Graham (Detroit Crocket, Michigan, Philadelphia Eagles) was also on-hand for the golf portion of Monday's event, as was Rose's coach at Detroit Southwestern -- former Michigan assistant coach Perry Watson.
Rose doesn't just aspire for the Jalen Rose Leadership Academy to be a successful school by Detroit standards, but in comparison to the state's elite.
"If you ask somebody the best public schools in the city of Detroit for the last 20-25 years they'll say Cass Tech and Rennaisance," Rose said. "Cass Tech and Renaissance, while they're great and productive schools and we're proud of their production, we know that they're not (Beverly Hills) Country Day, (Grosse Pointe Woods) University Liggett or (Novi) Catholic Central."
Golfers paid $500 a head to play in the event, and organizers estimated the amount of funds raised by the end of the day would be $75,000.
Support for Rose's cause didn't just come from within Detroit city limits either. Rose's ESPN colleague Dana Jacobson, a Michigan graduate who grew up in Bloomfield Hills, was happy to contribute to her golf group -- sinking an eagle putt during the scramble -- and the cause.
When Rose asked her to attend, there was no hesitation on Jacobson's part.
"When I got the call, I didn't even talk to anybody I just got the dates and I called (ESPN) and got them off and was like 'whatever you need, I'll be there,' " Jacobson said. "I may be a suburban kid, but I still consider myself a Michigan, Detroit native and what he's doing to try to make education a priority, I just think it's incredibly important."
Rose's swing -- better than Harris', but not by much -- left much to be desired. His efforts in bringing the Michigan community together to increase the quality of education in Detroit, however, seemed to hit the ground running.
"It's just a great thing to really get this thing established," Rose said.

Pete Cunningham covers sports for AnnArbor.com. He can be reached at 734-623-2561, by email at petercunningham@annarbor.com and followed on Twitter @petcunningham.