Posted on
Mon, Jul 11, 2011 : 8:07 p.m.
Former Michigan basketball star Jalen Rose raises $75,000 at Barton Hills golf event
By Kyle Meinke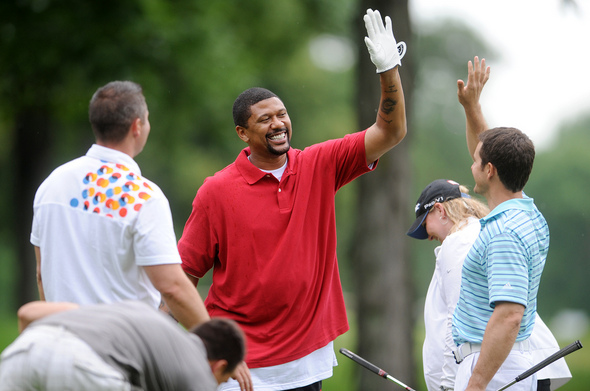 Melanie Maxwell I AnnArbor.com
Jalen Rose said he is trying to "break the mold" of what is expected from a public school — particularly a Detroit public school.
He got a good start Monday, when the first fundraiser for the Jalen Rose Leadership Academy -- his tuition-free charter school set to open in September on Detroit's Northwest Side -- raised $75,000 during a celebrity-laden golf outing at Barton Hills Country Club.
"What I'm trying to do is create a public school with a private-school productivity model," said Rose, a former Michigan basketball standout and Fab Five alum who played 13 seasons in the NBA.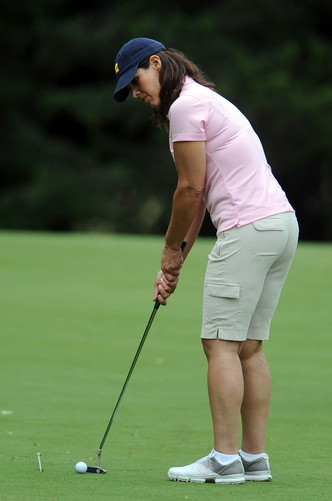 Melanie Maxwell I AnnArbor.com
"I wanted to reach out to everyone who has flown through DTW (Detroit Metro Airport), whoever paid an inch of taxes in our city, to find a way to reach out to them."
He did — and they came from coast-to-coast to support Rose, who now is an NBA analyst for ESPN and ABC.
Former Michigan football star and current Philadelphia Eagles defensive end Brandon Graham, who underwent microfracture surgery on his right knee in December, took a break from his rehab in Marina Del Rey, Calif., to fly in for the event.
Former Wolverine and current Cleveland Cavaliers guard Manny Harris visited via Las Vegas, where he is working with a trainer during the NBA lockout.
ESPN personality Dana Jacobsen, a Michigan alumna, arrived from Bristol, Conn., to assist the launch of Rose's venture.
And Jimmy King, who played with Rose during the Fab Five era at Michigan, came to support his friend.
"As ex-athletes, we get stereotyped as being just that — athletes," King said. "But with Jalen, the commitment is it's not just about the sport … it's about the education because, at the end of the day, it's what you need to be successful in your everyday life."
The JRLA already held a lottery to select its first class of 120 freshmen. Rose hopes to add a 120-person class each subsequent year until it achieves an overall enrollment of 480 for the 2014-15 academic year.
The outing was the first public fundraising effort for the school, which Rose hopes will provide students without means to attend a private school with a private-school-level education.
Rose said the plan is to establish a 215-day curriculum. Most public schools are in session for about 180 days. Student-to-teacher ratios in math and science are expected to be around 10-to-1 at Rose's school.
"I'm hearing the ratio could be 50- or 60-to-1 in the public schools," Rose lamented.
How involved will Rose be in the day-to-day operations of the school?
"I'm very hands on," he said. "There's going to be days when I'm there to pat kids on the back, or kick them in the butt."

Kyle Meinke covers Michigan football for AnnArbor.com. He can be reached at 734-623-2588, via email at kylemeinke@annarbor.com and followed on Twitter @kmeinke.