Posted on
Mon, Jul 11, 2011 : 10:11 p.m.
Fab Five alumni Jalen Rose, Jimmy King react to Ohio State vacating 2010 wins
By Kyle Meinke
Jalen Rose and Jimmy King know a thing or two about vacating wins.
So what do the former Michigan basketball stars and Fab Five members think about the trouble brewing at rival Ohio State, where the Buckeyes' football program has self-imposed sanctions that include vacating wins from their 2010 season and the 2011 Sugar Bowl?
"I hate to see programs go down like that, but when you don't play by the rules, you got to pay the consequences," said King, who was in Ann Arbor Monday for a golf outing at Barton Hills Country Club that benefited Rose's new charter school.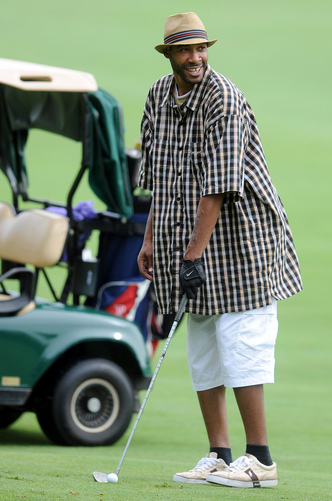 Melanie Maxwell | AnnArbor.com
"Even though it's Ohio State, I don't relish it or anything like that. I always think that athletes need to … just play the game, play it fair and square, do everything you can to have a level playing field and learn how to lose. There's lessons in losing."
Ohio State coach Jim Tressel has resigned and quarterback Terrelle Pryor has left the program after allegations surfaced that several players accepted illegal gifts and payments, and Tressel tried to cover up the infractions.
Rose and King played at Michigan in the early 1990s, but after a six-year investigation 32 of their wins were among the 113 wiped off the books between 1992 and 1999 after a scandal that included cash payments from booster Ed Martin to several players.
The banners from the Fab Five's appearances in the 1992 and 1993 NCAA championship games were among four removed from Crisler Arena.
What's it like to lose wins?
"It sucks, because you put your blood, sweat and tears into (the program), and it's your life," King said. "You work your whole life since you were a little kid, growing up dreaming to be a part of that thing, and then to have it snatched from you. It rips your heart out."
Rose has a little more philosophical take on the matter.
While he acknowledges Ohio State broke the rules, he falls short of calling for sanctions because of his disagreement with the NCAA's preclusion of gifts for athletes in the first place.
"That's a joke," Rose said. "There's just so much hypocrisy that goes on with that entire movement between the NCAA and what they consider student-athletes, and the exploitation that comes with it."
Rose, who has said he took small cash payments while he played at Michigan, has been a vocal proponent of augmenting student-athletes' scholarships with other forms of aid.
He thinks Ohio State should not be punished. Others do not agree.
"I'm sure the NCAA is going to come down and give them what they deserve," said former Michigan linebacker Larry Foote, also in Ann Arbor for Rose's golf outing.
What do they deserve?
"Ten-year ban, take all the victories away, lose 100 scholarships," he quipped.
And the bowl money?
"Give that back and donate it to the rest of the Big Ten teams," he said.
Clearly, no love is lost between Foote and the Buckeyes.
The former Detroit Lions linebacker and current Pittsburgh Steeler feigned tears when asked about the state of Ohio State.
"I see we stole one of their five-star recruits the other day," Foote said, referring to Kyle Kalis, a Cleveland-area lineman who committed to Michigan on Sunday after initially choosing Ohio State.
"I couldn't sleep well."
Kyle Meinke covers Michigan football for AnnArbor.com. He can be reached at 734-623-2588, by email at kylemeinke@annarbor.com and followed on Twitter @kmeinke.s