Posted on
Sun, Mar 3, 2013 : 5:58 a.m.
'We've infiltrated': Ann Arbor Spartan fans prepare for U-M-MSU basketball game in their backyard
By Kyle Feldscher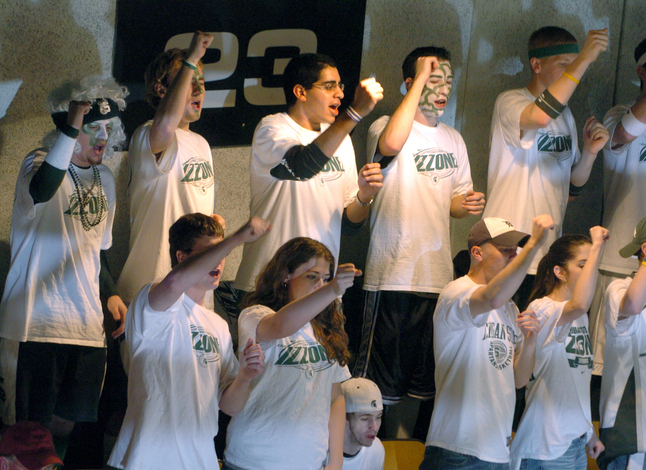 AnnArbor.com file photo
Green, for lack of a better word, is good. Green is right. Green works.
And, there's a good chance you'll see a lot of green in the Ann Arbor area Sunday as local Spartans don their favorite color in anticipation of the big game at Crisler Center.
Approximately 8,000 Michigan State University alumni reside in Washtenaw County, making it one of the largest groups of Spartan alumni outside of the East Lansing area. I'm proud to count myself among them. With the Spartans set to take on the University of Michigan Wolverines in their second showdown of the season, I set out to see what some local Spartan alums experience in our area.
Are Michigan fans thumping their chest with all their recent success (save for the last month)? Are Spartan fans talking more trash to their colleagues after the thumping delivered to the Wolverines on Feb. 12 in East Lansing? Is there going to be a full-on dance war in front of Crisler, a la the video for Michael Jackson's Beat It, before Sunday's game?
RESIDENT SPARTAN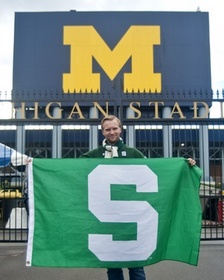 Joseph Tobianski | AnnArbor.com file photo
AnnArbor.com cops and courts reporter Kyle Feldscher is a Michigan State alumnus and unabashed Spartans fan who occasionally chimes in on the Michigan-Michigan State rivalry from a Spartan living in Ann Arbor's perspective. Check out his previous work:
"Ann Arbor is a great town and the University of Michigan is a fine university," said Dave Holzman, vice president of the Washtenaw County chapter of the Michigan State University Alumni Association.
Looks like we won't need any one-gloved mediators in this showdown.
Truth be told, Spartans and Wolverines both seem to have fun with the rivalry in these parts. Holzman and Athena Trentin, two Spartan alums living in the area, are a part of a group who regularly get together to watch MSU games at local establishments. While they usually stick to Spartan-owned bars and restaurants, such as The Arena and Weber's Inn, the number of MSU supporters in the area helps them feel comfortable.
Trentin said there's a large group of Spartans employed by one of the last organizations you'd expect: the University of Michigan itself.
"We've infiltrated," she said, laughing. "It was a really nice place to work and the rivalries were fun."
In the spirit of cooperation, Trentin said she worked directly with Ohio State, Wisconsin and Michigan alumni during her time at the university. She now works at the University Research Corridor, a partnership between U-M, MSU and Wayne State University.
Trentin is a regular at the game viewings put together by the alumni association, and she said the green-clad crowd usually gets a fine reception from the maize-and-blue loving locals. Well, for the most part.
"I'd say it's 50-50 wherever we go," she said, recounting a few instances where people have told the group to get lost (I'm sure in those exact words). "We just blow them off."
The group plans to get together at the Ypsilanti Township Aubree's, 2122 Whittaker Road, to watch Sunday's game. Davonn Robinson, a manager at that location, said they could expect a mostly-warm reception from the regulars.
Robinson said a large, mixed crowd is expected for Sunday's game, just like most other times when the two schools play each other.
"It's pretty friendly around here," he said. "A couple guys might rag on you."
In MSU circles, the respect for the Michigan basketball program is growing, albeit begrudgingly as I wrote last month. Then again, MSU beat Michigan so badly on Feb. 12 that the Spartans played guys who don't even have names on the back of their jerseys.
And, Michigan just lost to a Penn State team that was previously 0-14 in the Big Ten.
Despite those things, most MSU fans expected to split the season series with the Wolverines. I know that's what I thought would happen. Holzman agreed with me, but I think he speaks for most Spartan fans when he said it's hard not to dream.
"I predicted at the beginning of the Big Ten season the two teams would split," he said.
"I just don't know now. MSU is better than I thought they'd be, even though the past week has been a letdown. They've rested for a week, hopefully Keith (Appling) gets some rest and hopefully they're motivate to play Michigan. I wouldn't be surprised to see the Spartans win and sweep the season series."
Time will tell. Go Green.
Kyle Feldscher covers cops and courts for AnnArbor.com. He can be reached at kylefeldscher@annarbor.com or you can follow him on Twitter.