Posted on
Sat, Apr 14, 2012 : 2:35 p.m.
Body fat, and camaraderie, high as ever at the fourth annual alumni flag football game
By Pete Cunningham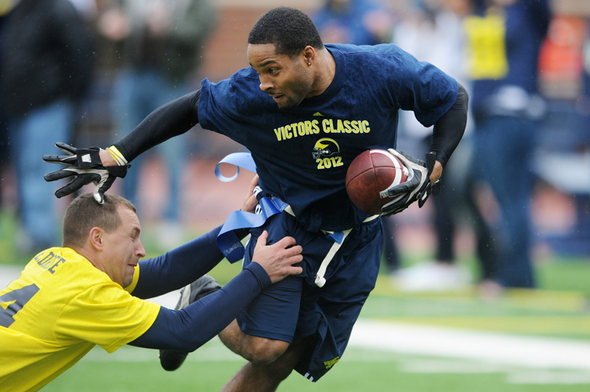 Melanie Maxwell | AnnArbor.com
Unlike
Jim Harbaugh
, former Michigan safety
Cato June
(1998-2002) never made any famous predictions during his playing days for the Wolverines. On hand for the fourth annual alumni flag football game Saturday, June tried his hand at prognostication.
"I'm predicting three hamstrings, two ankle sprains — one high, one low — 17 jammed fingers and two (players) needing high blood pressure pills when they get through," June joked. "Schmidty gonna be busy in a minute."
Athletic trainer Paul Schmidt did end up being a little busy as a few former players, not quite at their playing weight, had to be carted off the field after suffering injuries.
"When you go from the La-Z-Boy chair to Michigan Stadium, it's a bit of an adjustment," said former end Jim Conley (1961-64), who managed to stay off the training table despite one ill-advised dive.
Conley blamed his dive, and the plays that led to other former players getting hurt, on the adrenaline rush that comes with coming out on the field, even after decades away from the game.
"You come down that tunnel, and the blood starts flowing and people react a certain way. They don't realize the limit of their bodies," Conley said.
Former All-America defensive lineman Mark Messner (1985-88) was well aware of his limitations and stayed far from the field. He said he had no business being there for fear of injury. Messner said the alumni gathered Friday night at an event put on by Michigan coach Brady Hoke.
Following the gathering, Messner and some other former players made their way to to another place they probably had no business being.
"We even went out to Rick's (American Cafe)," Messner said before former teammate David Dever (1984-88) interrupted him. "Don't tell him that," Dever said.
"It's OK, We're allowed to now," Messner said of the popular student night spot. "Each guy was toasting each other, and every story would start with 'remember when.' "
While speed was down and body fat up for most players, one thing still strong as ever was the camaraderie of the players from seven decades of Michigan football.
"I was here during Lloyd's run, and I didn't get to meet a lot of (Bo) Schembechler guys. Now, I'm here, and I get to meet them and some Bump Elliott guys," former kicker Phil Brabbs (1999-2003) said. "You share stories with the guys from different generations; it's great."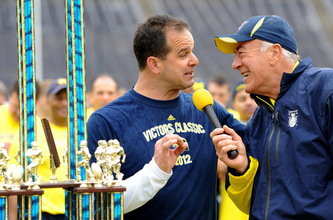 Melanie Maxwell | AnnArbor.com
An actual game also was played. Just as he did in winning the most valuable player award in last year's game, the slight yet speedy
Alijah Bradley
(2003-06) dazzled, with former quarterback
John Wangler
(1976-80) feeding him the passes.
"It's like throwing to a young Anthony Carter," Wangler said after the game.
Wangler said the best part of the game, and Friday's alumni event, were players young and old coming together to support the program and each other.
"It's a wonderful feeling. Michigan's a special place; it always has been, always will be," Wangler said. "We were laughing and telling lies; there's nothing better."
The alumni game's master of ceremonies, Jim Brandstatter (1969-71), used audience applause to determine who would go home with the large and ostentatious MVP trophy. The fans were split, so Bradley and Wangler shared the honor.
Despite the fact that Bradley has probably had more yards in alumni games than he ever did when he actually played (91) for the Wolverines, he ended up getting a much larger cheer from the crowd than Wangler when he announced to the crowd that he would soon be graduating from the University of Michigan School of Dentistry.
Bradley said he's undecided if he'll display his MVP trophy in his office one day.
"Maybe. I need some place to put it," Bradley said with a laugh. "(The office)'ll have to have vaulted ceilings."
Contact Pete Cunningham at petercunningham@annarbor.com or by phone at 734-623-2561. Follow him on Twitter @petcunningham.