Brady Hoke comments on three Michigan football position battles: running back, receiver and returner
Posted on Sat, Jul 30, 2011 : 5:38 p.m.
CHICAGO -- First-year Michigan football coach Brady Hoke had a lot to say Thursday and Friday at the Big Ten media days in Chicago.
Here is a snapshot of his take regarding three position groups with personnel questions heading into the start of fall camp Aug. 8:
Running back
Perhaps the most intriguing fall camp storyline not pertaining to Denard Robinson or the defense will be the competition to become Michigan's first featured tailback since 2007.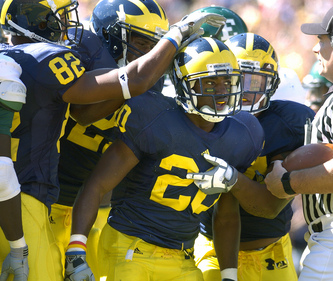 AnnArbor.com file photo
Hoke said Friday he is "a little concerned" no one separated himself from the pack this spring, although he isn't worried because of the time it takes to get comfortable with the new schemes.
"You'd like someone to grab it and go with it," Hoke said. "Is it a concern? Yeah, a little bit. But if after two to three weeks (of camp) no one has separated, then I'll be more concerned."
Hoke said he's looking for a back who will carry the ball about 20 times per game. Sophomore Stephen Hopkins and senior Michael Shaw would seem to be the frontrunners because of their size and experience.
True freshman Thomas Rawls also could be a candidate.
Hoke has said he also would like to use a smaller, quicker back as a change-of-pace component to the offense. Junior Vincent Smith could be that guy.

Wide receiver
The indefinite suspension of senior starter Darryl Stonum -- who was second on the the team last year with 49 catches for 633 yards and four touchdowns -- makes things difficult to project at this position, and could impact the productivity of offensive coordinator Al Borges' pro-style offense until he returns.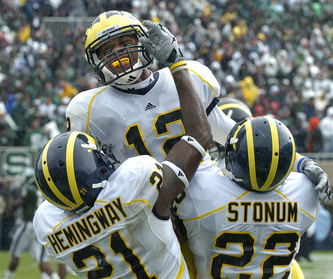 AnnArbor.com file photo
Hoke said receivers are learning new route trees, and must improve their timing with Robinson.
The sure things are junior Roy Roundtree and senior Junior Hemingway, two upperclassmen who played well last year. Roundtree led the team with 72 catches for 935 yards and seven touchdowns, and Hemingway added 32 catches for 593 yards.
Senior Martavious Odoms would seem to be a logical replacement in the starting lineup for Stonum. From there, things get more unclear.
Je'ron Stokes, Jerald Robinson, Jeremy Jackson and Kelvin Grady are strong candidates to see snaps early in the season.
Hoke seemed particularly pleased with Robinson's progress in the spring. He mentioned the redshirt freshman by name twice when talking about off-the-radar players.
"(Robinson) has done some things that I'm a little more pleased with," Hoke said.
Punt/kick returner
Hoke said it remains unclear who will return punts and kicks, and declined even to offer possible candidates.
"We did a lot in spring with it, but to tell you who that would be would be unfair," Hoke said.
Sophomore Jeremy Gallon had 10 of Michigan's 14 punt returns last year and 27 of 72 kick returns.
Stonum, who remains indefinitely suspended, returned 22.
Odoms and sophomore Drew Dileo had eight kick returns apiece.