Posted on
Fri, Jul 29, 2011 : 1:16 p.m.
One day later, Michigan State coach Mark Dantonio defends Jim Tressel comments
By Kyle Meinke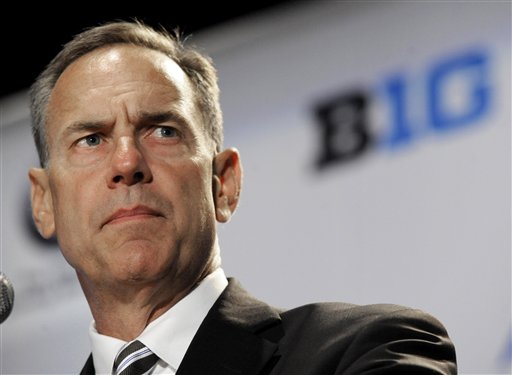 Associated Press
CHICAGO — The Michigan State football team has beaten up on Michigan the past three years.
Spartans coach Mark Dantonio took another shot at the Wolverines today.
BIG TEN MEDIA DAYS
AnnArbor.com's Kyle Meinke is covering the Big Ten media days in Chicago. See a compilation of his stories below and follow him on Twitter
@kmeinke
.
On Thursday at the Big Ten media days, Dantonio was asked about the plight of his longtime friend and colleague Jim Tressel, who was forced to resign as Ohio State coach this summer after it was revealed he had covered up an alleged memorabilia-for-gifts scheme among several current and former players.
Dantonio defended his friend, which was expected. Then he called Tressel a "tragic hero," which was not. It created a buzz here, despite it being the last comment of a more than three-hour media session with the Big Ten coaches.
Longtime Michigan radio broadcaster Jim Brandstatter weighed in on Twitter. He had some strong words for Dantonio.
"When is lying to your boss, to the NCAA heroic," tweeted Brandstatter, who has more than 1,200 followers. "Is it heroic to teach young men that wrong isn't wrong unless you get caught? Gimme a break."
On Friday, Dantonio was asked if he had heard Brandstatter's comments.
"Who? What did he say?" Dantonio asked.
After Brandstatter's comments were relayed, Dantonio was dismissive.
"I don't even know who that guy is," Dantonio said. "As far as I'm concerned, he's never coached one day of college football or had a relationship with college players, a real meaningful relationship.
"But I know I'm going to be criticized. I figured I would be, but that's OK. It wouldn't be the first time."
Brandstatter played football at Michigan from 1969-71, and was a two-time all-Big Ten performer. He appeared in two Rose Bowls.
He now is a color commentator for the Wolverines and Detroit Lions.
Dantonio was an assistant with Ohio State from 2001-03 before becoming head coach at Cincinnati. He said his relationship with Tressel dates to the early 1980s, and called him a "mentor."
"Very heart-wrenching for me and my family because we're so close to Coach Tres," Dantonio said Thursday when asked about the scandal in Columbus. "Every person he's come in contact with as a player and a coach, he's made a positive impact on their lives.
"To me, it's tragic. He becomes a tragic hero in my respect, in my view. Usually, tragic heroes have the ability to rise above it all in the end, and that's what I'll look for in the end."
-- Greg Johnson of The Grand Rapids Press contributed to this article.
Kyle Meinke covers Michigan football for AnnArbor.com. He can be reached at 734-623-2588, by email at kylemeinke@annarbor.com and followed on Twitter @kmeinke.