Posted on
Fri, Nov 25, 2011 : 5:59 a.m.
Michigan football team gobbles up two running QBs, ready for another in Ohio State's Braxton Miller
By Kyle Meinke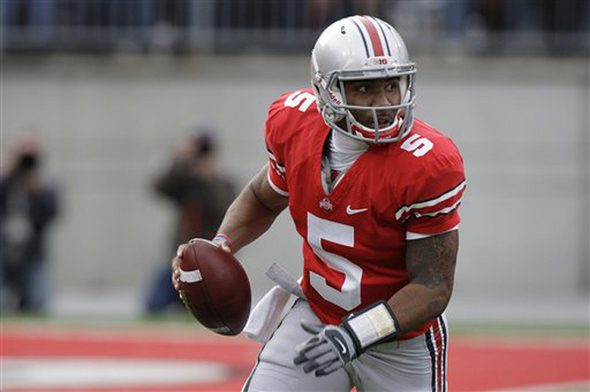 Associated Press
The fulcrum of Ohio State's offense is a running quarterback.
Could that be an advantage for the Michigan football team?
The past two weeks, the Wolverines have faced Illinois' Nathan Scheelhaase and Nebraska's Taylor Martinez , two of the Big Ten's best mobile quarterbacks outside of their own Denard Robinson.
Michigan was suffocating both times, and steamrolled both offenses en route to easy wins.
Next up: Ohio State's Braxton Miller, a freshman who has been one of the Buckeyes' best offensive threats heading into this weekend's game against No. 17 Michigan (noon, ABC).
"He's just flat-out a playmaker, if he's going back in play-action or whatever it might be," Wolverines coach Brady Hoke said this week. "He's a tremendous athlete. He's a rather big guy and has great feet.
"He's difficult to defend."
Yet, Michigan (9-2, 5-2) has proven to be capable of defending quarterbacks such as Miller.
The Wolverines were successful two weeks ago against Scheelhaase, sacking him four times and limiting him to 184 total yards -- including just 14 rushing. Last week, Martinez completed just 9-of-23 passes and needed 16 rushes to gain 49 yards.
Michigan held Illinois to 214 yards, 162.2 off its season average, and Nebraska to 260, 131 yards off its season average. Those are encouraging numbers heading into another matchup against a team that relies on a mobile quarterback.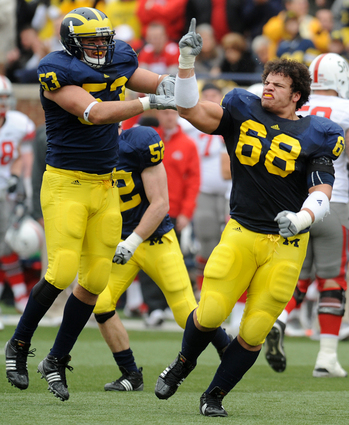 Ohio State has struggled this year offensively, averaging 24.3 points per game and only 22.1 in Big Ten games. That's eighth in the league. Miller has been the Buckeyes' best threat.
He has run for at least 99 yards in three of Ohio State's past four games and has six rushing scores in that span. The Buckeyes featured him more in quarterback draws in recent weeks, and he's also been successful in the speed option out of the pistol formation. He also scrambles well when the passing game breaks down.
A key to stopping Miller could be forcing him to the air. He has completed less than half of his throws in his last three games (20-of-46 for 270 yards, three touchdowns and one interception), and the Buckeyes went 1-2 in that stretch.
While Miller ran for a team-high 105 yards in a loss last week against Penn State, he was 7-of-17 passing for 83 yards. He has eclipsed 100 yards passing only twice this year, and completed just one pass in a win against Illinois on Oct. 15.
"He still has to become more and more consistent in the passing game, and I think that is kind of reflective of everyone overall that is involved with him," Buckeyes offensive coordinator Jim Bollman said, alluding to protection breakdowns and problems in the receiving corps.
Nebraska, like Ohio State, is one-dimensional in favor of the run on offense. The Wolverines had little problem with disposing of the Cornhuskers, 45-17.
Ohio State, though, benefits from the return of star wideout Devier Posey, who will be playing in his second game back from suspension. The senior had four catches for 66 yards last week, and is a leader of the offense.
That could open up things for the Buckeyes in the passing game, where no one stepped up as a playmaker in Posey's absence. However, Michigan defensive coordinator Greg Mattison said the Wolverines still need to focus first on stopping the run.
"Our approach, in everything we do, no matter who we're playing, is always stop the run first, whichever way it comes," Mattison said. "To be a good defense, you have got to be good against the run. There's no gray area in that."
The Buckeyes have beaten Michigan in the past without much threat of a passing game, including in 2001, '02 and 2008. They've won seven in a row in the series, and nine of 10 overall.
Last year, Ohio State beat Michigan with the pass and run, with dual-threat quarterback Terrell Pryor wreaking havoc on the Wolverines' beleaguered defense. Pryor was 18-of-27 passing for 220 yards and two touchdowns, and ran for 49 yards on 12 carries.
Pryor, however, departed for the NFL in the offseason after being ensnared in a memorabilia-for-benefits scandal that also cost his coach, Jim Tressel, his job.
That has thrust Miller into the spotlight as a true freshman. He's performed well, but The Game will be different than any other he's played in.
"All we can do is try to explain, show him, have people relate to him who have been there on the team," Bollman said. "But as far as everything, there comes a point and time where he's going to have to experience it. He's going to have to walk out that tunnel himself and see what it's really like."
Of course, Michigan's defense also is nothing like last year's. The Wolverines have shown great improvement across the board, including in scoring defense, where they're sixth in the country, and rush defense, where they're 41st.
Senior defensive lineman Ryan Van Bergen said the key to Michigan's improvement against the run this year has been its aggressive approach.
"There's a lot of times we have eight men in the box, which wasn't necessarily the case in the past couple of years," Van Bergen said. "We have a more aggressive mentality. We attack blockers rather than read where they are going and try to make plays."
Kyle Meinke covers Michigan football for AnnArbor.com. He can be reached at 734-623-2588, by email at kylemeinke@annarbor.com and followed on Twitter @kmeinke.