Posted on
Sun, Sep 4, 2011 : 7:52 p.m.
Breaking down how Denard Robinson was used in Michigan's football opener
By Kyle Meinke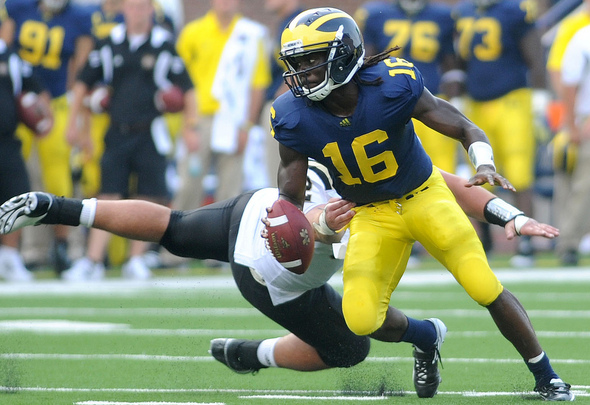 Angela J. Cesere | AnnArbor.com
What does Denard Robinson look like in the pro-style offense?
A lot like Denard Robinson in the spread-option offense — so far, at least.
After an offseason of speculation about how much Michigan offensive coordinator Al Borges would tailor his West Coast offense to his junior quarterback, and vice versa, the Wolverines came out of the chute resembling last year's spread look in a few ways.
Here's how Robinson's day broke down in Saturday's 34-10 win against Western Michigan: 26 shotgun sets (68.4 percent of total plays), 12 from under center, only four pass plays from under center and seven designed runs (plus one scramble on a pass play).
The good news: Robinson operated Michigan's offense with proficiency, no matter the look.
"Coach called the plays, and I was ready," Robinson said after the game. "I didn't know what to expect, to be honest with you. We were just out there ready to play with all our plays.
"Whatever they called, I was just ready."
Borges' play calling bent heavily toward shotgun and spread-type plays early in the game.
On the Wolverines' opening drive, Robinson operated from the shotgun 12 times, and from under center only four times — none of which were pass plays. Their first five plays were shotgun looks.
"We just had a plan, and Al had a plan that he thought it would be successful against what they did defensively," coach Brady Hoke said. "Denard is always going to have a hand in what we do. No. 1, he's the quarterback, but secondly, because of his ability to run with the football."
Hoke said the staff wanted to establish a rhythm and comfort level for Robinson, who took snaps almost exclusively out of the shotgun last year and ran 19.7 times per game.
It worked.
Michigan's first offensive possession of 2011 was an efficient 16-play, 76-yard drive that ended with a Fitz Toussaint touchdown run and consumed 8 minutes, 33 seconds.
Robinson was flawless on the drive. He had four carries — all designed runs, although one appeared to be an audible — for 26 yards. Each run resulted in a first down.
He also completed all five of his passes.
The first play, which was scripted, was a quarterback sweep on which Robinson gained 11 yards.
"Al and I had talked, and he was going to start the game with the 38/39 sweep, the quarterback sweep," Hoke said of the first play.
Hoke indicated earlier in the week he thought Borges, who handles the playcalling, would begin the game with a power run. That did not happen.
"That was a comfort level, probably," Hoke said of the quarterback sweep. "You want (Robinson) to feel good."
Michigan's second drive was a three-and-out, with each play a shotgun look. One play was a designed run for Robinson.
It wasn't until the Wolverines began their third drive, with 6:06 left in the first half, that they started dipping into more of the traditional pro-style sets — and they were just as successful as the shotgun plays.
They constructed a nine-play, 74-yard touchdown drive that featured only three shotgun looks and six sets from under center. It also included Robinson's first three passes from under center, with varying results.
One ended in a pass interference call, one was a clumsy three-step drop that ended with a nice 10-yard completion to junior receiver Roy Roundtree and the third was a deep drop on which no one was open. He tucked it and ran, picking up 12 yards on a skillful dash through the heart of Western Michigan's defense.
All told, Hoke — who has no hand in the play calling and, in fact, was seen without a headset for stretches against Western Michigan — was pleased with the balance that Borges struck offensively.
"I think we were in and out of spread enough," Hoke said. "I think with (Michael) Shaw's run and I think Fitz a couple times, he pounded it up with the power play — those were good also."
Toussaint gained 80 yards on 11 carries and scored two touchdowns in his debut as Michigan's lead tailback. Shaw added 55 yards on only four carries, and scored on a 44-yard touchdown run.
But Robinson was the steady force behind them.
He finished 9-of-13 passing for 98 yards and rushing eight times for 46 yards. Not counting a couple poor throws late in the game, when the rains cascaded violently, Robinson played relatively mistake-free, despite all he's been asked to learn.
"I still got some learning to do, got to get better," he said after the game. "But I enjoyed it."
Kyle Meinke covers Michigan football for AnnArbor.com. He can be reached at 734-623-2588, by email at kylemeinke@annarbor.com and followed on Twitter @kmeinke.