Posted on
Sat, Nov 26, 2011 : 8:22 p.m.
Denard Robinson and Fitz Toussaint hurdle defenders, obstacles en route to 1,000-yard rushing seasons
By Kyle Meinke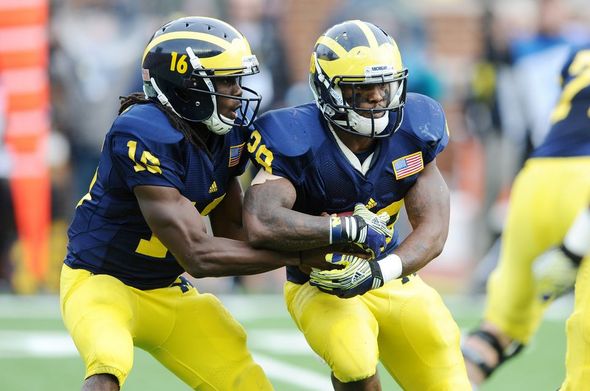 Melanie Maxwell | AnnArbor.com
One lost an offense designed for him. The other had to fight through fall camp and eight games to earn his spot.
Now, Michigan junior quarterback Denard Robinson and sophomore tailback FItz Toussaint are 1,000-yard rushers, achieving the milestone in the 17th-ranked Wolverines' 40-34 win Saturday against Ohio State. They are only the second pair to accomplish the feat in school history.
It had been 36 years since Gordon Bell and Rob Lytle did it for Bo Schembechler in 1975. Now, in a season that has featured a renewed emphasis on the tailback position, Toussaint and Robinson have joined them.
Not that they really wanted to talk about it.
"The big guys up front," Robinson said, resorting to his go-to response when asked about his running this year. "They open up holes, and me and Fitz ran through the holes."
Center David Molk, sitting to Robinson's left, couldn't help but add that, hey, Robinson's pretty good too.
"When you got a guy that fast, he makes plays," Molk said. "Same with Fitz. Those two know how to hit hole and they know where to go and they know how to read a defense."
Robinson plyed one of the great games against the rival Buckeyes, completing 14-of-17 passes for 167 yards and three touchdowns. He added 26 carries for 170 yards, third most by a Michigan player against Ohio State.
That gives him 1,163 yards for the season -- a total some thought he'd never reach when Brady Hoke replaced Rich Rodriguez as coach, and ditched the spread-option for the pro-style offense.
Staying has paid off handsomely for Robinson, though, with prolific production and a 10-2 season.
"I'm just glad to be with this offense, I'm glad to be playing with these guys," Robinson said. "I don't want to be with nobody else except with these guys."
Then, after a pause: "I'm glad I stayed."
Toussaint, thanks to a 120-yard day, is right behind him at 1,011 yards. He got there the hard way, though.
He was the starter after a grueling fall camp, but split carries with junior Vincent Smith. Slowly, though, Toussaint earned more snaps with terrific play, then finally was named the featured back for the Iowa game.
After recording one 100-yard game in the first seven games, Toussaint now has four in his past five.
"That means that the guys up front are working hard," Toussaint said. "Credit goes out to them. We prepared hard for this game and put a lot of emphasis on this game.
"(I just wanted to) keep on driving. Find that drive and continue to step forward."
To add an odd twist to Toussaint's feat, the sophomore still is not a 1,000-yard rusher according to the NCAA, which does not recognize stats from the weather-shortened opener against Western Michigan.
He had 80 yards in that game, meaning the NCAA considers him a 931-yard rusher. Michigan will take it.
"What Denard has done in this kind of makeshift, a little bit quasi-offense that we have, and then Fitz and the great vision and the maturity he's shown, (has been impressive)," Hoke said.
Kyle Meinke covers Michigan football for AnnArbor.com. He can be reached at 734-623-2588, by email at kylemeinke@annarbor.com and followed on Twitter @kmeinke.