Posted on
Sun, Oct 30, 2011 : 8:46 p.m.
'Deuce' formation becoming fixture in Michigan offense, with Denard Robinson employed as decoy
By Kyle Meinke
Melanie Maxwell | AnnArbor.com
Denard Robinson is the quarterback, Michigan football coaches say.
Yet, backup Devin Gardner took one out of every six snaps against Purdue, not counting the ones he got with the game in hand.
Confused? Don't be. This makes a lot of sense.
Michigan systematically undressed a surging, yet inferior, Purdue team on Saturday. The 36-14 victory bumped the Wolverines (7-1, 3-1) to 13th in both major polls and, more importantly, into a three-way tie atop the Legends Division race with Michigan State and Nebraska.
That heightens the importance of Michigan's final four games, one of which will be a home tilt against the Cornhuskers. And, hey, Michigan just might have a starting quarterback in one piece for it.
The Wolverines' coaching staff has said the same thing this year that the previous one did last year: We need to get the ball out of Robinson's hands whenever we can. The difference this year, though, is offensive coordinator Al Borges has made it happen.
He's gotten creative in doing so.
Against Minnesota, Borges unveiled the well-documented "deuce" formation, which puts backup quarterback Devin Gardner under center and slides Robinson either into the backfield or splits him out at receiver.
Against Purdue, Borges deployed the formation at an even greater clip.
Michigan ran 10 deuce formations in three quarters against the Boilermakers, meaning Gardner, a sophomore from Detroit, took 16.1 percent of the team's snaps before Robinson was lifted in the fourth quarter. Overall, Gardner took 16 snaps -- 23.5 percent of the Wolverines' plays.
Some have criticized the looks because they take the ball out of Robinson's hands, but the beauty of them is Robinson almost always is used as a decoy. Because of his athleticism, defenses still must account for his every move.
That means Borges has made Robinson a threat without having him take a hit.
Of the 10 deuce looks against Purdue, for instance, Robinson was the target on just the first one. He lost a yard after taking a handoff from Gardner.
On the next nine, Robinson was used in various forms of misdirection -- some not successful, but most very much so.
"I just run full speed and hope somebody runs with me," Robinson said of his decoy role.
That happened more often than not.
The two best examples came in the third quarter. On the first, Gardner faked a handoff to Robinson and they both rolled right. The defense followed, thinking it was another bootleg. Meantime, tailback Vincent Smith leaked to the left, caught a screen pass and had three blockers with only two defenders in sight.
The only reason it went for 26 yards instead of a touchdown was the blockers -- linemen David Molk, Michael Schofield and Taylor Lewan -- over-ran the play.
Later in the quarter, Robinson lined up at receiver. He went in motion, but Gardner flipped the ball to tailback Fitz Toussaint going to the left. The sophomore made a couple cuts, then broke a 59-yard touchdown run that was so easy, he wasn't even sure if he was touched.
"I just saw daylight," Toussaint said.
The deuce had it's sour moments -- it lost a yard on its first play, and there was an ugly interception by Gardner -- but it's net effect is overwhelmingly positive and keeps defenses off-guard.
It also takes some of the onus off Robinson, who gained just 63 of Michigan's 339 rushing yards. Toussaint's big day (20 carries for 170 yards and two touchdowns) helped as well.
"Gosh, I wish it could be like that every week," coach Brady Hoke said.
Robinson's role as a decoy was the only predictable thing about the formation. Borges varied his play calling from the look, drawing up everything from power runs up the middle to halfback passes. Robinson lined up six times at receiver and four times in the backfield. There were reverses, end-arounds and screen passes.
Good luck trying to find tendencies in that, Kirk Ferentz.
"It forces guys to work on it," Hoke said, accentuating yet another plus in getting Gardner on the field. "In fact, there's a lot more that we can do with it.
"(Defenses) need to spend, now, 10 minutes a day on that package, or whatever. I think that helps us."
Unless that defense is Purdue's, apparently, as coach Danny Hope said after the game "not a whole lot of time" was spent preparing for the sets.
Here's betting he wish he had -- and that Iowa will.
Advantage, Michigan.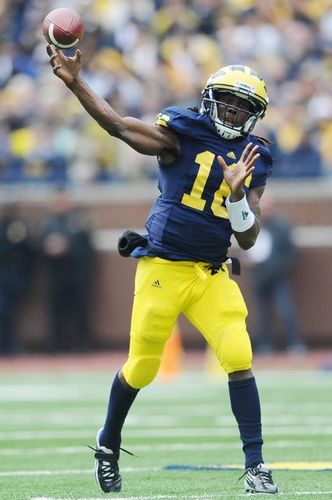 Melanie Maxwell | AnnArbor.com
Robinson's passing
better, not great
Robinson's passing line was good against Purdue, but he still was somewhat erratic, especially when he was hurried or on the move.
He finished 9-of-14 passing for 170 yards and one interception, one of his best performances of the year. Yet, he under threw four balls, over threw one and passed directly into coverage on another. It was intercepted.
That means nearly half his passes were not on target.
Additionally, more than half of Robinson's yardage came via two badly under thrown balls on which receivers adjusted. Sophomore Jeremy Gallon grabbed a 42-yarder and junior Roy Roundtree a 49-yarder.
The wideouts deserve credit for making those plays, and Robinson deserves some credit for making things happen.
However, his passing performance was not nearly as good as his numbers would indicate.
That's foreboding for a quarterback who just threw his 11th interception, matching his total from all of last year. That is third-worst in the country (trailing Oregon State's Sean Mannion and Central Michigan's Ryan Radcliff, each with 12).
The Wolverines have 12 interceptions overall, which is 108th in the country.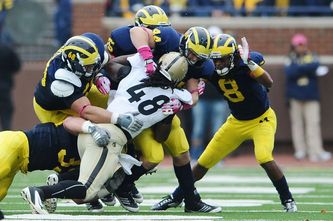 Melanie Maxwell | AnnArbor.com
Rush defense makes strides
Michigan allowed Purdue to travel 67 yards in five plays and score a touchdown on its first drive. The rest of the half, the Boilermakers' drives ended with three three-and-outs, a safety and an interception. They didn't score again until their final drive, with the game well in hand.
What changed?
Michigan's perimeter defense, which was gashed by Northwestern and Michigan State and three times on Purdue's opening drive, locked down on outside runs -- and, oddly, Purdue went away from them, even though that's been the Wolverines' biggest weakness.
"The focus is always on technique, and perimeter defense comes from good technique and aggressive playing," junior defensive end Craig Roh said. "I think that was more the focus than just perimeter defense."
Purdue entered the game averaging 195 rushing yards per game. It had 89 against Michigan.
The Wolverines' improvements in rush defense will be tested next week against Iowa, which features Marcus Coker at tailback. The sophomore had 32 carries for 252 yards in a loss to Minnesota on Saturday.

Personal foul comparison

Left tackle Taylor Lewan was dominant last year, but his discipline and knack for picking up penalties hurt him. Not this year.
Lewan committed a personal foul against Purdue, his first penalty of any kind this season. It's been a remarkable turnaround for him, which he credits to his growing maturity. It's difficult to refute that.
An interesting corollary: The Wolverines have been whistled for only three personal fouls this year, but their opponents have picked up 15. That stat is slightly skewed by the six personal fouls committed by Michigan State (compared to Michigan's one), but it still is an interesting trend.
Overall, the Wolverines are committing the ninth-fewest penalties per game in the country.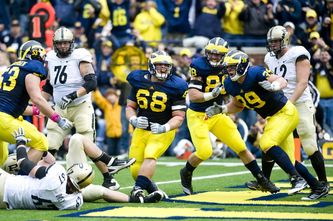 Joseph Tobianski I AnnArbor.com
Martin has his best
game of season
Hello, Mike Martin.
The senior defensive tackle was expected to be one of the Big Ten's best linemen this season. Although he hasn't played badly, he's had difficulty living up to that billing while dealing with double-teams of all varieties.
He impacted Saturday's game, and Caleb TerBush's world
Martin entered the game without a full sack, but got to the Purdue quarterback for two in the first half. The first was for a safety one play after Michigan had turned over the ball. It gave the Wolverines their first lead, 9-7, and swung the momentum in their favor.
The second came two drives later, when he bowled through two blocks to snag TerBush and force a three-and-out.
"That guy's just a physical beast," Roh said of Martin. "I know he's going to beast his guy."
Making up verbs? Hoke, whose frequent usage of "physicalness" makes it easy to forget that's not actually a word (and for whom injuries have become bumps and boo-boos), must be very proud.

Woolfolk is the healthy one?

Michigan is dealing with a deluge of injuries, but there is one notable absentee from that list: Troy Woolfolk.
Surely, this is a sign the Apocalypse is near.
The senior cornerback-turned-safety, who did not play last year due to injury, has suffered ankle, hand and nose injuries this season and was visibly slowed by them for several weeks. He even was in a car accident two weekends ago, when Michigan did not play.
But Woolfolk played injury-free against Purdue, and finished injury-free.
"It felt good to finally play a game without injuries and even better to finish the game without them," Woolfolk tweeted after the game. "I'm bout to celebrate that tonight."
With starting safety Jordan Kovacs out against Purdue, and his status in doubt for Iowa, Woolfolk's health is crucial. The only other backup safety with experience is Carvin Johnson, and he hasn't played particularly well this year.
Michigan needs Woolfolk to stay healthy.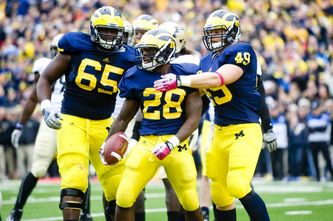 Joseph Tobianski | AnnArbor.com
Tailbacks are back
Toussaint had 20 carries for 170 yards and two touchdowns, and again showed he's Michigan's best option at tailback -- even if he's not saying so.
"I still feel like we have to go out there every Tuesday and compete," Toussaint said after the game. "Compete throughout the whole week, the running backs."
Toussaint isn't much of a talker, so his brevity is not out of character, but his game spoke volumes. He ran hard, cut well and took pressure off Robinson. He wasn't the only one, though.
Smith added six carries for 28 yards (as well as one catch for 26 yards), despite an ankle injury. Even Michael Shaw got in on the action, carrying five times for 56 yards. The little-used senior rushed for a 37-yard touchdown on his first touch.
As a group, the tailbacks rushed for 257 yards only one game removed from gaining 40 against Michigan State. The Wolverines will need that kind of production going forward if they are to stay in the hunt for a Legends Division title.
Toussaint appears to be the best option to keep that momentum going, with a dose of Smith as a speedy complement to his bruising style.

Big plays in short yardage

Michigan posted another goal-line stand, and continues to be terrific in short-yardage situations.
The Boilermakers had a first-and-goal from the Wolverines' 6-yard line in the fourth quarter, but Michigan held them scoreless thanks largely to a spectacular tackle by Jake Ryan. The redshirt freshman, starting with his hand on the field like a defensive end, beat his man, dove sideways and clipped tailback Ralph Bolden with one arm, fully extended.
Bolden went down for a 5-yard loss.
Another freshman, new starting weak-side linebacker Desmond Morgan, got the tackle on third down, and five freshmen in all contributed to the goal-line stand (linebacker Brennen Beyer, end Frank Clark and cornerback Blake Countess also made appearances).
Hoke does not seem concerned about the prospects of playing five or six freshmen on defense during the tough four-game stretch that awaits Michigan. On this series, they showed why.
Will it continue? Stay tuned ...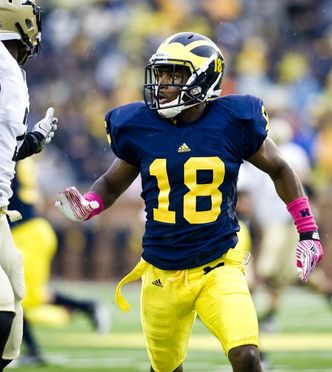 Joseph Tobianski I AnnArbor.com
Countess beats out Woolfolk
Countess, making his first start of the year, had just three tackles. This is not a bad thing.
The Boilermakers did not target Countess much, a sign the freshman from Baltimore had good coverage. It appeared from the TV broadcast he did.
Hoke has been reserved in his praise of Countess this year, perhaps trying to limit expectations for the just-turned-18-year-old, but gave him a nice nod after the game when talking about Woolfolk's move to safety.
"I think with the emergence with how Blake's been playing ... I always believe you put your best players on the field. Troy's probably in the top 11, 12, 13 guys on defense," Hoke said.
Hoke also said Woolfolk would have made the move to safety even without Kovacs' injury. Clearly, Countess has beaten out Woolfolk for the second cornerback spot. Junior J.T. Floyd is the other starter and has been the team's top corner.

Odoms is best option on kick return

Michigan appears to have found an answer to its anemic production at kick return. Senior receiver Martavious Odoms averaged 27.0 yards per attempt, with a long of 33. Before the Purdue game, the Wolverines' longest return of the year was just 25 yards.
Odoms still isn't on par with Darryl Stonum, a senior who was supposed to return kicks this year but is taking a forced redshirt season. However, Odoms clearly has better vision and speed than Smith and Kelvin Grady, who struggled to produce this year at that position.
Michigan is 99th in the country in kick returns.

Offensive line depth tenuous

Whenever Lewan leaves a game, the usual substitution pattern calls for right tackle Mark Huyge to slide to left tackle (which he played last year, before Lewan surpassed him on the depth chart) and Elliott Mealer enters at right tackle.
With the only other reserve offensive lineman with any kind of experience, Schofield, already is in the lineup because of Ricky Barnum's ankle injury, it's clear just how tenuous the depth is up front for Michigan.
One thing Michigan has going for it is Huyge is comfortable playing left tackle because of his history at the position.
"It's not too difficult," Huyge said after the game. "Sometimes, it takes a few plays to adjust, though."
Michigan has only eight scholarship linemen on offense, roughly half what Hoke desires. Expect the Wolverines to hit this need hard in recruiting in future years.

Quotables

Roh, on his definition of what constitutes a Michigan defense: "Michigan defense is just dominating everything in every aspect of life. That's a rough definition."
Hoke, on the five freshmen who played significant roles on defense against Purdue: "I'm going to kill one of them." Who? "Ah, it's not fair. Read it in the obituaries."

Tweetables

Senior tight end Kevin Koger, shortly after the game: "That is always fun."
The Wolverine's Andy Reid, on the most formidable part of Purdue's game on Saturday: "Burt Reynolds, Tom Selleck, Wilfred Brimley, Danny Hope. #MountRushmoreOfMustaches"
Well, at least the Boilermakers have that going for them.
Kyle Meinke covers Michigan football for AnnArbor.com. He can be reached at 734-623-2588, by email at kylemeinke@annarbor.com and followed on Twitter @kmeinke.