Posted on
Mon, Feb 22, 2010 : 1:36 p.m.
J.T. Turner could be a big contributor for Michigan football team's secondary
By Dave Birkett
J.T. Turner practiced enough with the Michigan football team's first- and second-team defense last year that coaches thought about pulling his redshirt when injuries and poor play in the secondary began to mount.
"It was very tempting," defensive backs coach Tony Gibson said Sunday. "But I think the best thing that could have happened, happened - keeping that redshirt."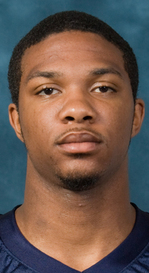 Turner will be one of the most watched Wolverines when Michigan opens spring football practice next month.
The No. 2-ranked recruit in Michigan's 2009 class, Turner did not see the field last year after an eligibility issue delayed his arrival on campus.
He missed the first three days of practice, got a late start in pads, and while that doesn't seem like a lot, Gibson said Turner already was behind from not participating in summer workouts.
"He wasn't here in the summer lifting and going to class and doing all those things, so it's really a few months," Gibson said.
Once Turner got settled, he showed why he was such a well-regarded recruit.
Gibson said Turner split time between the scout team and regular defense by midseason, and coaches salivated at the thought of getting him in the rotation.
"If we'd have got him in earlier last year with the NCAA stuff, I think he'd have played a little bit," Gibson said. "He's a good-looking kid. There's a lot of guys I'm anxious to see back there, but he's one that sticks out."
Turner will start at cornerback this spring, where Michigan has a dire need after losing Donovan Warren to the NFL, but also could play safety. At 6-foot-2 and close to 200 pounds, he'll be one of Michigan's most physically intimidating defensive backs wherever he ends up.
"I told him, 'By the time you end up leaving Michigan you're going to look like (Shawn) Crable,'" said Lexington (Ohio) High coach B.J. Payne, who did not coach Turner in high school but saw him at a prep basketball game last month. "He just keeps getting bigger and bigger."
Turner's ultimate position may depend on where Michigan decides to play Troy Woolfolk.
The only full-time starter returning in the secondary, Woolfolk played five games at safety last year but finished the season at cornerback. Gibson said "it hasn't been determined yet" where Woolfolk will play next year.
"Wherever we find our best 11, he's one of them, he's going to be out there somewhere," Gibson said. "The good thing about him, he's versatile enough to play both."
Incoming freshmen Demar Dorsey, Cullen Christian, Courtney Avery and Terrence Talbott also will vie for time at cornerback, and Gibson praised J.T. Floyd, who started two games at corner late in the season.
"I really like J.T., like the way he learns and all the things that he can do," Gibson said. "Played really well in the Ohio State game the last game of the year, so he's a kid that we're excited about and hopefully he's going to be able to help us on defense and special teams. We're going to put him at corner and go from there."
Dave Birkett covers University of Michigan football for AnnArbor.com. He can be reached by phone at 734-623-2552 or by e-mail at davidbirkett@annarbor.com. Follow him on Twitter @davebirkett.