Posted on
Thu, Apr 5, 2012 : 9:07 a.m.
Now the man in the Michigan backfield, Fitz Toussaint maintains his all-business approach
By Nick Baumgardner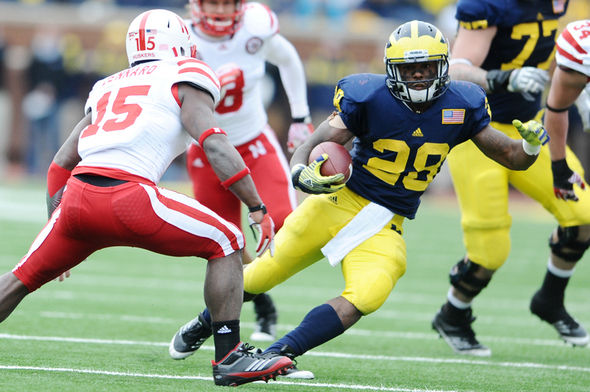 Melanie Maxwell | AnnArbor.com
Away from the field, Fitz Toussaint is quite the showman.
He's got more dance moves than he knows what to do with and he's not afraid to prove it.
But on the field, when football's being played, the Michigan football running back's dance shoes are nowhere to be found.
Toussaint doesn't have time for that. Especially not now.
He's got work to do.
"I'm just playing my position," Toussaint says with a straight face. "Playing my role."
In 2011, Toussaint's role was huge.
After beginning the year in a heated running back position battle, the 5-foot-10, 195-pound junior steadily pulled away from the rest of the competition.
He went for 175 yards and two scores against Purdue, 192 against Illinois and finished the regular-season with 100-yard-plus performances in four of his final five regular season games, becoming the school's first running back to break the 1,000-yard mark since Mike Hart in 2007.
He began the year as an injury-prone question mark, but finished the season as one of Michigan's top offensive threats.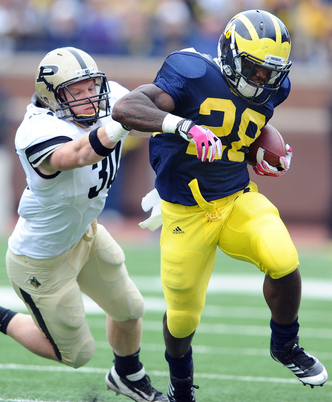 Melanie Maxwell | AnnArbor.com
Entering his junior campaign, some have projected even bigger things for Toussaint.
For now, he's just trying to keep his job.
"It was just like last year, we're all trying to compete for that No. 1 spot," Toussaint said. "I'm a little bit more aggressive.
"I'm doing what I've got to do."
If Toussaint can pick up where he left off last season, his job status will likely be fine. However, that doesn't mean there's not more work to be done.
Michigan offensive coordinator Al Borges would like Toussaint to become a more well-rounded player, giving him the ability to stay on the field more and blossom into a true every-down back.
Borges pointed to Toussaint's improved vision as a reason for his success a year ago. This year, he'd like to see the same jump in Toussaint's blocking ability and pass-catching skills out of the backfield.
"He's got good hands," Borges said. "But we used (Vincent Smith) so much in that capacity (last year), and I'd like for Fitz to equal what Vince did so we don't have to take him out all the time."
Toussaint says he's spent time working on catching passes this spring, but above all else, his blocking has taken the biggest leap forward.
He said he's spent time watching film of how Smith and ex-Michigan back Michael Shaw performed in the pass-protection game, and tried to imitate their technique.
"(I've been) blocking with the other fellas and sometimes going to look at the linemen and see how they do it and try to translate it into (my position)," Toussaint said. "You've got to be able to pick up pass protections and stuff. I think that's key."
As for the rest of the backfield, Smith is back for his senior season after serving as a successful third-down back a year ago, while sophomore Thomas Rawls and redshirt freshman Justice Hayes are both vying for more time.
Earlier this spring, Michigan coach Brady Hoke said he and the staff have been able to limit Toussaint's spring reps, to a degree, in part because they know what to expect from him. In doing so, it's allowed for more reps elsewhere.
That's something Toussaint has no issue with. In fact, he enjoys it, because he now gets a chance to help other players improve their games.
"I think it's good for the young guys to be able to get in there and show the coaches what they have," he said.
Toussaint will likely be the man behind (or alongside) Michigan quarterback Denard Robinson this fall.
But you won't see him bragging about it.
More specifically, you won't see him dancing about it.
"Somebody could be right behind you," he says, "trying to take your spot at every moment."
Nick Baumgardner covers Michigan basketball for AnnArbor.com. He can be reached at 734-623-2514, by email at nickbaumgardner@annarbor.com and followed on Twitter @nickbaumgardner.
Want to stay connected to Wolverine basketball in your Facebook newsfeed? "Like" AnnArbor.com's Michigan Basketball News & Views.