Posted on
Tue, Nov 29, 2011 : 1:48 p.m.
Michigan football coach Brady Hoke expects 'makeshift offense' to continue to evolve in offseason
By Kyle Meinke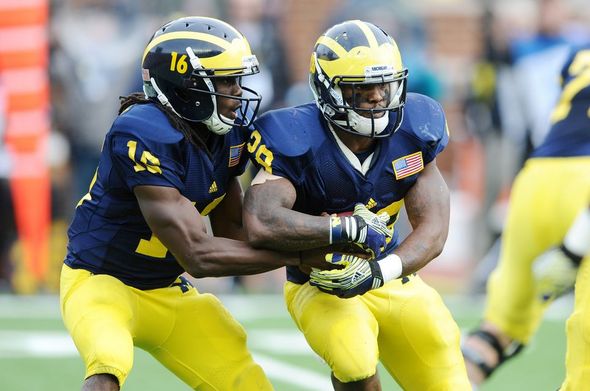 Melanie Maxwell | AnnArbor.com
Michigan football coach Brady Hoke has taken to calling the Wolverines' hybrid offense a "quasi-" or "makeshift" offense.
Offensive coordinator Al Borges calls it a "spread-West Coast" offense, because it's mostly an amalgam of the spread option offense that existed when the staff took over this year, and the West Coast offense Borges brought with him.
It borrows from both disciplines in an effort to get the most of running quarterback Denard Robinson, while also installing a featured back and vertical passing game.
Whatever it is, two things are known about it: It borrows from several offensive schemes, which makes it fairly unique to the Wolverines, and it morphed over the course of the season.
Hoke expects that evolution to continue in the offseason, which could give it an even different feel next year. He said Borges will continue to add to the offense leading up to next year's opener against Alabama in Dallas.
"There's no question," Hoke said. "When we get done with the recruiting cycle, we pretty much go back and evaluate what we can coach better on both sides of the ball, and in the kicking game. Is there something different to stay ahead of the curve you can look at?
"We'll do quite a bit of that in February, during the dead period. Because of bowl practices, you don't have that luxury (right now)."
The multiplicity of Michigan's offense was apparent in the team's 40-34 win against Ohio State last weekend. It gives the Wolverines an edge, when employed properly, because they can adapt to what defenses elect to key on.
"We ran some powers in there, and some one-back powers, too," Hoke said of the Ohio State game. "(Play selection) depends on the opponent, but also because everyone defends you a little differently.
"At halftime, there were some things they adjust because of that, so the lead play may be a bigger part of it, the jet-sweep read may be a bigger part of it. How you block it is the real issue."
The Wolverines blocked well against the Buckeyes, leading to 40 points and a career day for Robinson. He completed 14-of-17 passes for 167 yards and rushed 26 times for 170 yards. He accounted for five touchdowns, a team quarterback record against Ohio State.
Robinson finished fifth in the Big Ten in rushing, fifth in passing and first in total offense.
His best overall performances of the season came in Michigan's final two games against Nebraska and Ohio State. He credits his growing comfort level in the offense, which has improved his decision making.
"Don't think you have to just force the ball in there if it's not there -- I think that's the big part of it," Hoke said.
Two things helped Robinson settle into the "quasi-offense."
First, he was the primary -- and sometimes only -- running threat early in the season, but sophomore tailback Fitz Toussaint hit a groove in the season's final five games, when he had four 100-yard games and finished with his first 1,000-yard season.
He'll be an important part of the offense from the start next year.
Second, the offense evolved from about two-thirds shotgun in the opener to almost exclusively shotgun in the finale. Robinson is more comfortable operating out of the shotgun.
Expect that evolution to continue next year — as well as the introduction of some new components entirely.
Kyle Meinke covers Michigan football for AnnArbor.com. He can be reached at 734-623-2588, by email at kylemeinke@annarbor.com and followed on Twitter @kmeinke.