Posted on
Sun, Aug 14, 2011 : 7:13 p.m.
Michigan football fans wait in long lines for their favorite Wolverines' autographs
By Rich Rezler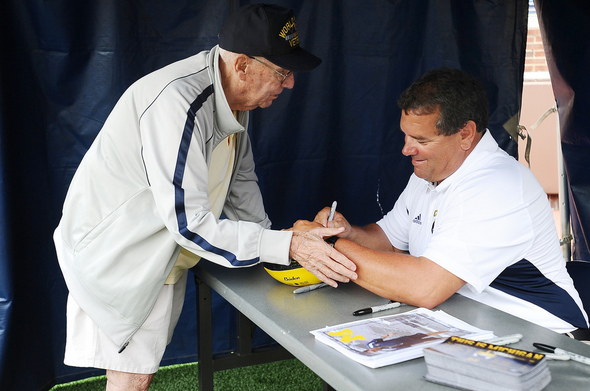 Melanie Maxwell | AnnArbor.com
After a nearly seven-hour vigil, the Hooper family has itself a tale to tell.
The Marion, Ohio, residents received the first autographs signed by first-year Michigan football coach Brady Hoke at his first Fan Day.
An estimated 25,000 Michigan supporters converged on Michigan Stadium on Sunday for a chance to get autographs and photos with their favorite Wolverines, take their first look at the enormous new high-definition scoreboards that played spring practice highlights on a loop and run pass patterns on the playing surface.
MICHIGAN FOOTBALL MEDIA
AND FAN DAY COVERAGE
Getting there early, it turns out, was a necessity. Ushers were forced to close down long lines before some fans reached players, who were separated by position groups around the stadium concourse and signed autographs from 2 to 3:30 p.m., using concession stands as greeting stations.
Michigan athletic director Dave Brandon apologized to fans on Twitter, writing "I know some were unhappy they didn't get a particular autograph. I'm sorry. Turnout was huge & certain lines were ridiculously long."
Bart Hooper and his family didn't have a problem. They arrived at 7:30 a.m. and set up camp against a wrought iron fence on the east side of the stadium, securing the lone two feet of tunnel overhang that sheltered them from the morning rain.
The tunnel entrance was specifically for fans seeking Hoke's autograph, and that's the one 13-year-old Mallory Hooper wanted. She held down that spot with her parents, uncle Vince Reed and cousin Karington Reed until the gates opened at 1 p.m. From there, they made their way through a makeshift turnstile and waited for Hoke to take his position under a blue tent on the stadium turf.
Meanwhile, 17-year-old Mitchell Hooper -- the biggest Michigan fan of the bunch -- had a different plan. He was on a quest for a Denard Robinson autograph, so he left his family in the Hoke line and headed for the north side of the stadium.
Mitchell kept a humorous Twitter timeline of his wait, including this entry: "Been standing in line since 8 o'clock, still got another 3 hours, and it's raining, and (I don't know) if this line goes to Denard. Ohh I'll be so salty."
Everything ended well. The final update included a photograph of Mitchell and Robinson together, wearing matching No. 16 jerseys and wide smiles.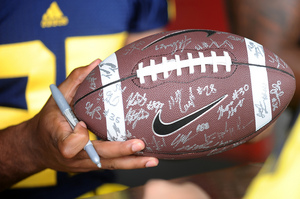 Melanie Maxwell | AnnArbor.com
Fans lined up hundreds deep for every group, but none was longer than the quarterback station positioned outside of section 38. That line weaved out the stadium gates, down Keech Avenue and deep into the parking lot near Crisler Arena.
At the end of that line was Stuart Riley of Brighton with five young boys -- Aidan Riley, 9, Sheldon Riley, 8, Carson Taylor, 8, Zach Taylor, 11, and Everett Conely, 9 -- equally determined to receive Robinson's signature.
"We got a look at him as we walked by, but then we followed the line all the way here," Stuart Riley said.
After about 20 minutes, an usher informed Riley and those that had gathered behind him that they were unlikely to get through Robinson's line before the autograph session ended.
He and the five boys darted off to find the shortest line remaining, which was the offensive linemen. At 3:10 p.m., they were told again they wouldn't make it to the front of the line.
When the session was closed, Riley said some of the crowd "started getting a little unruly," shouting at ushers and players. That's when the boys noticed that gregarious redshirt junior lineman Taylor Lewan had stepped aside and was continuing to sign. All five boys got Lewan's autograph.
"Here we were, zero autographs and we'd been there for an hour and a half. I thought it was fine, part of life, but I think a lot of people were bummed," Riley said. "It certainly was not the players' doing. You have to cut it off at some point, or they'd be signing until 3 a.m.
"Taylor Lewan, you could tell how bad he felt, so he made a point to come to the railing and signed 20 more autographs. My kids were thrilled. He's like their hero now."
Rich Rezler is a sports producer for AnnArbor.com. Contact him at richrezler@annarbor.com or 734-623-2553.